xoxoxoBruce Sunday Oct 25 11:17 PM

Oct 26, 2009: Fishy Plane

Sure, you're home from that long fishing trip, tired, filthy, and horny.
You want a hot shower, cold beer, and some bed time with a friend.
Cleaning the bush plane can wait...



Quote:

Apparently a bear attacked his plane while parked in a remote field up here in AK. He had not cleaned out the inside after a long fishing trip and the bear smelled it.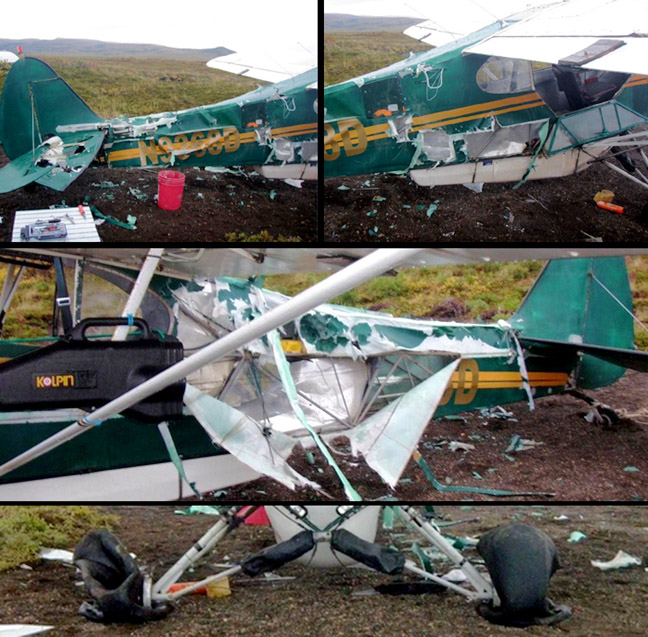 Holy crap, what do you do now?

Quote:
He had 2 new tires, 3 cases of Duct Tape and several rolls of cellophane delivered. Then went about repairing the plane so he could fly it home.



Well we know he's got balls, I hope he's got brains.

link
---

zippyt Sunday Oct 25 11:35 PM

Duct Tape RULES !!!

---

xoxoxoBruce Sunday Oct 25 11:47 PM

Yes but remember not all duct tape is created equal. I'd want Mil Spec for that job.

---

ZenGum Monday Oct 26 01:03 AM

For all our extremely venomous creepy-crawlies, Australian wildlife is relatively tame. It'll only kill you if you actually step or sit on it, otherwise it generally runs/slithers/scuttles away.

Note to self: do not get between bear and fish.

---

capnhowdy Monday Oct 26 07:35 AM

At least the bear didn't fuck with his "fishing" rifle.

---

newtimer Monday Oct 26 10:12 AM

A bear wouldn't puncture BOTH of the tires; that's just mean. This looks like the work of some rotten teenagers. Oooooo, I hate teenagers.

---

xoxoxoBruce Monday Oct 26 12:21 PM

It's a bush plane, it deserved it.

---

Shawnee123 Monday Oct 26 12:22 PM

So you're saying it's the plane's fault?

---

capnhowdy Monday Oct 26 12:31 PM

If the truth was known the dude was prolly a poacher. That'll teach him to fuck with Yogi & Booboo's pic-a-nic baskets.

---

SPUCK Tuesday Oct 27 05:26 AM

Plane's completely illegal now. The ID number is missing.

Man the ACK ACKs!

---

TheMercenary Tuesday Oct 27 08:37 PM

Certainly if we can blame Bush for everything we can blame a silly plane. I read it on the internet and anti-plane people said it so it must be twue... really. Damm planes the cause of all our ills. Moving people about so un-needlessly. I mean really people.

---

jinx Tuesday Oct 27 08:45 PM

---

ZenGum Tuesday Oct 27 09:43 PM

Damn right. Planes have been the cause of all our troubles since 9/11.

---

Clodfobble Tuesday Oct 27 11:01 PM

You insensitive bastard, I lost my plane on... oh hey wait.

---
Your reply here?

The Cellar Image of the Day is just a section of a larger web community: a bunch of interesting folks talking about everything. Add your two cents to IotD by joining the Cellar.