xoxoxoBruce Wednesday Oct 21 02:03 AM

Oct 21, 2009: Dingo Fence

If you don't want a Dingo to eat your baby... or lamb, put up a fence. Thousands of miles, of fence.
Guess it would work for Dingos, but doubt it would keep illegal aliens out.


Quote:

Please note that this "dog fence" is not really made of dogs. If it was, it would take 5,614,000 dingoes standing nose-to-butt to construct this fence.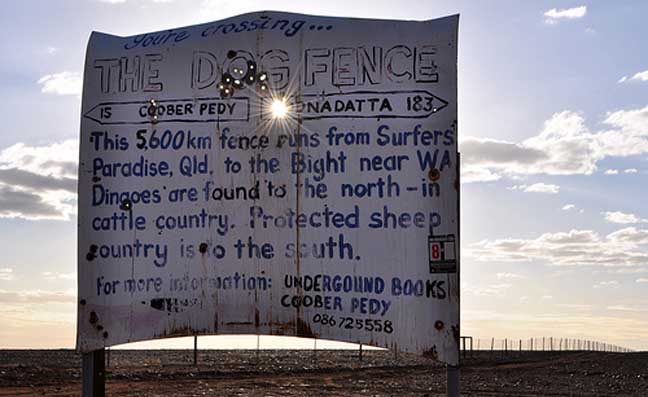 Note the bullet holes.

Quote:
Quick Facts About The Dingo Fence

5614 kilometres is the total length of the Dingo Fence.
8614 kilometres was the total length of the Dingo Fence up until 1980, where due to repair costs it was shortened to its present length.
26.5 million hectares of sheep and cattle grazing country is what the Dingo Fence protects.
5,614,000 metres of wire mesh, that stands 180 centimetres in height and is a further 30 centimetres underground, was used to build the Dingo Fence.
623,777 wooden and steel posts hold the Dingo Fence together.
The total 5614 kilometres of fence spans two Australian states, Queensland and South Australia. As a whole the fence is known as the Dingo Fence, however each of the 4 parts has its own name:
1) Great Barrier Fence or Wild Dog Barrier Fence (Queensland) - 2,500 kilometres
2) Queensland Border Fence (Queensland) - 394 kilometres
3) South Australian Border Fence (South Australia) - 257 kilometres
4) Dog Fence (South Australia) - 2,225 kilometres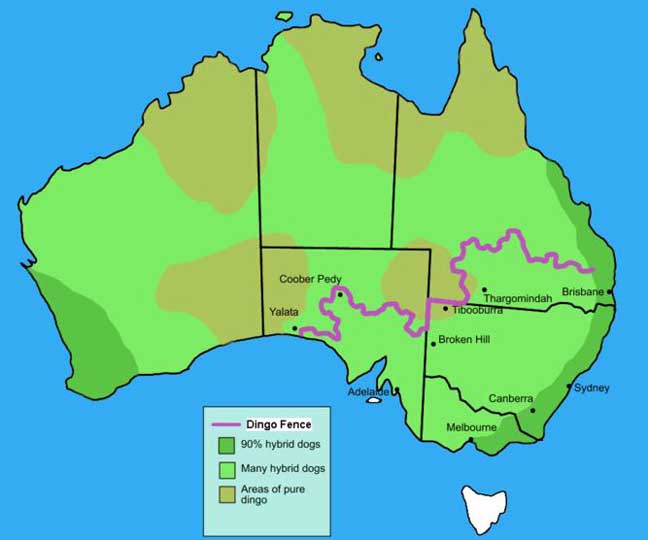 Seems to me they had a rabbit fence, too?

link
---

nil_orally Wednesday Oct 21 05:36 AM

They missed a bit of the dingo population here in Dog's Own Country, Victoria. This place is 2 hours North of Melbourne (pronounced Melbin if you don't want to sound like a tourist if you are ever lucky enough to get here).
http://www.jirrahlinga.com.au/Dingoes.html

---

SPUCK Wednesday Oct 21 05:37 AM

The idiots!! That fence should have been a straight line. It would've been only 10km then.


Now we need some Taliban fence.

---

nil_orally Wednesday Oct 21 05:51 AM

It's a hot country Spuck. It's probably the best they can do on a slab a day.
http://en.wikipedia.org/wiki/Slab

---

ZenGum Wednesday Oct 21 08:14 AM

That would have been due to Crooked Mick and Ugly Dave, who were digging the post-holes for the fence. Crooked Mick could dig so many holes in one day it would take him two days to walk back to get the posts.

Eventually they split up, and Ugly Dave made his fortune in the Western Australian goldfields, cutting up the old mine shafts and selling them as post holes for the rabbit fence.

---

Sheldonrs Wednesday Oct 21 09:47 AM

Now how will the dingos get to all those babies?!!!!

---

Cloud Wednesday Oct 21 10:00 AM

I thought Coober Pedy was farther left.

And someone seems pretty concerned about dog fu . . . er, hybridization

---

xoxoxoBruce Wednesday Oct 21 11:08 AM

---

birdclaw Wednesday Oct 21 11:34 AM

Hybrid dogs...does that mean they are more eco-friendly than dingos? Do the dingos put out a lot of pollution?

---

Leah Wednesday Oct 21 09:21 PM

China has the Great Wall of China, we have the Great Dingo Fence of Oz. Keeps more then just dingo's out


---
Your reply here?

The Cellar Image of the Day is just a section of a larger web community: a bunch of interesting folks talking about everything. Add your two cents to IotD by joining the Cellar.