xoxoxoBruce Sunday Oct 11 10:55 PM

Oct 12, 2009: Hodag

Be afraid, be very afraid.



It's a one-eyed, one-horned, flying pur... oh wait, wrong beast.
Hodag is a 200-pound, 7 ft long, lizardy (lizardie? lisardly?) beast, with horns sticking out of it's head and back.


Quote:
The beast had two horns growing from its temples, large fangs and green eyes. Its stout and muscular body was covered with short black hair and its back was covered with spikes, leading to a powerful tail. The animal fixed its green eyes on its uninvited guest, spouting flame and smoke from its nostrils, followed by a horrible odour…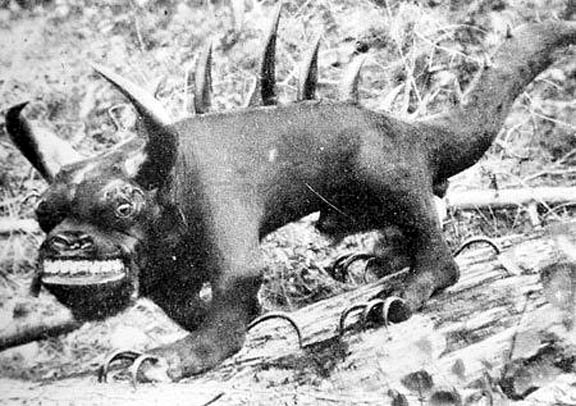 Quote:

For centuries, the story of a monster had made the rounds in the deep forests of Wisconsin. The local lumberjacks believed that the Hodag embodied the restless spirits of dead lumber oxen and every child knew the old tales.

Of course this is Image of The Day and old wives' (lumberjack's) tales don't come with images.
The pictures you see here are from more recent times.



Quote:

But the story really took off in 1893 when experienced woodsman and local prankster Eugene Shepard not only claimed to have encountered the beast but also to have killed it with dynamite with the help of his hunting party. As proof, he circulated the image below to the local press: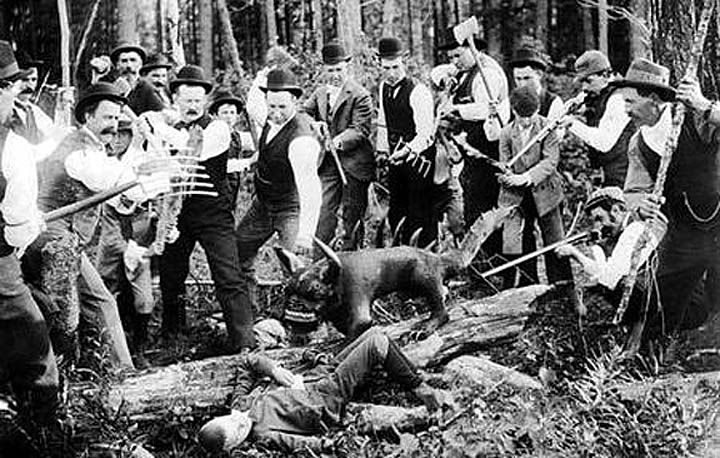 Quote:

According to the story that ran in local newspapers in 1893, the monster named Hodag had "the head of a frog, the grinning face of a giant elephant, thick short legs set off by huge claws, the back of a dinosaur, and a long tail with spears at the end".

Three years later, the same guy, Shepard, built a Hodag from wood, ox-hide and ox horns. He claimed he'd captured the beast, and exhibited it at the County Fair, with the help of his sons (and some strings), to make it move and growl. People loved it.





Quote:

Despite Shepard eventually admitting that the monster was a hoax, thousands came to see the Hodag first at the fair and then at Shepard's house. In fact, the Hodag proved the most popular attraction at the fair and gave Shepard an idea: He quit his job as a timber cruiser and became a real-estate broker instead, promoting Rhinelander and the Hodag that had put it on the map.

I think people are hard to fool, but will play along because they love to be entertained.

This guy saw one...




Meh, the Jersey Devil would kick it's ass.

link
---

nil_orally Monday Oct 12 04:57 AM

I think I was married to that once......

---

Shawnee123 Monday Oct 12 08:19 AM

Hey, wait a minute...

---

Trilby Monday Oct 12 08:26 AM

OOO! a mob with axes and pitchforks! Count me in!

---

Sheldonrs Monday Oct 12 10:00 AM


hehehe

---

dmg1969 Monday Oct 12 12:11 PM

I KNEW I've seen one of these before...



---

Gravdigr Monday Oct 12 03:18 PMmuch scarier than a hodag.

---

Shawnee123 Monday Oct 12 03:45 PM

That's a hobag, not a hodag.

---

Tawny Monday Oct 12 04:44 PM

Shawnee, that was a good one. LMAO

---

spudcon Monday Oct 12 08:28 PM

Bring out the pitchforks!!!

---

xoxoxoBruce Tuesday Oct 13 01:40 AM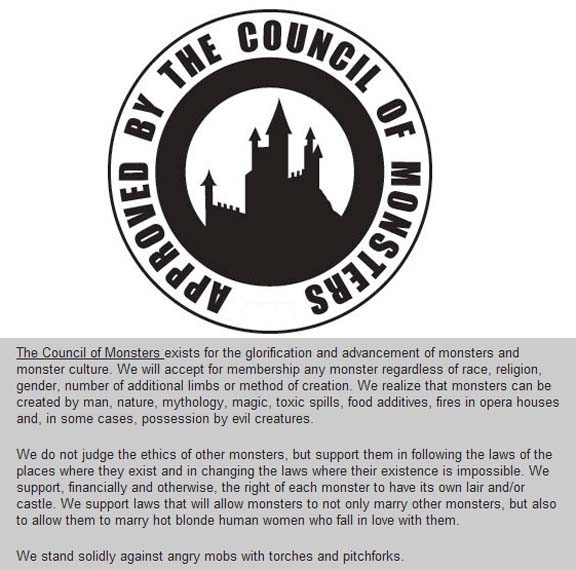 ---

ZenGum Tuesday Oct 13 07:35 AM

Damn straight. Monster rights!

---
Your reply here?

The Cellar Image of the Day is just a section of a larger web community: a bunch of interesting folks talking about everything. Add your two cents to IotD by joining the Cellar.