xoxoxoBruce Friday Oct 9 02:26 AM

Oct 9, 2009: Micro Bacon

These Micro Pigs being, oh-so-cute, have been all over the net this week.
Well I'm just incensed, how dare they! This in the Cellar, and all your pigs belong to us.
We have tradition to uphold, territory to defend, precedence up the ying yang.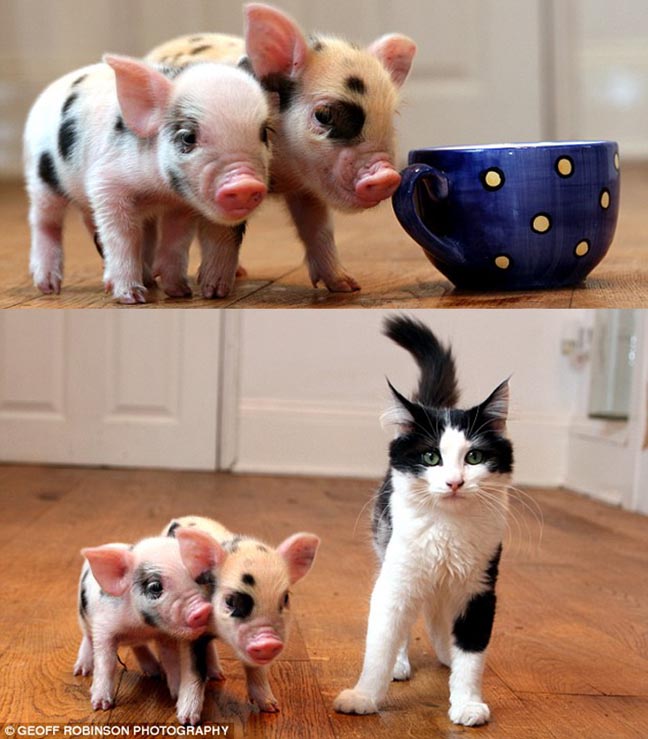 Now having claimed ownership of all things piggy cute, I've made arrangements with the law, to protect our drove of pigs.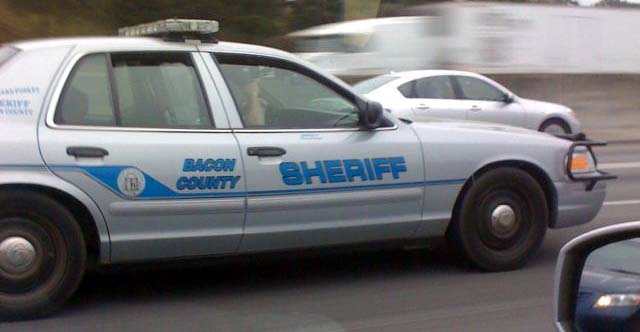 link
---

ZenGum Friday Oct 9 03:34 AM

That cat is clearly thinking "This comes from your side of the family, George!"

---

JuancoRocks Friday Oct 9 04:20 AM

Snacks on the hoove........

Now and later.......

---

Antimatter Friday Oct 9 06:18 AM

I completely fail to see the idea in breeding pigs that produce only minuscule amounts of bacon

---

capnhowdy Friday Oct 9 08:10 AM

They'll most likely be benched on race day too. I say we go ahead and eat the little bastards while they're exceptionally young and tender.

....starts scrounging for firewood........

---

Griff Friday Oct 9 08:38 AM

They' fit nicely inside a roast duck.

---

spudcon Friday Oct 9 08:58 AM

Wouldn't their cooked nostrils go well as a replacement for an olive in a martini?

---

dar512 Friday Oct 9 10:08 AM

---

newtimer Friday Oct 9 12:00 PM

A haiku in honor of the minipigs:

Herd of mini swine.
Convenient kebab size
In my crisper drawer.

---

blueboy56 Friday Oct 9 01:25 PM

Would that be SPAMINI, SPUMONI or Ragatiny?

---

TheDaVinciChode Friday Oct 9 01:50 PM

The perfect bacon compliment to this: http://cellar.org/showthread.php?t=21122

(See post "10," from that link, for details!)

Delicious!

---

Queen of the Ryche Friday Oct 9 03:49 PM

Can I have the skin for gloves when y'all are done eatin' em? (Inside out - fur for warmth, leather for ruggedness...)

---

Warren Peas Friday Oct 9 06:57 PM

The unspoken question. Do you eat them all at once?

---

monster Friday Oct 9 11:18 PM

They're all spotty. RUN! it's SWINE FLU!

---

wolf Friday Oct 9 11:35 PM

That there's a good start on a portable BLT. What a business opportunity. Puts me in mind of the Apartment Cows we wanted to breed in college. Just big enough for a cheese steak, you see.

A 65 pound, full grown pig is still a full grown pig.

There will be as much regret for purchasing one of these mutants as there was for those cute, little pot-bellied pigs that turned into 200+ pound hogs that menaced their owners and the surrounding community.

They are not all "Some Pig."

---

xoxoxoBruce Saturday Oct 10 01:38 AM

---

wolf Saturday Oct 10 08:31 AM

---

ZenGum Saturday Oct 10 06:19 PM

Ya know "chin-chin" is Japanese for "willy", don't you?

---

monster Saturday Oct 10 06:50 PM

Free Chin-Chin!

---

ZenGum Saturday Oct 10 07:36 PM

Tell Sheldon.

---
Your reply here?

The Cellar Image of the Day is just a section of a larger web community: a bunch of interesting folks talking about everything. Add your two cents to IotD by joining the Cellar.