xoxoxoBruce Thursday Oct 1 12:58 AM

Oct 1, 2009: Goth or Not?

The two daughters of Spain's Prime Minister, are they Goth or not?



no one has ever seen them.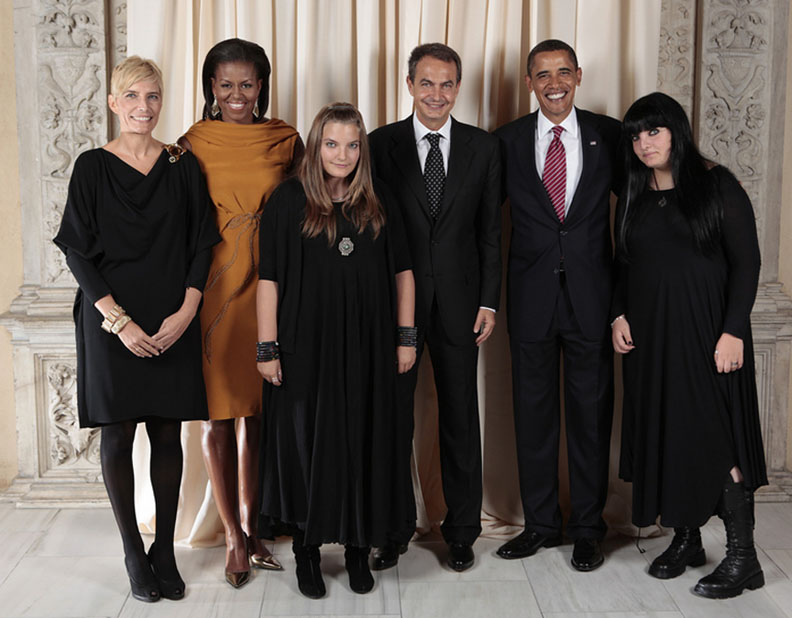 link
---

lumberjim Thursday Oct 1 01:02 AM

creepy

---

Ibby Thursday Oct 1 01:24 AM

the one on the right is. the boots give it away. she's definitely at least aesthetically goth. The bracelets on the blonde one seem to imply that she might be but one can't tell if she is or not just from this.

---

classicman Thursday Oct 1 01:33 AM

Yes.

---

Crimson Ghost Thursday Oct 1 03:04 AM

Yup.
And they've perfected the whole "Children Of The Corn"/ 'we want to eat your brains' stare.

Is it just me, or does Obama look like a wax statue in this pic?

---

SPUCK Thursday Oct 1 05:17 AM

LOL!! I think they're Goth but they also look like they might be fun people.

Dang, Bruce where'd you find that picture? I looked all over for it the instant I heard it was "yanked". All I could find was the X'd out one.

---

Sundae Thursday Oct 1 06:51 AM

Definitely goth - not that there's anything wrong with that.
And after all they are nice young girls, happily posing with Daddy's work colleagues and even smiling!

Let's just hope their friends don't ostracise them because of it

---

Pie Thursday Oct 1 08:50 AM

It's just a phase.

---

Trilby Thursday Oct 1 08:57 AM

Yeah, that's Goth and its evil twin Bad Posture.

---

spudcon Thursday Oct 1 09:06 AM

The brunette's makeup is no different than the "mod" look of the sixties. The clothes, however, are from the Witch Trials of past centuries..

---

Shawnee123 Thursday Oct 1 09:07 AM

I'm bad at geography: where is Spain in relation to Transylvania again?



---

Spexxvet Thursday Oct 1 09:23 AM
"Spanish Prime Minister José Luis Rodríguez Zapatero was overheard saying to Mrs. Obama "I vant to suck yoooor blooooood". With Dracula as your father, how could they not be goth?

---

Shawnee123 Thursday Oct 1 09:25 AM

And, with how popular the wampires are these days...

---

classicman Thursday Oct 1 09:44 AM

I keep hearing the Munsters theme song in my head every time I look at them.

---

Spexxvet Thursday Oct 1 09:52 AM

I have to say that Michelle Obama looks particularly ravishing in the burlap bag, tastefully cinched around her waist.

---

classicman Thursday Oct 1 09:59 AM

...with the finest imported Spanish twine available.

---

dar512 Thursday Oct 1 10:01 AM

You can tell it's high fashion. Because no one who isn't regularly in People magazine would wear the thing.

---

birdclaw Thursday Oct 1 10:08 AM

Yikes! The blondish one definitely looks like she is planning something sinister.

---

Shawnee123 Thursday Oct 1 10:11 AM

---

Tawny Thursday Oct 1 10:28 AM

What's with these bad parents? My mother would have smacked me upside the head for such slouching.

---

Shawnee123 Thursday Oct 1 10:35 AM

---

Sheldonrs Thursday Oct 1 10:39 AM

---

Shawnee123 Thursday Oct 1 10:42 AM

It really is ugly. Is it supposed to be in keeping with the bag lady vampire motif?

---

Madman Thursday Oct 1 11:18 AM

The one of the right reminds me an old recurring nightmare. Only thing missing are the Cat-O-Nine-Tails and the spiked cage.

Those eyes... and that red striped tie.

---

monster Thursday Oct 1 11:33 AM

No, it's a Goth Fail. they are both clearly attempting to smile.

---

capnhowdy Thursday Oct 1 12:35 PM

Goth , yes. One for real and one trainee.

No question about the PM's wife being bowlegged though.

---

monster Thursday Oct 1 12:44 PM

All four of those women could use some fashion advice (this from a former goth currently wearing Walmart in black)

---

monster Thursday Oct 1 12:46 PM

beest and I still both wear all black all the time (except for beest's work shirts) -it's a hard habit to break even when you're old and purple.


hmmm this was supposed to be an addition to the first comment. No wonder I'm hurtling toeards the 10K club

---

dar512 Thursday Oct 1 12:47 PM

Well, black does go with just about anything.

---

TheDaVinciChode Thursday Oct 1 01:12 PM

I'm more concerned about the whole picture, than just the two young girls.

... Is it just me, or do they ALL look rather odd? There's something... sinister, about the whole thing.

Obama reminds me of The House Of Wax, also; Just as Crimson Ghost suggested.

---

Clodfobble Thursday Oct 1 01:16 PM

---

Shawnee123 Thursday Oct 1 01:21 PM

OMG are you serious?

Are you pulling our collective leg?

---

Pooka Thursday Oct 1 01:25 PM

It does seem that the whole lot of them are dressed for Halloween... and I think michelle Obama has on Quasimodo's tunic... speaking of hunchbacks...

---

Clodfobble Thursday Oct 1 01:50 PM

---

Shawnee123 Thursday Oct 1 02:01 PM

Oh my. Now I have to feel badly about the jokes!

---

Shawnee123 Thursday Oct 1 02:22 PM

(OK, not too badly...)



---

Trilby Thursday Oct 1 02:27 PM

Well. Don't I feel like an ass.

---

Cloud Thursday Oct 1 02:29 PM

yes. good for them!

---

treehugger Thursday Oct 1 06:41 PM

I'm surprised they even had the photo taken!

---

Sperlock Thursday Oct 1 10:00 PM

The Prime Minister kind of reminds me of the Devil from the television show Reaper. But I'm sure it's just me.

---

xoxoxoBruce Friday Oct 2 12:54 AM



I glad the PM, and his Mrs, include the girls in their official doings. They probably weren't aware the US state dept would post them on Flickr. But wtf, they're nothing to be embarrassed about... at least any more than any other teenage girls embarrass their parents.

---

Crimson Ghost Friday Oct 2 01:29 AM

All in all, I had no idea Ann and Nancy Wilson were Spanish.

And did someone photoshop a gremlin head onto the PM's wife's body?
What the fuck is going on there?

---

spudcon Friday Oct 2 09:45 AM

---

barefoot serpent Friday Oct 2 10:09 AM

Where was I when David Bowie became president of Spain?

---

TheDaVinciChode Friday Oct 2 10:10 AM

The Obamas switch bodies quite nicely, and the Spanish PM's wife's head is far better suited to a male's physique... Not too sure on the Spanish PM, himself, though.

Perhaps you should download an upgrade to your de-photoshop program, as I'm sure there's still some hidden context, within that photo, that we're not seeing...

Horns on his (Spanish PM's) head, a tail... and his two daughters must've been altered, with photoshop, to hide their one big, bulbous eye, slacked jaw, etc... Quasimodo's daughters cannot hide from us!

---

Gravdigr Friday Oct 2 05:23 PM

Formal goth.

And, I lost my hump on 9/11, you insensitive bastards!

---

Tawny Friday Oct 2 05:41 PM

---

monster Friday Oct 2 10:34 PM

I agree with Chode, they look much better in your deshopped original, spud.

Yup I'm inclined to agree, Tawny, I couldn't find any articles supporting that.

---

Clodfobble Friday Oct 2 10:47 PM

Meh, I couldn't find it again. Mockery may resume.

---

monster Friday Oct 2 10:49 PM

it's possible that the thing you read was a fraud and forced to be removed... maybe?

---

Clodfobble Friday Oct 2 10:56 PM

Are you suggesting someone removed a lie from the internet on moral grounds?

---

monster Friday Oct 2 10:59 PM

oh hell no! it probably contained a picture copyrighted to someone else.

---

Crimson Ghost Saturday Oct 3 01:47 AM

Still, that photo will make you check under the bed before going to sleep.....

---

spudcon Saturday Oct 3 01:49 AM

---

Crimson Ghost Saturday Oct 3 01:50 AM

The sad thing is that Alfred's head looks better than her own head.

---

Sundae Saturday Oct 3 08:38 AM

I think the whole hunchbacked thing is a lie.
They were protected from the media in Spain because Spain has its own terrorism, their father wanted them to have a normal life and because it is routine in Spain not to include familes in political life. No photo of a child, papparazi'd or studio posed can be printed in Spanish media without parental permission.

They'd be as safe as anyone else getting on a train or a bus if their faces weren't instantly recognisable. There's a good chance that if they live in Madrid they'll be happier with a low-key existence.

Theses points seem to have been overlooked because 1) When's the last time Obama's kids got on the bus; 2) When's the last time public transport in America was blown up? 3) The free press in America has no such boundaries.

I think it was someone putting 2 + 2 together and making 5.

---

TheDaVinciChode Saturday Oct 3 11:33 AM

The girls remain the same.

Is that a testament to their beauty, or the hideous nature of their very existence?

---

spudcon Saturday Oct 3 07:28 PM

Neither. I try not to rag on the kids of famous people unless they seek publicity or do something infamous themselves.(Kennedys for example.) The girls can't choose their parents, or their parents' choices. I never picked on Chelsea Clinton, even tho I had nothing but contempt for her parents.

---

richlevy Sunday Oct 4 10:33 AM

---

spudcon Sunday Oct 4 03:26 PM

---

Tawny Sunday Oct 4 08:21 PM

I'll bet these two girls are allowed to get away with all kinds of heinous things, like sitting with their legs spread, chewing with their mouths open, talking without being spoken to first and addressing their parents as Jose and Sonsoles.

Shameful.

---

Crimson Ghost Monday Oct 5 04:11 AM

Or being chased by villagers carrying pitchforks and torches...

---
Your reply here?

The Cellar Image of the Day is just a section of a larger web community: a bunch of interesting folks talking about everything. Add your two cents to IotD by joining the Cellar.