Pie Tuesday Sep 29 11:45 PM

Sept 30, 2009: Hitchhawker

Tiny bird's incredible piggyback ride on hawk



Look out, it's the hitchhawker!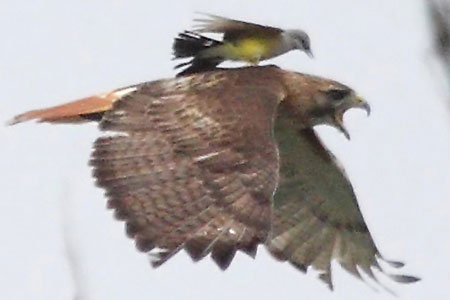 Quote:
This is the moment a tiny but very angry kingbird hitched a piggyback ride on a red tail hawk. The feisty little flyer began attacking the bird of prey after it ventured too near its nest.

Pat Gaines, 41, captured the moment at Bonny Lake park in Colorado.
'I've never seen a hawk harassed so much. The kingbird pecked at its head as the hawk flew away screaming,' she said.
link
---

xoxoxoBruce Wednesday Sep 30 12:20 AM

Naw, times are tough, so that hawk is just making a few bucks moonlighting as a taxi.

---

jinx Wednesday Sep 30 12:26 AM

An excellent start to a Turducken type dish...

---

birdclaw Wednesday Sep 30 09:59 AM

I had no idea hawks were such sissies.

---

Shawnee123 Wednesday Sep 30 10:06 AM

Most aren't.

---

birdclaw Wednesday Sep 30 10:18 AM

Well I guess that could be one fearless little kingbird. I mean how does one get to be king if they aren't a little bit bad ass?

---

Shawnee123 Wednesday Sep 30 10:21 AM

It's good to be the king(bird)

---

newtimer Wednesday Sep 30 11:34 AM

I've often seen little birds flying chasing away crows and hawks that are much bigger than they are. I assumed the bigger birds got into the little birds' territories. Good photo.

---

Gravdigr Wednesday Sep 30 05:14 PM

Fry 'em up & eat 'em up, mm mm good!

---

SPUCK Thursday Oct 1 04:56 AM

Bird Rodeo.

---

TheMercenary Saturday Oct 3 10:10 AM

Quite the pic.

---

ZenGum Saturday Oct 10 07:01 PM

Manouverability trumps size in air combat.

---

Dagney Saturday Oct 10 10:21 PM

"I'm the king of the birrrrrrrd"

---

xoxoxoBruce Saturday Oct 31 11:44 PM

Another one.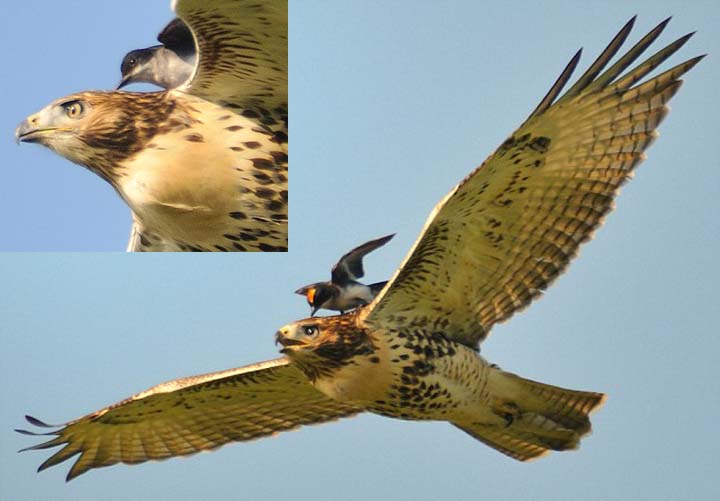 ---

SPUCK Sunday Nov 1 05:43 AM

Great.. It 's a peckdemic.

---

ZenGum Sunday Nov 1 10:28 PM

Increiable pics, Bruce ... that hawk must get so pissed off by that.

---

SPUCK Monday Nov 2 05:40 AM

To me that second one looks photoshopped.
That dog don't point.

---

ZenGum Monday Nov 2 07:07 AM

I'm getting slow. It's not a king bird, it's a hawker harrier.

---

Adak Monday Nov 2 08:57 AM

The defense against this, is the raptor suddenly rolling over, and grabbing the offending attacker in it's talons.

Since the hawks and eagles are larger, and slower to maneuver, this doesn't usually allow them to actually catch the attacker, but it keeps them from from being pecked on the base of their skulls.

It's a trick that can't be used if they're too close to the ground, because they lose a bit of altitude and speed, every time they try it.

---

Undertoad Monday Nov 2 12:23 PM

BARREL ROLL!

---

lumberjim Monday Nov 2 01:21 PM

http://everydayexplorers.nationalgeo...mediaid=490474

---

craig2009 Saturday Nov 7 10:56 PM

Hi all!
I've just visited this forum. Happy to get acquainted with you. Thanks.
________________
Free Anime Episodes

---

classicman Saturday Nov 7 11:02 PM

welcome aboard Craig.


Jim, quiz needed in aisle 5!

---

xoxoxoBruce Sunday Nov 8 12:51 AM

Nope, not needed.

---

classicman Sunday Nov 8 05:02 PM

lol

---

SPUCK Monday Nov 9 05:46 AM

First lesson:
This is the Pecker Head thread.

---
Your reply here?

The Cellar Image of the Day is just a section of a larger web community: a bunch of interesting folks talking about everything. Add your two cents to IotD by joining the Cellar.