xoxoxoBruce Sunday Sep 27 02:00 AM

Sept 27, 2009: Macho Velcro

I'm sure you all know what Velcro is. And you probably have a general understanding of how it works, but even if you don't, you sure as hell know how to use it.
You may not know Velcro come in varying strengths, we use a lot of very strong Velcro in helicopter interiors.

But I've never seen macho Velcro before....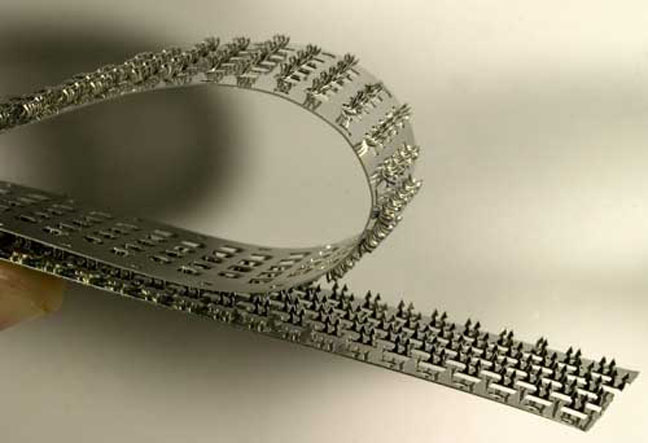 Car assembly? So in a crash, parts of the car become space-age ninja weapons, flying through the air?

link
---

Elspode Sunday Sep 27 04:10 AM

All I want to know is, when someone eventually sells this with a peel and stick backing for use in the home, will the glue hold?

---

capnhowdy Sunday Sep 27 09:15 AM

Now wait a minute. There's no way I'm eating this stuff.

---

Tawny Sunday Sep 27 09:29 AM

Oh, boy, new accessories for the Dominatrix!

---

Shawnee123 Sunday Sep 27 09:38 AM

I don't trust velcro with my shoes, I'm certainly not going to hang out in front of a facade that's held on by velcro...no matter how macho the velcro.

---

TheDaVinciChode Sunday Sep 27 11:34 AM

One bite of that will surely hold you over 'til morning.

---

ZenGum Sunday Sep 27 07:30 PM

G'day Davinci!

to the cellar.

Psst, there's a whole heap of other stuff outside the Image of the Day, if you feel like digging further.

---

Sheldonrs Sunday Sep 27 08:06 PM

If you want to prove it's really "macho" make a cock ring out of it.

---

TheDaVinciChode Sunday Sep 27 09:25 PM

... After this, I'll be sure to stick around.

(Oh, I know... That was painful to read.)

---

monster Sunday Sep 27 09:53 PM

I'm scared about what sort of fluff that macho velco will collect -the stuff that clogs up the velcro on my kids' shoes is frightening enough

---

monster Sunday Sep 27 09:57 PM
Oh you're in trouble now..... punning the Zenster ...and badly.... You should zip it quickly, he looks ready to popper. I think you may have pushed his buttons. Fasten up, you're gonna find him ready to hook an eye.

---

ZenGum Monday Sep 28 02:00 AM

I'll leave it for Zippy...

---

TheDaVinciChode Monday Sep 28 11:48 AM

Parting is such sweet sorrow... Let's hope we come together, as I'm sure if we get close, we'll soon find ourselves nigh inseparable.

---

Sheldonrs Monday Sep 28 11:56 AM




---

monster Monday Sep 28 12:31 PM

he can multi-task I've heard....

---

Sundae Wednesday Sep 30 05:59 AM

---
Your reply here?

The Cellar Image of the Day is just a section of a larger web community: a bunch of interesting folks talking about everything. Add your two cents to IotD by joining the Cellar.