xoxoxoBruce Thursday Sep 24 01:11 AM

Sept 24, 2009: Flute

Remember, "Ancient sculpture has enormous rack", the IOtD of the 35,000 year old ivory carving?
Just 28 inches away from the busty babe, they found this flute.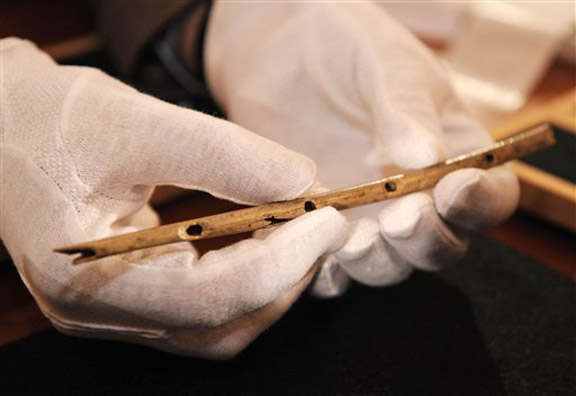 Quote:

In all, researchers report finding the fragments of four flutes at two excavations in an area of southwestern Germany known as Swabia. Three of the sets of fragments were carved from mammoth ivory, but the real prize is a nearly complete flute hollowed out from the bone of a griffon vulture. That specimen was found in the Hohle Fels cave, just 28 inches (70 centimeters) away from the spot where the prehistoric Venus (or, as some wags have put it, "prehistoric porn") was found.

It may be the oldest instrument in existance.


Quote:

They said there were no "convincing" claims that any older musical instruments have ever been discovered.

"Convincing", being the key word here, because....


Quote:

Actually, Slovenian archaeologist Ivan Turk and other researchers have pointed to a bear-bone fragment that is about 50,000 years old and appears to have the finger holes for a flute. I wrote about that particular specimen nine years ago in a story on the "sounds of science." But there's still a controversy over whether the holes were made by a Neanderthal or by a bone-chomping scavenger.

So this may not be the oldest, but it did party with the busty babe.

link
---

SPUCK Thursday Sep 24 06:29 AM

Is this a re-run?

---

DanaC Thursday Sep 24 06:32 AM

Oh that's so beautiful. Look how delicate it appears, yet it's survived all this time.

---

limey Thursday Sep 24 06:46 AM

Quote:

Originally Posted by

xoxoxoBruce

So this may not be the oldest, but it did party with the busty babe.

talkin' 'bout yourself again xoB

?

---

nil_orally Thursday Sep 24 07:46 AM

That's a little boner

---

capnhowdy Thursday Sep 24 08:25 AM

A petrified skin flute.

---

newtimer Thursday Sep 24 09:49 AM

Not quite convinced it's a flute. It looks like a piece of the world's oldest lawn-sprinkler system.

---

ajaccio Thursday Sep 24 10:39 AM

Bird bones being hollow - using a vulture bone was a good idea for that flute. I love this and would have liked to hear it being played by the maker.

---

Gravdigr Thursday Sep 24 11:43 AM

I think that's the stem from one of my bongs.

---

xoxoxoBruce Friday Sep 25 01:37 AM

---

SPUCK Friday Sep 25 05:59 AM

No!



You can't make me!

------------------------------------
Musta c'd it somewhere else.
---

TheDaVinciChode Sunday Sep 27 01:06 PM

And this one time, at Band Camp...

---
Your reply here?

The Cellar Image of the Day is just a section of a larger web community: a bunch of interesting folks talking about everything. Add your two cents to IotD by joining the Cellar.