xoxoxoBruce Friday Sep 18 12:30 AM

Sept 18, 2009: Water Scooper

This has been a bad year for wildfires, not only in the US, but around the world.
In tough economic times, governments are strapped for resources to fight these fires.
Most have decided to concentrate their efforts on the areas of human habitation.
In the remote areas, that leaves Bambi and associates to fend for themselves.

Here's a picture of one of the aerial tankers scooping up a load.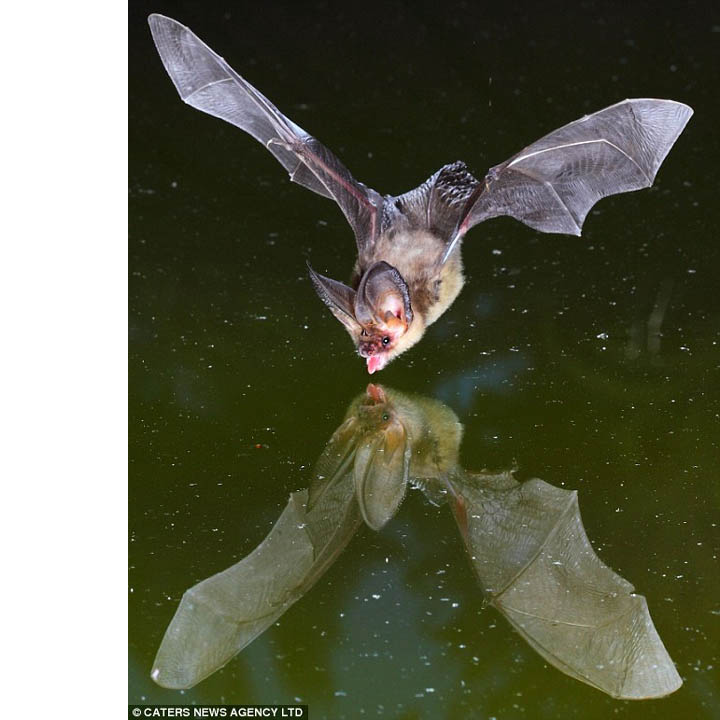 Link

---

nil_orally Friday Sep 18 04:11 AM

That reminds me - it is the mother-in-laws birthday soon.

---

Antimatter Friday Sep 18 06:07 AM

Not much meat on those so you'll need several for a serving. Good job making the photos, though.

---

DanaC Friday Sep 18 06:12 AM

Oh what a marvellous picture!

I do like bats. Always have. Fascinating creatures.

---

capnhowdy Friday Sep 18 07:33 AM

Photo op of a lifetime. Talk about shutter speed!

---

classicman Friday Sep 18 09:13 AM

---

spudcon Friday Sep 18 09:13 AM

Is Nancy Pelosi fighting the California fires?

---

Cloud Friday Sep 18 09:34 AM

and where's the follow up picture of the "dump"?

---

newtimer Friday Sep 18 09:40 AM

---

Madman Friday Sep 18 11:04 AM

Bats don't eat enough flies.

---

Undertoad Friday Sep 18 12:49 PM
---

glatt Friday Sep 18 01:14 PM

Thanks UT. I figured they used flashes and breaking a beam to trigger everything. But didn't know how they knew where to aim the camera. I guess stringing those strings all over the place forces the bats into the only free area in front of the camera.

---

Sundae Friday Sep 18 02:55 PM

I love bats too. I love how to the human eye they just look like a piece of unravelling shammy leather lobbed randomly through the air, but slowed down footage reveals their incredibly precise aeronautical navigation.

Once you've seen a bat flight you can never mistake them for anything else.

We used to live down a road where we had more passing horses than cars. We were across from a gorgeous old vicarage with extensive grounds, and a church complete with graveyard. We'd watch the bats all summer, they came out when the swallows and swifts clocked off. And then we'd have a glass of wine in the cooling summer evening and listen out for owls and foxes. Magical times.

---

Elspode Friday Sep 18 06:32 PM

---

Saknussem Saturday Sep 19 12:34 AM

And now for lunch

While you may remember that I don't have all that much of a fondness for insects (especially caterpillars) I really don't mind crickets and grasshoppers all that much. But when this sort of thing happens, I just GOTTA root for the mammal. I mean, this is just so damn cool. Go bat! I just wish I had some sauce to offer you, fellow warmblood. On second look, that may be a roach?



---

SPUCK Saturday Sep 19 06:53 AM

What's amazing is they can pick out a lump on a plant!!

---

Sundae Saturday Sep 19 07:00 AM

Where as we have evolved to pick something nice off a menu

---

DanaC Saturday Sep 19 07:00 AM

Oh I love that picture! Bats were on my childhood list of creatures that get under your skin and provoke a kind of romantic awe. Along with wolves and foxes. Mum's terrified of bats after one got caught in her hair when they were happily sitting in the inglenook fireplace at a guest house in the Isle of Man. Or did it get caught in aunt Stell's hair and she was with her....maybe.

Used to go out bat-spotting with Dad in Queen's Park at night. Bats and owls and hedgehogs. A night-worker on his night off, and his insomniac little girl :P

---

capnhowdy Saturday Sep 19 09:04 AM

FTR that insect on the cactus is a cricket. I don't think anything but ants will eat roaches.

---

xoxoxoBruce Saturday Sep 19 12:27 PM

---

Gravdigr Saturday Sep 19 05:27 PM

---

Saknussem Saturday Sep 19 06:04 PM

Sorry, but the last bat that got caught in someone's hair was, besides the first, also probably dead and had to be stapled to the person's head. Bats are WAY too agile and quick to get caught in someone's hair. When I was working for Rockefeller University for Dr. Donald Griffin (he was the guy who thought up some ideas like "Animals think." and "Bats echo-locate prey.") at the Millbrook, NY field station we caught bats using vertical strands of wire. Imagine a whole framework of thick wire strung vertically with about 2 inches in between each wire. Now, the bats echo-locating was accurate enough for them to be able to turn sideways IN-FLIGHT and go in between the wires. We had to set up a second framework wire thing behind that one and with the wires offset so the bats would get a sonar bounce of the first set, turn sideways, and fly right smack into the second set of wires. We had a little collection bin down at the bottom to catch the bats so the volunteers could safely (safe for the bats, not the volunteers) pick them up and put them in burlap sacks.

---

ZenGum Saturday Sep 19 08:05 PM

Bats catch moths on the wing using echolocation.

Some moths have evolved to be sensitive to bat's sonar bursts and to fly in evasive loops and spirals when they hear them.

So bats counter-evolved to send short, irregular bursts of sonar so they can sneak up on the moths.

The struggle continues.

---

spudcon Saturday Sep 19 11:38 PM

Moths are now dumping strips of aluminum foil around them to mess up the bat's radar. Unfortunately, bats use sonar, but moths can't read, so they got confused.

---

DanaC Sunday Sep 20 07:00 AM


[eta] come to think of it...the lighting of a fire and all that smoke may well have been what drew it out in the first place.

---

capnhowdy Sunday Sep 20 07:05 AM

My grandmother used to have bats in the eaves of her house. (The square thingies on the ends were called batboxes) Every summer we would get a long bamboo fishing pole and stand below the batbox and whip the pole back and forth very quickly, making a high pitched whirring sound. The bats would fly right into it, rendering them unconscious. We picked up the bats and put them in a "croaker" sack then beat them om the porch floor till they were dead. If granny were still alive, I'd ask her why we did that. In retrospect, I now know that they were not only harmless, but beneficial. Maybe they caused mites or some kind of odor....I don't know.

---

capnhowdy Sunday Sep 20 07:13 AM

And they WILL jump on your ass.*

*see posts 454 - 456

---

xoxoxoBruce Sunday Sep 20 11:48 AM

Aw ferchrisake, all he did was look at you.

---

jinx Sunday Sep 20 12:00 PM

We used to get bats in the house 2-3 times a summer in our old house in Coatesville. The whole city was lousy with them, all old house and old trees...
Anyway they're awesome outside, but I never got comfortable with them flying at me in the living room (they look pterodactyl size in flight) or crashing around my bedroom in the middle of the night. Spent many an evening crawling around on the floor, pregnant, with a blanket over my head opening doors and screaming at them to gtfo.
Good times...

---

glatt Sunday Sep 20 02:53 PM

My Aunt in NE PA has hundreds of bats in the attic of her old country house. They have been there for decades. It smells a bit musty and stinky in that house, but it's cool to watch them flying out at night.

---

xoxoxoBruce Sunday Sep 20 11:16 PM

I'd like to see the hairstyle a bat can get caught in.

---

SPUCK Monday Sep 21 06:57 AM

---

xoxoxoBruce Monday Sep 21 11:17 AM

Maybe graze it with a wing, or even bounce off, but get caught, no.

---

capnhowdy Monday Sep 21 12:34 PM

Then how do they lay the eggs that cause you to go crazy?

(Deputy Fife)

---

classicman Monday Sep 21 12:57 PM

One got caught in a sheet hanging out the window to dry at my parents home. Not the same as hair though. I have heard they get tangled up when they panic.

---

DanaC Monday Sep 21 04:46 PM

Actually, given that she'd have been 16 or so at the time, I'm guessing a bee-hive. Stell was immensely proud of her bee-hive hair.

So, yeah....Marge Simpson.


I'd also imagine it was panicked. By the fire, and the smoke.

---

jinx Monday Sep 21 04:53 PM

Have you ever tried to catch a bat?
Srsly, it's not easy... even if you're armed with oven mitts and fireplace tools.

---

Griff Monday Sep 21 06:05 PM

Two badminton rackets or one mean old cat... We have a small number in (not in in more like under the plank siding) our house I like watching them.

---
Your reply here?

The Cellar Image of the Day is just a section of a larger web community: a bunch of interesting folks talking about everything. Add your two cents to IotD by joining the Cellar.