xoxoxoBruce Monday Sep 14 12:28 AM

Sept 14, 2009: Rocky Mountain Rehab

Not rehabing the mountains, rehabing soldiers, making cowboys out of them.

Quote:
The Vail Veterans Program summer retreat is a program designed to help recently severely wounded U.S. military forces rehabilitate and rebuild confidence through outdoor activities, including rafting, fly fishing, skeet shooting and horseback riding. Most of the wounded are flown in from Walter Reed Army Medical Center in Washington, D.C. Some 250 wounded troops have participated, both in the summer and winter programs since 2004.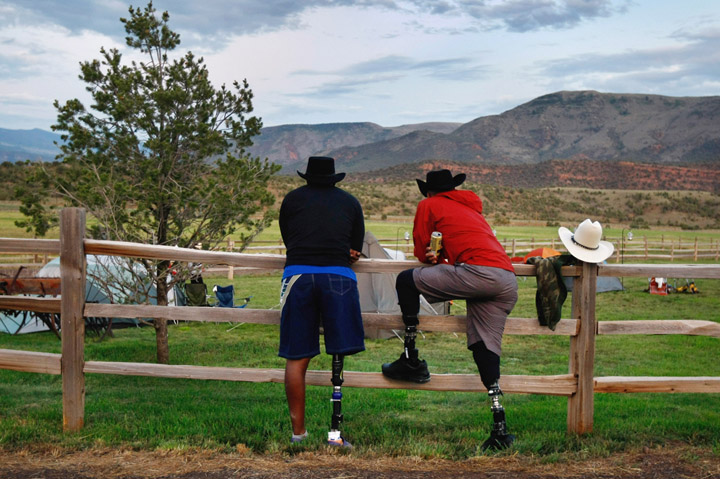 Quote:
Army Ssgt. Freddy De los Santos, 39, left, and Marine Lcpl. Jose Daniel Gasca, 22, both amputees from war injuries, speak on July 30, at Yarmony Lodge, near McCoy, Colorado. They were part of a group of a dozen war wounded and their families participating in the Vail Veterans Program summer retreat. De los Santos, a Special Operations soldier, was wounded when his humvee was struck by a rocket propelled grenade in Afghanistan Oct. 19, 2008, killing the other two American soldiers in his vehicle. Gasca was wounded when his vehicle hit an IED in Fallujah, Iraq Sept. 6, 2008.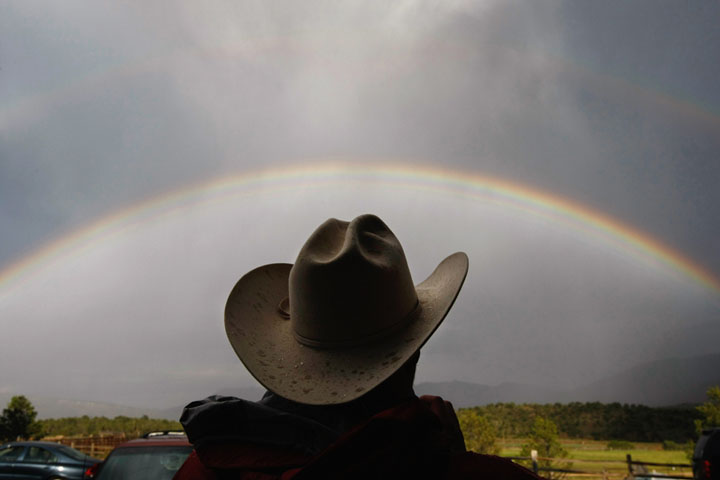 Quote:
An injured U.S. serviceman gazes upon a rainbow following an afternoon thunderstorm on July 31, at the Yarmony Lodge near McCoy, Colorado.
Lot's of pictures at the link, check them out.
---

Griff Monday Sep 14 06:26 AM

Thanks for the hopeful message this morning Bruce.

---

capnhowdy Monday Sep 14 08:08 AM

Exactly my thoughts too. I know my day will be better now. God bless the American soldier. And those who endeavor to better their lives.

---

xoxoxoBruce Monday Sep 14 08:14 AM

Check out the pics at the link of these guys doing stuff.

---

skysidhe Monday Sep 14 09:18 AM

cowboy up! great

---

birdclaw Monday Sep 14 10:29 AM

Dang it Bruce, that brought a tear to my eye. No, no I'm not crying..I just yawned.


---

lumberjim Monday Sep 14 11:08 AM

this image got me a little bit.

that's what holding hands is for those two now.

:: cries like a bitch::

---

Coign Monday Sep 14 04:05 PM

That is my neck of the woods. I hear about the Vail Vets Program all the time. It has a lot to do with the fact that Vail owes its existence to veterans.

http://en.wikipedia.org/wiki/Vail,_Colorado



Quote:

History

The town of Vail was incorporated in 1966, four years after the opening of Vail Ski Resort. The ski area was founded by Pete Seibert and the local rancher Earl Eaton in 1962, between the town of Eagle and Vail Pass. The pass was named after Charles Vail, the highway engineer that routed U.S. Highway 6 through the valley in 1940.
Seibert, a New England native, served in the U.S. Army's 10th Mountain Division during World War II, which trained at Camp Hale, just southeast of Vail. He was seriously wounded in Italy and was told he should become a professional skier when he recovered. He was noticed as the best skier in the world for a short time.

I love living here. Here are a couple of pictures I took this 4th of July.


---

lumberjim Monday Sep 14 07:48 PM

That's where I wanna live

---

monster Monday Sep 14 09:10 PM

Nobody wants to eat the IOTD? Sheldon?

---

nil_orally Tuesday Sep 15 03:37 AM

Shouldn't those guys get inside before they rust?

---

newtimer Tuesday Sep 15 12:55 PM

Notice the photo of the man cutting his steak while holding a knife in his pincers. It won't be long before he just replaces the pincers with a custom-made permanent blade (or two). Muggers beware.

---

dar512 Tuesday Sep 15 01:02 PM

.

---

Gravdigr Tuesday Sep 15 05:08 PM

Looks like Lcpl. Gasca (right, in the IOTD pic) has the right idea. Ya don't need no legs to enjoy a nice cold tallboy.



to all those guys!!

---

monster Tuesday Sep 15 09:09 PM

I saw a girl walking her dog tonight with an artificial leg like those in the picture. She was wearing a little white sundress and the knee joint was allowing her a pretty natural gait, and i though how awesome it is that these days the important thing about prosthetic limbs is what they can do, not what they look like. It wasn't always that way.

---

footfootfoot Tuesday Sep 15 10:23 PM

http://www.ted.com/talks/lang/eng/ai...esthetics.html

Aimee Mullins and her 12 pair of prosthetic legs. A self empowering perspective on disability.

---

xoxoxoBruce Wednesday Sep 16 12:17 AM

Hubba hubba, I wonder if she's got a pair that would hook over my shoulders?

---

dar512 Wednesday Sep 16 12:33 AMVery cool footfootfoot. Those are some great legslegslegs*4.

---

Gravdigr Wednesday Sep 16 03:41 PMFootx3: I found this video (and the ideas in it) very interesting, thanks.

---

Clodfobble Wednesday Sep 16 03:42 PM

I've never seen a Ted Talk video I wasn't fascinated by.

---

monster Wednesday Sep 16 10:29 PM

Excellent. thanks. At first I thought "But it's still a bummer having to pick the legs for the most important activity of the day and having to "make-do" with them or change for other activities" ...and then I realized it's no different from choosing which shoes to wear. Some days I have so many different activities schedules I end up chucking several pairs of shoes in the car. And none of them make me 6 inches taller.

---
Your reply here?

The Cellar Image of the Day is just a section of a larger web community: a bunch of interesting folks talking about everything. Add your two cents to IotD by joining the Cellar.