xoxoxoBruce Saturday Sep 12 01:38 AM

Sept 12, 2009: Lester Letter

This letter, written in 1857 by a slave, Vilet Lester, to her former owner, Patsey Patterson.
Vilet writes, her new owners have agreed to buy Vilet's daughter, if Patsey is willing to sell her.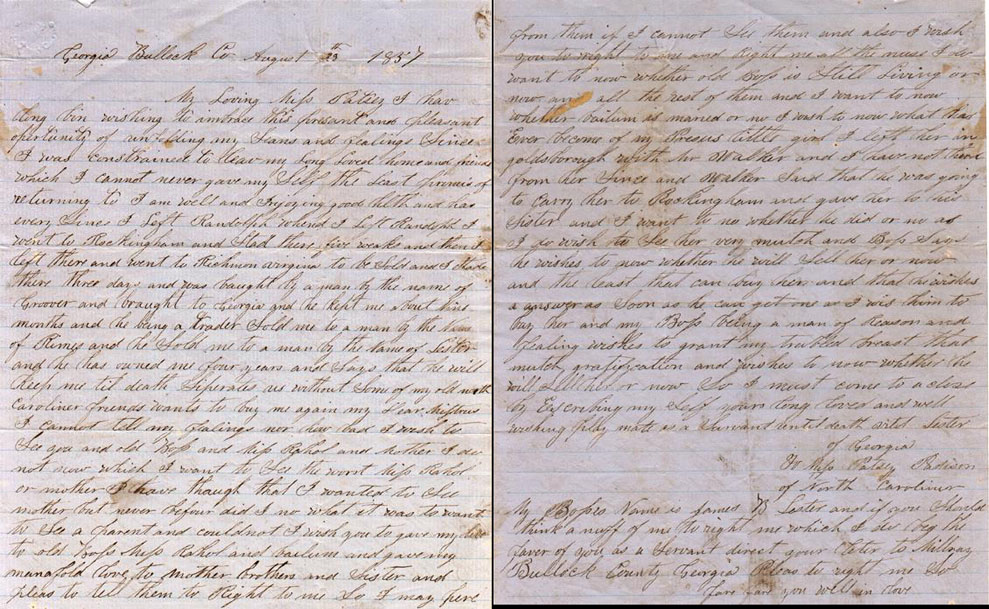 Duke University notes, "This is a literal transcription. Some punctuation has been added for ease of reading and understanding."


link
via
---

DanaC Saturday Sep 12 07:45 AM

Fascinating. Thanks for that Bruce.

---

glatt Saturday Sep 12 07:50 AM

Makes you wonder what happened next.

---

Spexxvet Saturday Sep 12 09:16 AM

It has the same style as some posts I've read. :p

---

wolf Saturday Sep 12 09:50 AM

Except that this semi-literate slave has much better handwriting than txtkids today.

Assuming that she wrote the letter for herself. Her master, the gentleman of reason, could have written it for her.

---

capnhowdy Saturday Sep 12 10:01 AM

Amazing.
How can one have such artful handwriting skills and be so terrible with grammar? Just doesn't make sense to me.

---

Cloud Saturday Sep 12 11:29 AM

I think it's unlikely she wrote it herself; someone probably wrote it for her.

---

newtimer Saturday Sep 12 11:51 AM

Written by a slave who never had a chance at any formal education. I can easily overlook the spelling/grammatical errors; she has an excuse.

So why do graduates of American high schools write like this today? Or university graduates who claim to be educated? Or university employees of MBA programs? (Yes, I'm looking at you, Texas A&M! Your master's program staff have all the education of a slave.)

---

lumberjim Saturday Sep 12 12:43 PM

they had blue lined paper back then?

---

Gravdigr Saturday Sep 12 04:14 PM

---

monster Saturday Sep 12 04:21 PM

Had spelling been completely formalised way back then? It used to be that as long as you could understand the word, the actual letters used were not so important.

---

BobT Saturday Sep 12 04:22 PMhttp://answers.google.com/answers/th...w/id/2170.html

And in answer to when blue-lined paper started, Jane Brown of the
Waring Historical Library wrote:

"I know blue lined paper goes back before 1860. The Waring Library has
Theses of graduates of the Medical College of the State of South Carolina
between 1825 and 1860 and a fair number of them are written on paper
with blue lines."

---

Glinda Sunday Sep 13 12:21 PM

Items like this is why I love my chosen profession (even though there's no work right now) - I'm a research historian/cataloger. I do contract work for auction houses, researching and writing scholarly descriptions of items for auction catalogs and for insurance purposes.

Now, all you people with something historical and interesting and worth a few ducats, please bring them to an auction house near you, so I can get some damned work!

:p

---

BobT Sunday Sep 13 12:57 PM

---

Glinda Monday Sep 14 01:01 PM

Well done!

---

Diaphone Jim Monday Sep 14 02:46 PM

I am afraid I can't figure out the meaning of
"Seans" in "unfolding my Seans and fealings".

---

Cloud Monday Sep 14 03:18 PM

"sense"?

---

Clodfobble Monday Sep 14 05:35 PM

Especially when you put sense in a Southern accent: "seh-yunce" = seans

---

barefoot serpent Tuesday Sep 15 02:23 PMHistory Detectives!

---

Glinda Tuesday Sep 15 02:59 PMlove that show, and if it wasn't for all the gossip I've heard through various people who oughta know, I'd kill to be one of their detectives.

Alas, I'm told there is a lot of infighting among the bunch (I've met Wes - seemed like a nice guy, but I've never worked with him), and a fair amount of snarky asshattery on his part, behind the scenes.

No thanks!

---

xoxoxoBruce Wednesday Sep 16 12:14 AM

Since I don't hear the gossip, I still love the show.

---
Your reply here?

The Cellar Image of the Day is just a section of a larger web community: a bunch of interesting folks talking about everything. Add your two cents to IotD by joining the Cellar.