xoxoxoBruce Thursday Sep 10 12:54 AM

Sept 10, 2009: Forest Facade

8-Story Forest Facade on the Athenaeum hotel in London.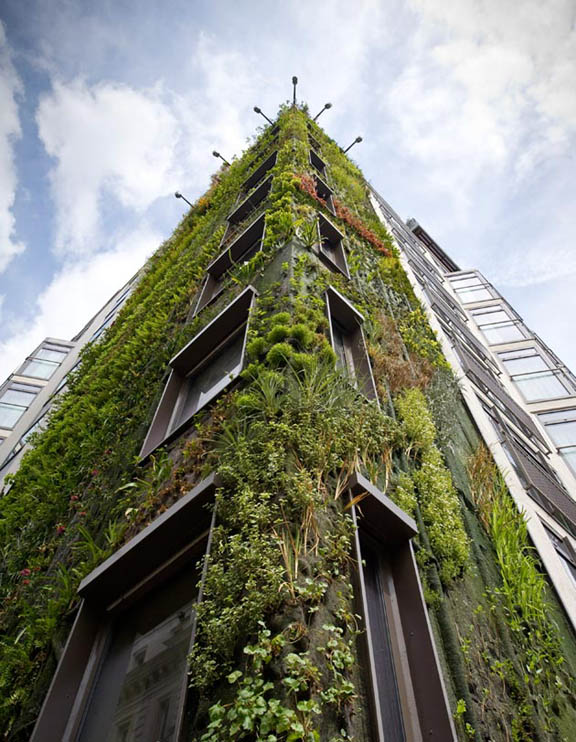 Quote:

The French botanist's gardens have grown massive in scale. One inside a Portuguese shopping mall is larger than four tennis courts, and there's one in Kuwait that's almost as big. But Blanc's recently completed facade for the Athenaeum hotel in London (shown) could be his most high-profile project yet. Looming over Green Park, it's an eight-story antigravity forest composed of 12,000 plants.

Blanc uses a kind of techno-trellis as the underlying structure: A plastic-coated aluminum frame is fastened to the wall and covered with synthetic felt into which plant roots can burrow. A custom irrigation system keeps the felt moist with a fertilizer solution modeled after the rainwater that trickles through forest canopies.

But plants for this vertical landscape must be chosen with care. Because the walls are so high, conditions vary widely. The shade at ground level is perfect for rare Asian nettles; on the brighter upper stories, plants that usually cling to windblown cliff faces brave the blustery British breezes.

Having that greenery on the side of a building promotes rot, mold and bugs... maybe even giant rats and Boa Constrictors.
I wouldn't let him do it to my house.

link
---

ZenGum Thursday Sep 10 01:28 AM

Turns out the glass is always greener on the other side...

---

JuancoRocks Thursday Sep 10 02:37 AM

7th floor......7th floor......Cannabis sativa.........Cannabis sativa.

You can look.......No picking please......

We're making rope in season.......

Really, we are......

---

SPUCK Thursday Sep 10 05:31 AM

Yeah but I might trade bugs for having to paint the damn thing!

---

Griff Thursday Sep 10 06:40 AM

Awesomeness! I assume there is a concrete structure under that so rot is minimal?

---

capnhowdy Thursday Sep 10 07:58 AM

It probably provides excellent insulation. I am assuming all the plants are evergreens. If not it is most likely very unsightly during the winter season.

---

Shawnee123 Thursday Sep 10 08:20 AM

They could plant some Venus Flytraps to take care of the bug problem.

@ zen...greener glass. You're too funny!

---

Sheldonrs Thursday Sep 10 09:49 AM

It's the greenhouse effect.

---

monster Thursday Sep 10 10:37 AM

I love it. I want one. I have ivy growing over my house. people keep telling me off because it's damaging ..... I DON'T CARE!!!!

---

Cloud Thursday Sep 10 11:37 AM

green roofs and green walls are very good things if done right. I've been following their popularity with interest. Remember the new California Academy of Sciences building? Largest "green" building and I think largest green roof.

http://www.calacademy.org/academy/bu...e_living_roof/

---

xoxoxoBruce Thursday Sep 10 12:03 PM

I think green roof is the wrong way to go, better to cover the roof with solar collectors.

---

Gravdigr Thursday Sep 10 03:07 PM

---

kundor Sunday Sep 13 01:50 AM

Quote:

Originally Posted by

xoxoxoBruce

I think green roof is the wrong way to go, better to cover the roof with solar collectors.

What do you think green plants are?

---

xoxoxoBruce Sunday Sep 13 04:22 AM

Non electric generating cover.

---

capnhowdy Sunday Sep 13 09:31 AM

I would opt for the solar panels too.

---

monster Sunday Sep 13 11:15 AM

Um guys... this is in England. Land of cloud and rain and short days in winter. Furthermore, this is n London. Is there such a thing as a smog panel?

---

xoxoxoBruce Sunday Sep 13 11:45 AM

Um Monster, were talking about Cloud's post, #10.

---
Your reply here?

The Cellar Image of the Day is just a section of a larger web community: a bunch of interesting folks talking about everything. Add your two cents to IotD by joining the Cellar.