xoxoxoBruce Sunday Sep 6 12:25 AM

Sept 6, 2009: Trebuchet

Not the huge medieval machine that throws boulders and cows at the castle.
One of them would cost a fortune, take forever to build, and would attract the cops/Homeland Security to your door before you had it half built.

No, here we have a trebuchet that you can build for free and it's easy to hide.
As a matter of fact, you might be able to get paid to build it.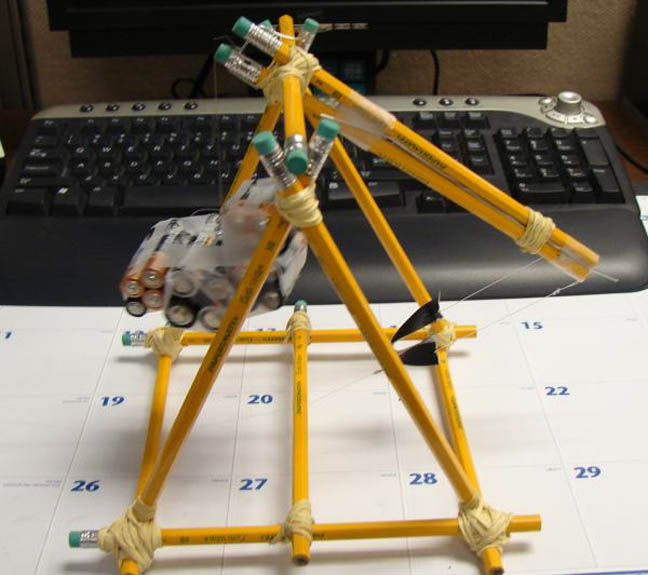 link
---

SPUCK Sunday Sep 6 06:04 AM

My EYE!!! MY EYE!!!

---

Griff Sunday Sep 6 11:12 AM

What, no video?

---

xoxoxoBruce Sunday Sep 6 11:52 AM

We're waiting for you to build it, and youtube the demo.

---

skysidhe Sunday Sep 6 11:57 AM

I've seen one of those on the 'Little People' show.

That's kinda cool someone made it from pencils.

---

Cloud Sunday Sep 6 12:10 PM

but . . . honey roasted peanuts as ammo? there's just something wrong with that

---

newtimer Sunday Sep 6 12:45 PM

I cannot help but notice that there are no social events marked on his calendar. And he fires peanuts at co-workers with his homemade catapult.

Think those 2 sentences are related?

---

toranokaze Sunday Sep 6 01:07 PM

No it couldn't possibility be

---

glatt Sunday Sep 6 06:01 PM

it will have a greater range if he fashions some sort of wheels. Maybe the bottoms from coffee cups, or CD-Rs that didn't burn properly. They need to rock back and forth as the sling lets go for maximum distance.

---

wolf Sunday Sep 6 06:04 PM

Oh, I wish we had pencils at work.

Well, we do, but we only give the crazy people minigolf pencils.

Really.

Like they can't stab my eye out with a three inch pencil.

---

TheMercenary Monday Sep 7 09:03 AM

I wonder if it can breech the office partitions?

---

Griff Monday Sep 7 09:21 AM

Well, with the right payload...

---

TheMercenary Monday Sep 7 09:26 AM

I was thinking more along the lines of the ones I have seen on TV where they built full scale models. You would have to put it on a platform to breech the partition and hit the guy a few booths over. Sounds like fun. Launch a few peanuts and start a war in the office. It would at least provided job security for the janitor.

---

Undertoad Monday Sep 7 09:28 AM

The projectiles should be on fire for maximum effect.

---

capnhowdy Monday Sep 7 10:01 AM

Spitballs, I say. Spitballs. That way you could more accurately judge the accuracy of the weapon.

---

TheMercenary Monday Sep 7 10:09 AM

---

Griff Monday Sep 7 11:56 AM

---

wolf Monday Sep 7 08:02 PM

Although I suppose you could put someone's eye out.

---

SPUCK Tuesday Sep 8 06:04 AM

You guys have it all wrong.
For the proper effect/scale you should be launching dead mice or shrews...

---

Graylen Thursday Sep 10 12:38 PM

Hey guys! Been checkin' out the Cellar for awhile now.. really enjoyin' it! Anyway.. on too trebuche's!! Here's a cool game if you don't have the time to make one but want to play with one anyway, haha!!

http://armorgames.com/play/3614/crush-the-castle

Enjoy!

---
Your reply here?

The Cellar Image of the Day is just a section of a larger web community: a bunch of interesting folks talking about everything. Add your two cents to IotD by joining the Cellar.