xoxoxoBruce Friday Sep 4 12:12 AM

Sept 4, 2009: Polite Pigeons

Oh they still crap on statues, cars, and people, they're polite to each other.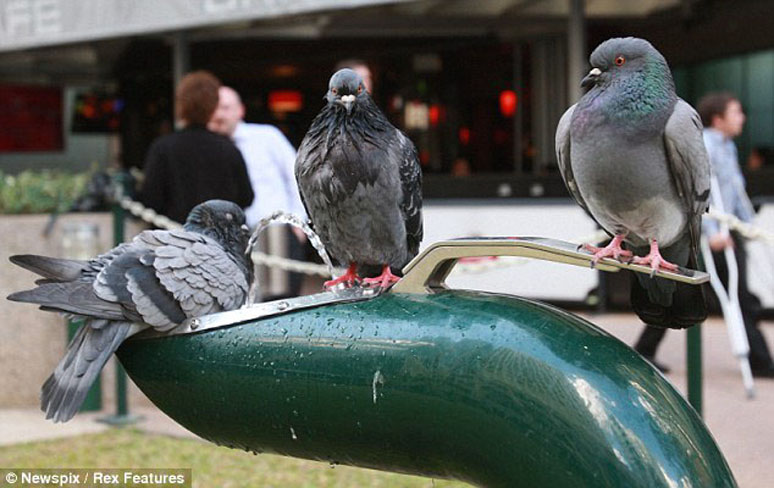 Quote:

After waiting for the fountain to be free, one bird jumped on the lever and pushed it down to fill up the bowl, while another kept watch and the third splashed in. When it had drunk its fill and cleaned its feathers, the third pigeon hopped up to the handle and let his friends have a go. The three birds continued their bathing ritual for ten minutes, entertaining passers-by in Post Office Square, in Brisbane's bustling business district.

Better hope this clever trio doesn't get your PIN number.

link
---

spudcon Friday Sep 4 01:54 AM

And then they all shit on the fountain, and lived happily ever after.

---

SPUCK Friday Sep 4 06:20 AM

Is this just before they robbed the bank?

---

DanaC Friday Sep 4 07:00 AM

Thatr's incredible. I knew birds are more intelligent than people previously thought; and I know many species are more than capable of problem solving and using tools. I had no idea they were capable of such cooperative behaviour in their problem solving. That's remarkable.

---

Shawnee123 Friday Sep 4 08:14 AM

---

newtimer Friday Sep 4 11:00 AM

---

Shawnee123 Friday Sep 4 11:02 AM

Avian's Eleven



---

xoxoxoBruce Friday Sep 4 11:19 AM

Everyone knows Aussies are smarter than the average birds.

---

Sheldonrs Friday Sep 4 02:07 PM

Just wait until the cameras aren't around. Then you'll see some SQUABeling.

---

monster Friday Sep 4 02:20 PM

They're douching.

I don't want to eat them.

---

Shawnee123 Friday Sep 4 02:42 PM

...

---

dar512 Friday Sep 4 02:47 PM

Context please.

---

Shawnee123 Friday Sep 4 02:48 PM

The Pigeon sisters, from The Odd Couple (tv version.) They always cracked me up. And they were quite polite.

---

SteveDallas Friday Sep 4 03:27 PM

The first thing I thought when I saw the topic was, "Poisoning Polite Pigeons in the Park."

---

Gravdigr Friday Sep 4 04:55 PM

Quote:

Originally Posted by

spudcon

And then they all shat on the fountain, and lived happily ever after.

Fixed it for ya.



---

Cloud Friday Sep 4 05:03 PM

Birds.Are.Awesome.

---

barefoot serpent Friday Sep 4 06:30 PM

B'stilla is a classic Moroccan dish, traditionally made with pigeon or squab, although many European and American cooks use chicken instead.



Quote:

To make B'stilla, start by frying an onion and several finely chopped cloves of garlic in vegetable oil. As the onions start to soften, add one quarter cup each minced parsley and cilantro, one teaspoon each of turmeric and ginger, and several threads of saffron. Add two pounds (about one kilogram) of boneless, skinless chicken, or three pounds (one and a half kilograms) of bone-in chicken. Cover the mixture in three cups of chicken stock, bring it to a boil, and then simmer for twenty minutes with the lid on.

When the chicken is cooked, remove it to a separate dish to cool, and stir four beaten eggs into the stock, simmering the stock so that it reduces while shredding the chicken. After the volume of the stock has reduced by around one half, add the shredded chicken back in, and simmer until dry. Remove the mixture from the heat and set aside.

Next, toast one half cup of almonds, either in oil or in a dry baking pan. Grind the almonds lightly so that they become chunky, and mix two teaspoons of cinnamon in, along with one tablespoon of sugar. Add more sugar if you want a slightly sweeter B'stilla.

Some cooks prefer to make these parts of the B'stilla the day before, keeping them under refrigeration. In this case, when these ingredients are put into the fridge, take a package of phyllo dough out of the freezer and put it in the fridge as well, so that it thaws in the fridge overnight. If you are assembling the entire B'stilla in one day, remember to put phyllo dough in the fridge the night before. In either case, take the phyllo dough out around 10 minutes before you want to work with it.

With the phyllo dough out thawing on the counter, melt one half cup of butter in a heavy saucepan. Use the butter to oil a large pie dish, and lay a sheet of phyllo dough into the dish. Brush the dough with butter after it goes into the pan, and make sure to brush the overhanging dough as well before adding another sheet and doing the same. After six to seven sheets are layered, pour the chicken mixture in, spread it so that it is even, and sprinkle the sugared almonds on top. Next, fold the overhanging dough over, and spread several more sheets on top, buttering between. After six or seven sheets have been layered on top, brush the top with eggs for a glossy finish, and sprinkle cinnamon and powdered sugar on as well, if desired. Bake in a 400 degree Fahrenheit (204 degrees Celsius) oven for around 30 minutes, until the B'stilla is golden brown. Allow the chicken pie to cool before serving, typically directly out of the pie pan.



---

Cloud Friday Sep 4 06:52 PM

I have quail on my cliff. When I was little my dad used to trap them (illegal, since we lived in California and they're the state bird) and my mother would cook them for breakfast.

But I'd freak if I actually had to kill, defeather, and gut an animal for eating. So -- no.

---

wolf Saturday Sep 5 06:21 AM

So, momwolf was right when she warned against using public water fountains. I just always thought it had something to do with hepatitis, though.

---
Your reply here?

The Cellar Image of the Day is just a section of a larger web community: a bunch of interesting folks talking about everything. Add your two cents to IotD by joining the Cellar.