xoxoxoBruce Tuesday Sep 1 01:42 AM

Sept 1, 2009: Thatch

I loves me some thatched roof homes.


I don't have one because they are expensive, high maintenance, a fire hazard, an open invitation to insects & creepy crawlies, goat food, and won't pass code.

I've never seen a thatched roof this thick, but they sure look cool.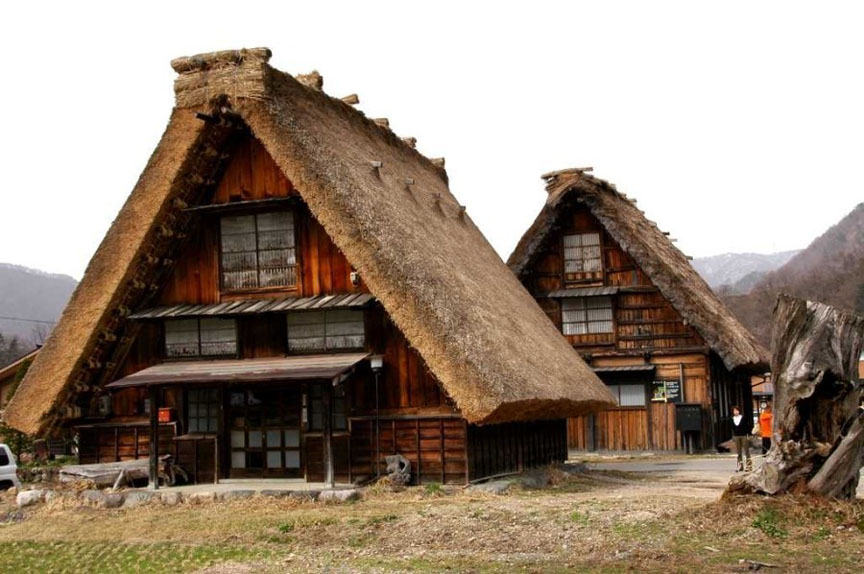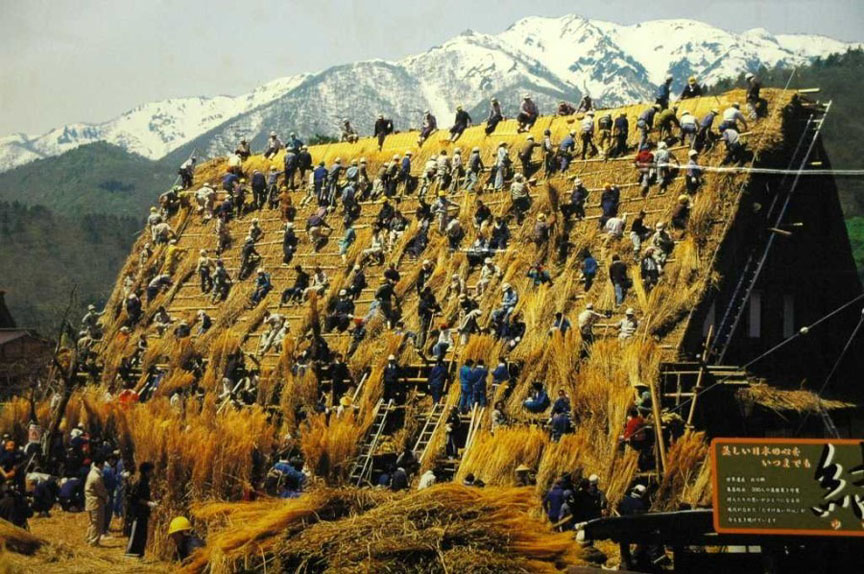 link
link
link
---

SPUCK Tuesday Sep 1 06:07 AM

Hey Buddy! Got a light? Oops I dropped my ciggy.

I bet they're great insulation!

---

Griff Tuesday Sep 1 06:22 AM

Yeah, they do look cozy. Although, looking again they kind of look like warriors buried to their chins...

---

DucksNuts Tuesday Sep 1 06:40 AM

I want a thatch roof on my outdoor area.

---

DanaC Tuesday Sep 1 06:44 AM

...said the actress to the bishop!

---

ZenGum Tuesday Sep 1 08:15 AM

Well if you like thatch roofs, here is the railway station at Shirakawago (White River Village). Although it is a modern building, it is a traditional town / traditional-themed-tourist-town, so they thatched the station roof.
I was on my way home from a hike so I didn't have time to explore further.
Attachment 24636
Attachment 24637

---

Scriveyn Tuesday Sep 1 09:25 AM

Seen in Dawlish / UK




Where were you in 1539?

---

Cloud Tuesday Sep 1 09:29 AM

I like the UK cob houses, some of which have thatch I think. I also like "green roofs" which can be of varying construction, but I notice that Japanese building has things deliberately planted in it, so that counts.

---

glatt Tuesday Sep 1 10:27 AM

I watched a guy thatching a roof in the Netherlands years ago. It was so cool to watch. He was good at it. Had a lot of muscle memory in those arms. He just did it without thinking. We stayed there for at least an hour sitting on a grassy dyke just watching this guy work bundle by bundle along the roof. He would basically take a big bundle of thatch, tap it against the existing roof to get all the individual straws roughly lined up at the right angle, and plop it in place. Then he had what were essentially oversized hair pins that he stuck down in he thatch to hold it in place. After he had done a section, he took a long serrated knife, like a saw, and cut off all the thatch ends to make it even with the slope of the roof. Very simple and cool. Climbing the ladder with an armful of thatch looked awkward though.

---

newtimer Tuesday Sep 1 10:42 AM

I can't figure out why the fellow closest to the camera is wearing a hardhat.

---

xoxoxoBruce Tuesday Sep 1 12:50 PM

They're all wearing hard hats.

---

dmg1969 Tuesday Sep 1 02:30 PM

They look like Japanese Amish.

---

Cloud Tuesday Sep 1 02:31 PM

I think, looking at the first set of pics, that maybe they weren't planted deliberately; that instead, stuff is just growing under the rain spouts, or spots where rain drips off the beams or whatever that is.

It's still a green roof, just not a living one.

---

wolf Tuesday Sep 1 02:38 PM

There's at least one Christmas Tree Shop up in Mass. that has a thatch roof. Or rather faux-thatch.

---

tombstone Tuesday Sep 1 06:11 PM

Thatch all, folks!

---

SPUCK Wednesday Sep 2 05:51 AM

Must've been stoned(grassy?)

---

chrisinhouston Wednesday Sep 2 08:35 AM

Everyone coming together to thatch the roof on a community center? Sounds like Socialism to me! If President Obama has his way he will force everyone to have a thatched roof and pretty soon all of the other roofing material companies will be out of work! No thatch here, we have the best roofs in the world!!!

---

dar512 Wednesday Sep 2 10:00 AM

I notice that none of the Cellar ladies has created a Thatch (NSFW) clone thread.

---

Glinda Wednesday Sep 2 03:50 PM



---

DucksNuts Thursday Sep 3 05:07 AM

---

francois_vdv Friday Sep 17 05:03 AM

These pics are so amazing , I would love to visit the thatch town in Japan!!!

I was looking for thatched structure next to my pool and found the following company that had some great pics of thatched roofs on their site



www.capereed.com

Amazing how the styles differ from country to country.

---

SPUCK Friday Sep 17 05:27 AM

Welcome to The Cellar francois_vdv.

---

footfootfoot Friday Sep 17 09:50 AM

Is that the lovely aroma of SPAM I smell?

---

xoxoxoBruce Friday Sep 17 10:27 AM

Possibly, but it's a company local to him and of little use to most, plus he has considerable online presence that appears to be clean... and the pictures are pretty.

---

footfootfoot Friday Sep 17 12:52 PM

The pictures are pretty. I downloaded the Commercial portfolio and wondered how people make that kind of $. The Dubai kind of money.

---

BigV Wednesday Sep 22 07:08 PMNATCH?

---
Your reply here?

The Cellar Image of the Day is just a section of a larger web community: a bunch of interesting folks talking about everything. Add your two cents to IotD by joining the Cellar.