xoxoxoBruce Friday Aug 28 01:03 AM

Aug 28, 2009: Poodles Missing

Yes, dogs gone... replaced with a camel, buffalo, pirate, pony or a myriad of other beasts, real and imagined.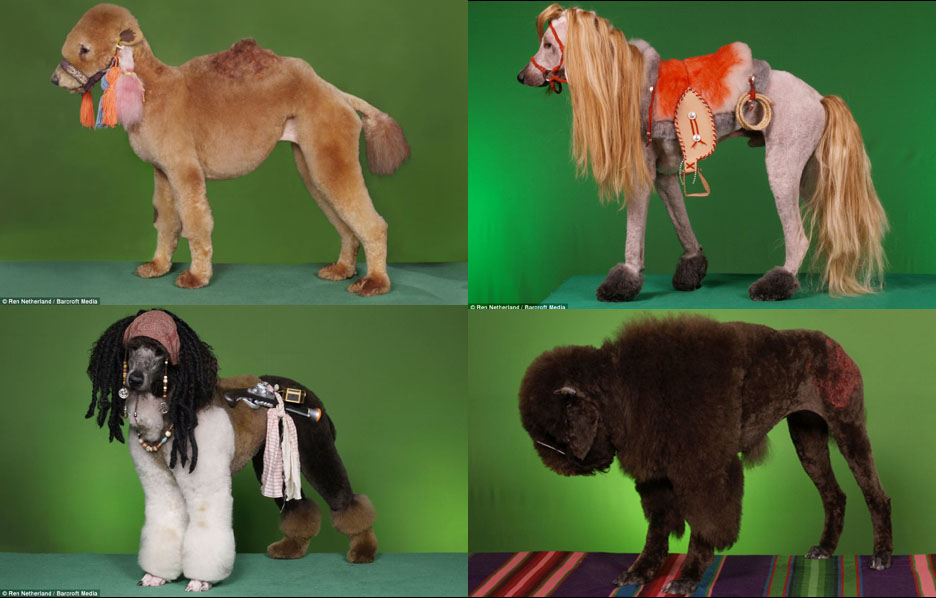 No Poodles were harmed in the creation of these pictures.

Lots more pictures.
---

SPUCK Friday Aug 28 06:56 AM

And people wonder why dogs form packs and kill humans..

---

ZenGum Friday Aug 28 07:52 AM

But really clever dogs disguise themselves as buffalo to kill humans.

Now pardon me, I have to go and walk my camel.

---

capnhowdy Friday Aug 28 08:06 AM

Poodles LURVE for you to make a fuss over them. They'd rather do this than gnaw a steak bone. I saw a lady the other day that was walking a pair of poodles. One was hot pink & the other was mint green. They acted like they didn't mind at all.

---

Pie Friday Aug 28 08:54 AM

I think they're colorblind, Sam.

---

dmg1969 Friday Aug 28 12:42 PM

Let them try that shit with my german shepherd. Just go buy a camel...or horse...or buffalo.

---

Shawnee123 Friday Aug 28 12:50 PM

*snicker* Yabbut, the buffalo cracks me up.

I think standard poodles, sans stupid-ass haircuts, are very nice. I wonder if the poodles think "you dumbass, I just wanna be a natural dog, dude. Pass that on over here..."

---

Cloud Friday Aug 28 12:53 PM

ah, no -- I don't think that fits their personalities well. It's more like, look at me! I'm fancier than YOU! nyah nyah nyah!

and what's the one on the bottom left? Looks like a gypsy or something, but it's got a gun.

---

Shawnee123 Friday Aug 28 12:54 PM

There's gotta be a couple hippie poodles....lol!

---

Coign Friday Aug 28 03:00 PM

You can see its white shirt and brown canvas pants too.

---

monster Friday Aug 28 03:20 PM

So what do we need recipes for? Camel, Buffalo or Dog? I think they're just trying to avoid being eaten by IOTD viewers.

---

Gravdigr Friday Aug 28 03:32 PM

---

Shawnee123 Friday Aug 28 03:34 PM

My poor old cat is turning into a poodle: she's lost a bunch of hair off her neck. I'm not sure why.

---

classicman Friday Aug 28 03:36 PM

---

wolf Friday Aug 28 04:02 PM

---

Cloud Friday Aug 28 04:12 PM

Okay, I see it now. (squints)

---

monster Friday Aug 28 04:32 PM

no, it's a poodle. looking very silly.

---

monster Friday Aug 28 04:33 PM

recipe for buffalo-style poodle in a panda in a pony with a camel reduction.

Come back to me when you've got the poodle in the panda.....

---
Your reply here?

The Cellar Image of the Day is just a section of a larger web community: a bunch of interesting folks talking about everything. Add your two cents to IotD by joining the Cellar.