xoxoxoBruce Wednesday Aug 19 01:20 AM

Aug 19, 2009: Biggest Jeans

Now some of you fat bastards must feel guilty for hogging so much of the world's denim supply to make those big butt jeans.
Maybe these will make you less guilty.

Quote:
Peruvian seamstresses hoping to snag a Guinness World Record for sewing the largest pair of blue jeans. Workers laid the pair on the ground and put big balloons inside the legs to show off the size of the jeans, which are 141 feet (43 m) tall and 98 feet (30 m) wide. They are hoping to break the current record. The current record is held by the city of Medellin in Columbia. That pair was 114 feet tall and 82 feet wide.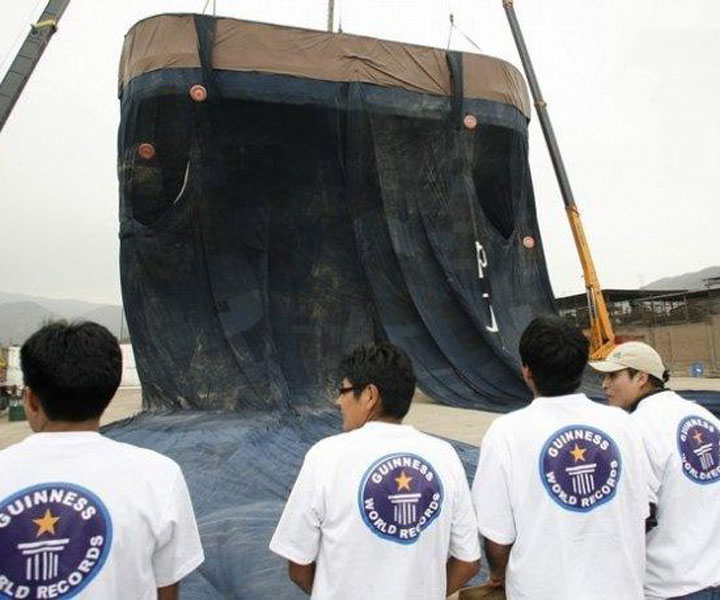 Quote:

After the event, the pants will be cut to make backpacks for area school children.

Why do adults try to cover silly behavior by saying it's for charity, or it will benefit the children?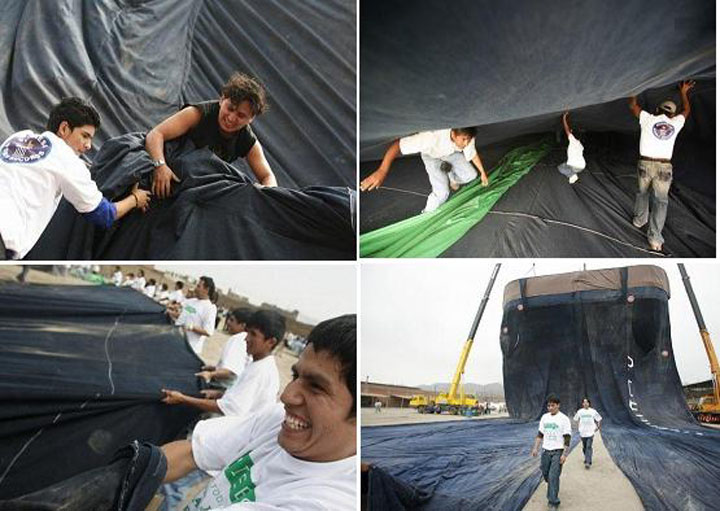 link
---

ZenGum Wednesday Aug 19 02:12 AM

It's 'shopped, Bruce ... someone is pulling your leg. Or so it seams to me.

---

SPUCK Wednesday Aug 19 05:45 AM

What happens when 2,500 yards of denim rips somewhere, and falls on someone?

---

spudcon Wednesday Aug 19 07:15 AM

I hope that's the back of the jeans they're showing, cuz if not, the guy who wears that pair will have to drop them to pee. They forgot the zipper.

---

ZenGum Wednesday Aug 19 07:38 AM

Quote:

Originally Posted by

SPUCK

What happens when 2,500 yards of denim rips somewhere, and falls on someone?

Wardrobe failure.

---

capnhowdy Wednesday Aug 19 08:42 AM

Wouldn't that be wardrobe malfunction?

Oh yeah..... no celebrity involved here. My bad.

---

glatt Wednesday Aug 19 09:04 AM

Now, to really scale up a pair of jeans, they need to be working with thicker fabric made from a coarser fiber. The denim should have been woven from some inch thick jute rope, so the resulting fabric would be a couple inches thick. Then it would drape properly.

This pair of pants, if you step back and squint, looks like it's made of silk or satin. The fabric is far too thin.

---

birdclaw Wednesday Aug 19 10:06 AM

I guess if the Jolly Green Giant ever wants to get rid of the leave loin cloth he knows where to go.

---

ajaccio Wednesday Aug 19 10:14 AM

I like that they got those rivets just right - color and all-



---

Sundae Wednesday Aug 19 10:25 AM

Argh - trying to resist posting a Carter USM link....
You're okay. Turns out all the Surfin' USM links on YouTube are rubbish!
So I'll just quote Rimmer instead. And that should be enough for anyone.

"When you're younger you can eat what you like, drink what you like, and still climb into your 26 inch waist trousers and zip them closed. Then you reach that age, 24, 25... your muscles give up, they wave a little white flag and without any warning at all you're suddenly a fat bastard."

---

monster Wednesday Aug 19 11:24 AM

Imagine the fat-bastard fight that will break out in Walmart when they go on sale....all the flabbies fed up with only being able to buy sweat-pants. a few dozen zillion pound blobbies all closing in on the same spot. Imagine the impact. it'll be worse than 9/11 RUN. Start now.

ew, I think I'm starting slimming now -I feel my breakfast returning.......

---

Saknussem Wednesday Aug 19 01:43 PM

Are those button fly or zipper? Either way, I wanna see the hardware for both! Can you imagine the buttons? As big as that one guy's head, I bet.

---

dmg1969 Wednesday Aug 19 02:07 PM

Show me the matching denim jacket and THEN I'll be impressed.

Oh, and fuck denim!

---

Saknussem Wednesday Aug 19 02:15 PM

In a related story, 17 Nigerian embroidery specialists were killed in a horrible accident when their 32 foot wide "Grateful Dead 1968 World Tour" patch collapsed under its own weight and fell on them squashing them flat. Guinness has ruled that the patch, as it was uncompleted, does not qualify as a world record for largest hand embroidered patch.

---

Cyber Wolf Wednesday Aug 19 07:27 PM

Sorry Peruvian guys, but you're about 15 years too late to that party.
Dinosaur Neil doesn't need them anymore...

---

Slight Thursday Aug 20 03:08 AM

Quote:

Originally Posted by

ZenGum

It's 'shopped, Bruce ... someone is pulling your leg. Or so it seams to me.

Sweat-shopped. Very punny

---
Your reply here?

The Cellar Image of the Day is just a section of a larger web community: a bunch of interesting folks talking about everything. Add your two cents to IotD by joining the Cellar.