xoxoxoBruce Wednesday Aug 12 01:46 AM

Aug 12, 2009: Farmer's Market

Farmer's markets are wonderful. All those fruits, veggies, and sometimes flowers, honey or dairy, fresh from the farm.

This one is in Thailand, Samut Songkhram province, but can you spot a difference?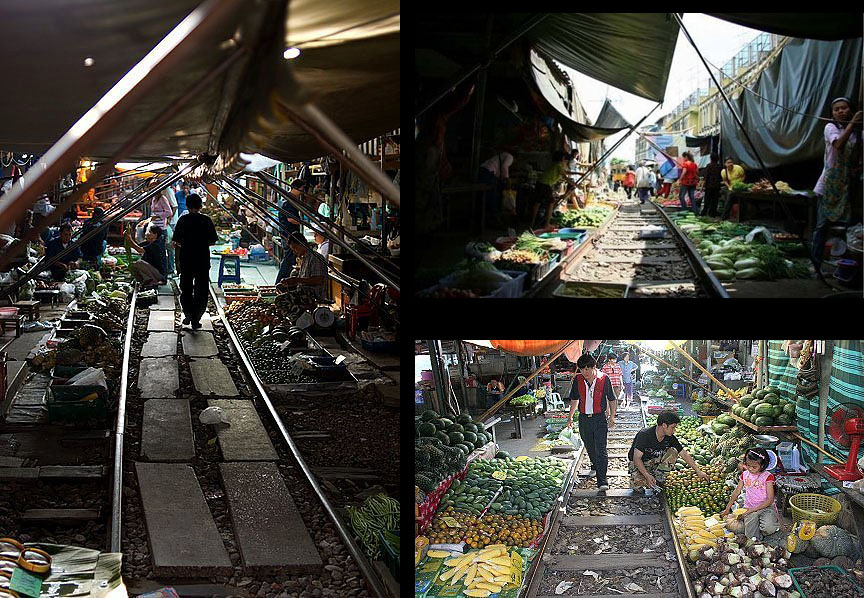 Railroad tracks right down the middle make a good defined path for shoppers...
and the eight express trains a day that use these tracks.

link
---

SPUCK Wednesday Aug 12 03:27 AM

OH CRAP HERE COMES THE TRAIN!!!!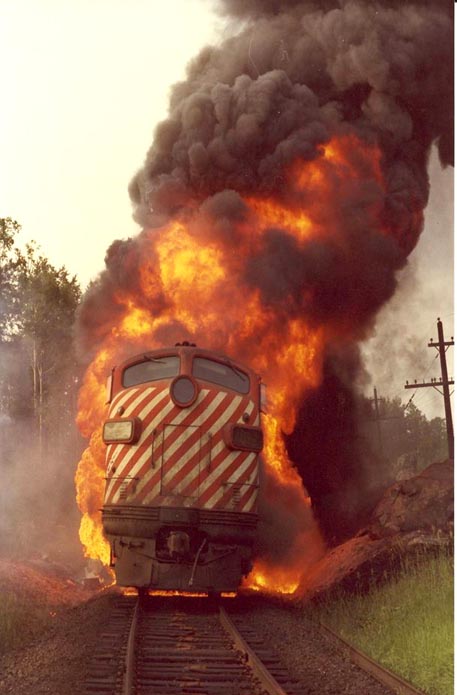 ---

Laurie Henderson Wednesday Aug 12 07:20 AM

Grilled veggies, anyone??

---

spudcon Wednesday Aug 12 07:46 AM

If I was there, some of them veggies would be put on the rails, just before the train comes.

---

capnhowdy Wednesday Aug 12 07:48 AM

This would never work in the lawsuit-happy U.S.A.

---

Shawnee123 Wednesday Aug 12 08:29 AM

No, some drunken dumbass would stand in front of the train and then sue somebody while they scramble to find their missing body parts.

---

Sundae Wednesday Aug 12 08:29 AM

There's a section in one of Michael Palin's travel documentaries that reminds me of this a little. He's travelling between Chile and Bolivia, and the train is running very, very late.

When they get to La Paz, they have to arrange for cars and people to be moved off the track - the trains are so notoriously bad that the railway line is not treated with any kind of concern, it's just part of the street.

Not quite as dangerous as here of course!

---

Degrees Wednesday Aug 12 09:41 AM

Mmmmm. Twice mashed potatoes.

---

Trilby Wednesday Aug 12 10:05 AM

---

birdclaw Wednesday Aug 12 11:36 AM

Finally a way to "train" your vegetables.

---

dar512 Wednesday Aug 12 12:36 PM

Some of those veggies can be tough, so remember to choo-choo your food.

---

dmg1969 Wednesday Aug 12 03:25 PM

Wouldn't that make all of the veggies.......squash?

---

Gravdigr Wednesday Aug 12 04:09 PM



---

newtimer Wednesday Aug 12 06:14 PM

They have their market here for the benefit of tourists who like to come and take photos of their market. Otherwise, why wouldn't they just move to one side or the other and get off the freakin' tracks?!?

---

Shawnee123 Wednesday Aug 12 07:29 PM

---

Elspode Wednesday Aug 12 09:40 PM

9:00 AM - Cucumbers, $1
9:15 AM - Peeled Cucumbers, $1.25

---

Saknussem Wednesday Aug 12 11:00 PM

And here I thought the difference was that in Thailand you can buy little girls in pink dresses in their Farmers' Markets. Stupid me.

---

Kasszia Thursday Aug 13 12:31 AM

"Even if they donít hit you like a freight train, the environmental messages of the railway track market of Samut Songkhram are certainly there to be chewed over."
I didn't know Enviromental Graffiti was part of the Cellar...

But seriously, did you watch the video? The train goes RIGHT OVER THE VEGETABLES. Yum yum yum.

---

ZenGum Friday Aug 14 07:04 AM

You mean this video?



I love the speed with which the stalls reappear after the train passes.

---

capnhowdy Sunday Aug 23 11:10 AM

Watch this video of another "train market".

---

Cloud Sunday Aug 23 12:49 PM

well, that answers my question about the awnings

---

SPUCK Monday Aug 24 05:18 AM

Whats amazing on that last vid is how many tourist photographers run out.

---

capnhowdy Monday Aug 24 08:04 AM

I bet these places are a mess after a heavy rain.

---
Your reply here?

The Cellar Image of the Day is just a section of a larger web community: a bunch of interesting folks talking about everything. Add your two cents to IotD by joining the Cellar.