xoxoxoBruce Tuesday Aug 11 01:11 AM

Aug 11, 2009: Sparks

Our old buddy Mike Yon, who gave us all the up close and personal reports while embedded with different outfits in Iraq, is now embedded in Afghanistan.

He posted these pictures on his website, of a Ch-47 Chinook helicopter landing at FOB Jackson in Sangin, Afghanistan.

The white swirling light is sparks and static discharges, from the rotors hitting the sand kicked up by the down-wash.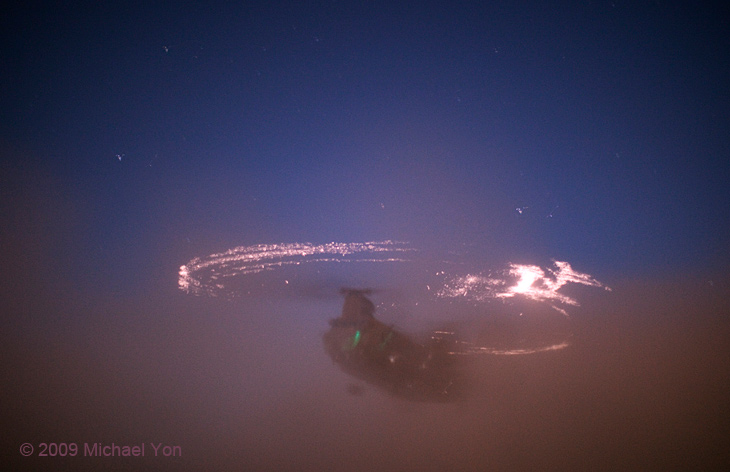 Quote:
I made this photo last night in Helmand Province, Afghanistan. This Landing Zone is very dangerous. A few weeks ago, another helicopter was coming into this LZ and was shot down at the last minute, killing all passengers and crew. Two children on the ground also were killed. The sparks coming off the rotors occur when the helicopters land in hot, dusty conditions. The landing itself occurs in a dangerous "brownout." Brownout danger is compounded by the sparks which light up the dust and can confuse pilots who are wearing extremely sensitive nightvision goggles.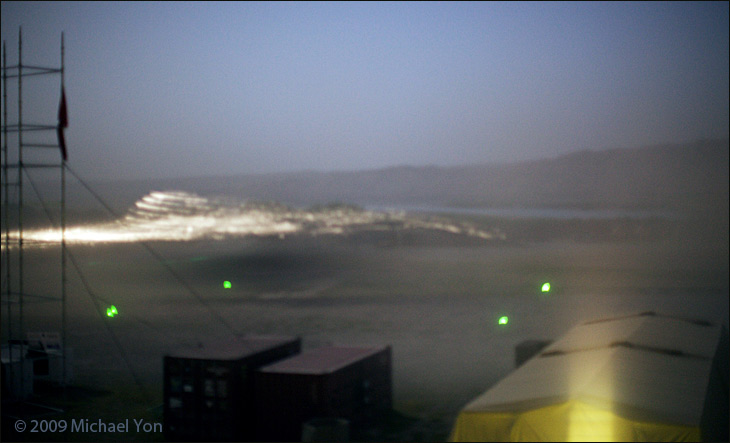 Quote:

The helicopter pilot wearing night vision goggles roared in so fast it looked as though he were crashing. The four green Cylums (Americans call them Chemlights) mark the HLS. While the helicopter is above the dust cloud, it melts into the dark, but as it approaches the HLS, dust swirls high, setting the stage for an amazing light show. The Chinook descends through the dry dust and the rotors glitter brightly, creating an eerie glow as if sparklers are attached to the rotors, which in reality appeared brighter to the eye than in the photo below. If the helicopter were not so loud, the millions of static discharges might be heard crackling and popping.

I can imagine the wear and tear on the rotors, as well as all the other moving parts, from that paperless sandpaper.

---

birdclaw Tuesday Aug 11 01:18 AM

It's beautiful, terrifying, but beautiful.

---

ZenGum Tuesday Aug 11 02:03 AM

That is amazing.

I'd be more worried about what the sand was doing to the engines, myself, but the rotors won't like it either, I'm sure.

---

xoxoxoBruce Tuesday Aug 11 02:19 AM

The engines have "particle separators" to keep that shit out, but hinges, latches, machine guns, in fact all moving parts, take a beating.

---

TheMercenary Tuesday Aug 11 02:56 PM

Depending on the conditions you can observe this even when there is no sand in the air. We use to see it all the time. The static electricity actually will store a charge in the metal of the aircraft and if you are conducting slingload operations you have to discharge this electricity into the ground before you touch a hovering AC with a slingload D-ring or the D-ring attached to a piece of equipment that is going to be lifted. The static is strong enough to knock you on your ass if you fail to discharge it before touching the ac.

---

TheMercenary Tuesday Aug 11 03:06 PM

Check out these cool vids.

http://www.alexisparkinn.com/helicopter_videos.htm

Navy SEAL extraction was pretty cool.

"Night Vision Landing" will show you a video of the IOTD above in NVG.

---

Diaphone Jim Tuesday Aug 11 06:04 PM

I've been following Michael Yon ever since Bruce had an IOTD piece of his about battles in the corn a year or so ago. While I haven't always agreed with his take on everything in Iraq and now Afghanistan, there is no clearer and fresher look at things there. How to possibly be optimistic?
I've seen a lot of choppers land and take off but never seen the static show.
I just wrote a post for a US Army forum this morning about a Chinook that pulled a sick soldier from the fantail of a troop ship in a storm. Talk about a venerable aircraft: that was off the coast of Vietnam 43 years ago this week!
Even more venerable are the Gurkhas in Yon's story. They have been at it for hundreds of years (and that's just on the British side).

---

Agent-G Tuesday Aug 11 11:25 PM

As if flying a helicopter wasnt dangerous enough.

---

Slight Wednesday Aug 12 12:20 AM

Cool IoTD Bruce. Merc, thanks for the link; nice video.

---

Gravdigr Wednesday Aug 12 03:07 AM

The site for Merc's link was down for me when I checked it.

---

xoxoxoBruce Monday Aug 17 02:50 AM

More excellent pictures of sparks from Mike Yon.

---

xoxoxoBruce Thursday Nov 5 05:06 AM

Smithsonian Air & Space, has published one of Mike Yon's pictures.

---
Your reply here?

The Cellar Image of the Day is just a section of a larger web community: a bunch of interesting folks talking about everything. Add your two cents to IotD by joining the Cellar.