Undertoad Sunday Aug 9 06:05 PM

Aug 10, 2009: One of Saturn's rings damaged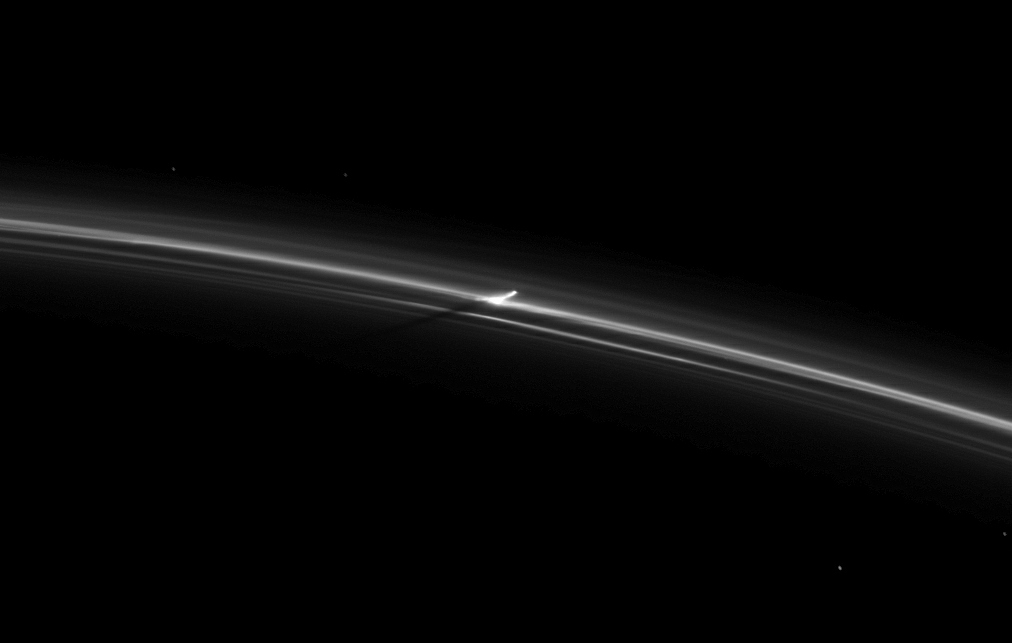 The Discover magazine Bad Astronomy blog says it far better than I could:


drag so much of the ring along with it? Why is the drag brighter at the bottom?

We don't know how often this sort of thing happens, because we haven't been watching all that long. I guess after it's all been analyzed, we'll have a clearer understanding of the rings. Who knew they were made of gelatin?

---

Pie Sunday Aug 9 07:40 PM

It's like the elastic in underwear. Looks like something snagged there.

---

casimendocina Sunday Aug 9 08:00 PM

Does anyone have any ideas about what the implications might be? Do they matter or is it just knowledge building?

---

Leokins Sunday Aug 9 09:11 PM

I know! I know! It's an alien spaceship!
Somebody had to suggest it

---

dar512 Sunday Aug 9 09:18 PM
---

TheMercenary Sunday Aug 9 10:09 PM

It means that the thing that hit it has now been deflected from its trajectory and is now headed straight for Philly, PA.

---

Elspode Sunday Aug 9 10:34 PM

Whatever it is, it is casting a shadow on the rings. Most impressive.

Footfall is one of my favorite Niven/Pournelle books.

---

ZenGum Monday Aug 10 03:00 AM

SHEEEELLLLDON???!!!!

---

SPUCK Monday Aug 10 06:00 AM



---

ZenGum Monday Aug 10 08:16 AM

---

capnhowdy Monday Aug 10 08:29 AM

This may explain the plane/copter crash over the Hudson.

---

Madman Monday Aug 10 09:52 AM



2012 was a lie. The Mayans just ran out of... of... whatever they used to scrawl their fib with.

Fucking Mayans.

---

dar512 Monday Aug 10 11:56 AM

---

OnyxCougar Monday Aug 10 02:12 PM

[fundy]
It's a smudge from God's finger!
[/fundy]

---

Slothboy Monday Aug 10 02:57 PM

Time to build that bunker.

---

dar512 Monday Aug 10 03:04 PM

---

TheMercenary Tuesday Aug 11 07:25 PM

---

Shawnee123 Wednesday Aug 12 01:18 PM

At least it's not Uranus.

---

barefoot serpent Wednesday Aug 12 05:23 PM

WTF-ring

---

Saknussem Friday Aug 14 08:26 PM

Didn't Wall*E drag his filthy mitt through one of the rings?

---

monster Saturday Aug 15 10:53 PM

---
Your reply here?

The Cellar Image of the Day is just a section of a larger web community: a bunch of interesting folks talking about everything. Add your two cents to IotD by joining the Cellar.