newtimer Saturday Aug 8 11:54 AM

Aug 8, 2009: Red five, sleeping by.

For those of us with Y chromosomes, the photos are self-explanatory.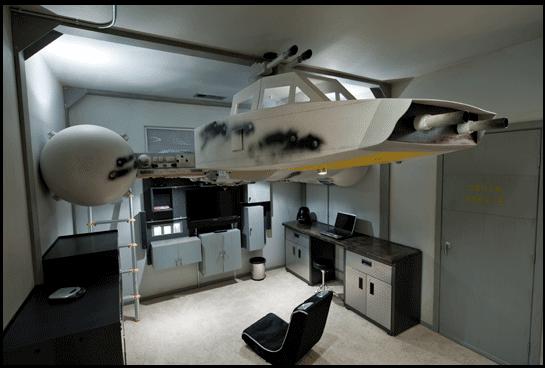 There are more photos at http://ourvisaliahouse.com/layout.html. Click on bedroom#2 to see them.

---

Griff Saturday Aug 8 11:56 AM

brokey linky?

---

TheMercenary Saturday Aug 8 11:57 AM

Looks like something out of some computer game. I have no idea.

---

newtimer Saturday Aug 8 12:00 PM

Dang it! When I previewed my post, it looked fine. But now I can't see it from the main screen. What gives?

---

Undertoad Saturday Aug 8 12:10 PM

Attached images have to wait for a moderator to turn them into directly-linked images. This is done now.

---

Perry Winkle Saturday Aug 8 01:21 PM

http://ourvisaliahouse.com/layout.html

---

Gravdigr Saturday Aug 8 02:17 PM

My creativity and skill level limits me to the ol' 'fish aquarium in the Packard Bell monitor' I used to have.

---

newtimer Saturday Aug 8 07:38 PM

I'm impressed by the lack of pillar in the middle of the room holding it up. Apparently the laser cannon on top of the cockpit is hiding a bracket. Clever.

---

Tick Saturday Aug 8 08:21 PM

Cool piñata!!

---

classicman Saturday Aug 8 11:39 PM

looks like the door will hit it when opened -

---

ZenGum Sunday Aug 9 04:14 AM

It looks like there is a kitchenette in the background, suggesting that this is the studio apartment of a more-or-less independent adult.

Hey, sweetie, wanna come back to my pad and check out my Y-wing fighter bed?
Wait, where are you going? I've got a Darth Vader helmet too!

---

Flint Sunday Aug 9 10:55 AM

---

dar512 Sunday Aug 9 11:07 AM

---

Flint Sunday Aug 9 11:20 AM

But, I used to bull's-eye womp rats back home... they're not much bigger than that.

---

newtimer Sunday Aug 9 11:32 AM

---

Glinda Sunday Aug 9 12:00 PM

"Special" decor sometimes goes the way of the dodo with new owners.

When I was about 12, my parents allowed me to select the carpeting for my room in our new home. I chose two-inch, dark purple shag.

Years later, mom and dad were only able to sell the house on condition that they replace the carpet in my bedroom with something remotely normal.

On the flip side, when I sold my condo, the new owners were thrilled with the big jungle mural (painted by my very talented mom) in the guest room.

In the case of the Star Wars room, it's quite possible it will not survive a sale intact. It's a bit.... much.

---

Griff Sunday Aug 9 12:09 PM

---

TheMercenary Sunday Aug 9 12:24 PM

---

Glinda Sunday Aug 9 12:48 PMsome job, given that the place had 10-18 foot high vaulted ceilings throughout) before selling, but left the mural in case someone really liked it. I would've been happy to paint it over if it was a deal breaker, but I got lucky and mom's beautiful mural lives on.

---

Clodfobble Sunday Aug 9 06:10 PM

We looked at one house that had the most astounding "feature:" the master shower (a wide bathtub-shower, not a skinny standing shower) had a huge picture window set into the wall inside the curtain... which looked not outside, but into the master bedroom. Clear glass. Perfect view from the master bed. The sellers had placed a large armoire in front of it on the bedroom side so it wasn't immediately obvious what you were looking at, but we still declined to purchase that house...

---

SPUCK Monday Aug 10 05:50 AM

Got a picture Glinda?

I tried painting a jungle scene once.... Sad.. Our bathroom is now painted lime green, purple, brick red, light blue, straight blue, forest green, and burnt orange.

We get a lot of comments. Mostly positive.

But then our sink gets a lot too because I put in a commercial fixture that senses your hand and turns on. The cool part is that you can adjust the temp with a typical looking 30 degree lever on the side. People think that is how you turn ON the water. After turning that with no result they eventually pass their hand thru the sensing zone while fidgeting with the control. We often hear shrieks when the water comes out unexpectantly. MWHAHAHAHA

I think it definitely cuts down on family pandemics.

---

Glinda Monday Aug 10 12:50 PM






* I wasn't there to sell the place (I'd moved and was renting it out), so the RE agents did all the digital photographing and I don't have copies. Oddly enough, I don't seem to have taken my own digital photos of it (but do have a few old-timey snapshots). How stupid is that?!

---

Gravdigr Monday Aug 10 04:17 PM

---
Your reply here?

The Cellar Image of the Day is just a section of a larger web community: a bunch of interesting folks talking about everything. Add your two cents to IotD by joining the Cellar.