Undertoad Tuesday Aug 4 02:38 PM

August 4, 2009: Worst tattoos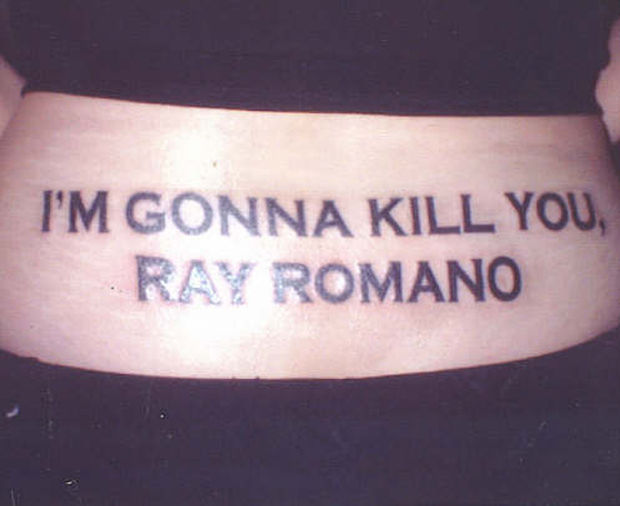 If you have a tattoo telling Ray Romano that you're going to kill him, you become the number-one suspect if he's actually killed...

The London Paper has an article and gallery, noticing a book that's out called No Regrets: The Best, Worst & Most, author Aviva Yael. These are but two of the 15 selections you can see in the gallery, which is stunning in a combination of stupidity and bad taste.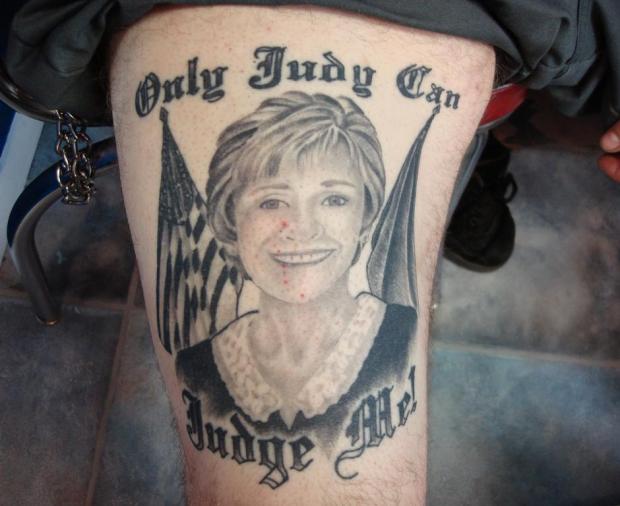 (For the non-Americans, Judge Judy is a TV show wherein people put their court cases in front of a show trial where Judy is the sole arbiter.)

---

Alluvial Tuesday Aug 4 04:04 PM

Those flags kinda look like bat wings coming out of her shoulders.

---

Flint Tuesday Aug 4 04:11 PM

The don't even have the lol swastika.

---

Gravdigr Tuesday Aug 4 04:30 PM

---

Cloud Tuesday Aug 4 04:47 PM

Not. Even. Close.

---

Flint Tuesday Aug 4 05:58 PM

Search of YouTube for the terms "worst tattoos" . . . such as Mr. Cool Ice.

---

Shawnee123 Tuesday Aug 4 06:07 PM

Would it not be more efficient to have "stupid dumbass" tattooed to your forehead?

---

Aliantha Tuesday Aug 4 08:47 PM

After looking at the gallery, I'm wondering if some of these are on people who think their friends are much better artists than they actually are although the one of the maryjane plant is pretty good art. Just dumb to get it as a tattoo imo.

---

kerosene Tuesday Aug 4 09:28 PM

---

Crimson Ghost Tuesday Aug 4 10:09 PM

---

toranokaze Tuesday Aug 4 11:25 PM

OK the tattoos aren't great but I have seen worst, furthermore, I don't think they are worst then the stander tattoos as in being regrettable

---

Pooka Thursday Aug 6 02:20 PM

---

Flint Thursday Aug 6 02:47 PM

You'll shut your face-hole if you don't want it slapped the hell off "Dolly Parton"...

---

Sundae Friday Aug 7 02:53 AM

I'm not saying I'd have any of those tattoos myself, but the snidey-patronising tone of the article is slightly galling.

Half-unicorn-half-Patrick-Swayze? Maybe they cropped the horn out then. Because it's a centaur from where I'm sitting.

---

DucksNuts Sunday Aug 9 02:25 AM
Awwww, you two are soooo cute!!

---

Crimson Ghost Sunday Aug 9 11:17 PM

Perhaps they should get a room.

---

lumberjim Sunday Aug 9 11:44 PM


i think this one is cool!

---

lumberjim Sunday Aug 9 11:49 PM

look! it's the mercenary!


---

Coign Monday Aug 10 11:30 AM

I have five tattoos. Here is the one that is most capricious.

http://www.facebook.com/photo.php?pi...2&id=816334463

---
Your reply here?

The Cellar Image of the Day is just a section of a larger web community: a bunch of interesting folks talking about everything. Add your two cents to IotD by joining the Cellar.