York Monday Aug 3 10:10 AM

August 3, 2009 [b]: My own bird-story

Hèhè, it is a wink to the Condor!


Yesterday i've cutted al the trees and bushes in my garden.
When i was done i was proud about it and told my GF (wife ) to look at it! She noticed i just sliced next to a bird sitting on his nest!
She (the bird ) must have had the worst fear ever! ( Electrical cutter! )


So she was sitting on some eggs.... I lifted up Tess and she told me she could count three of them! Yesterday evening rain came falling down real hard.
So i went into the garden and build some roof to protect it when i saw this little bird! This morning all three eggs wer gone and there wer 3 small birds! By the way, its a blackbird!
I just put some bread close by her nest and hope that the young ones wil help me thrue life too and be my friend and come over some time...


( and dont birds lay eggs in May? ) I will not be able to follow them up like i did with my daughter!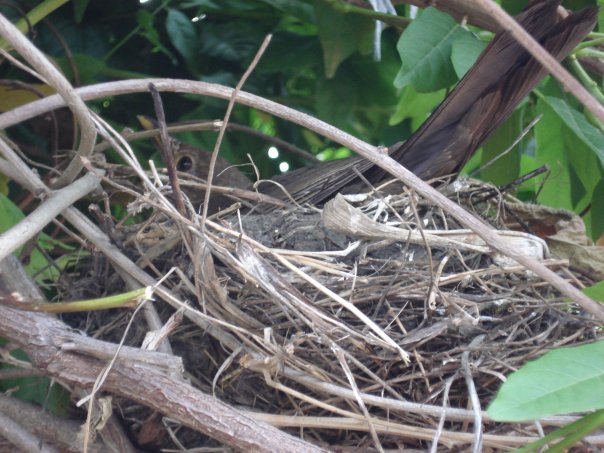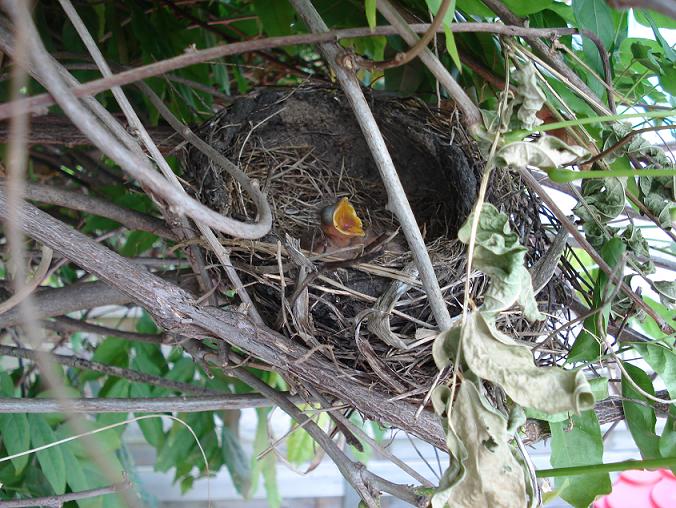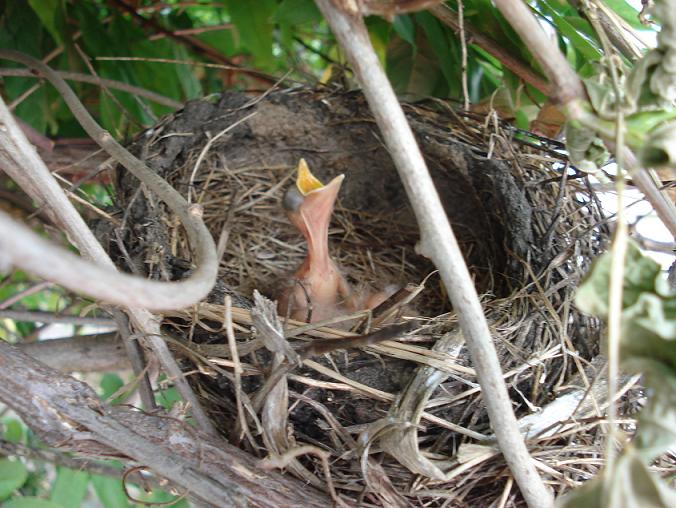 ---

Gravdigr Monday Aug 3 03:43 PM

About a month ago I was doing the same thing and came across these mockingbird chicks. I came across them because their mother (father?) tried to enter my skull by flying in through my eyeball!! Scared the living shit outta me. The greenery is VERY thick, this is the best pic I could get while being beaten about the head and face w/close air support by two mocking birds...the kids (3 actually, only 2 in this pic) were thoroughly unimpressed.

---

ZenGum Monday Aug 3 08:48 PM

That is kind of you, York. Instead of putting bread out, I've heard it is good to dig up some soil or compost that is full of worms and leave the loose soil near the bird's nest, so they can catch the worms easily to feed their chicks.

Birdies like the Atkins diet, I hear.

---

York Tuesday Aug 4 01:20 AM

Oh , well thanks. I ll try and do that!

---

SPUCK Tuesday Aug 4 05:50 AM

Nice pics York!

---

York Tuesday Aug 4 02:19 PM

Thanks, i just found a baby-bird dead on the ground. There were three, so i think its something naturel to push one out!
And sorry guys, i couldnt take any pics of it!

---

Gravdigr Tuesday Aug 4 04:33 PM

Did you at least bread it and fry it? No, sense in it going to waste.

---

York Wednesday Aug 5 01:13 AM

No , cooking it , frying it made it dissapear..... to small and no meat a all! :p

---

York Saturday Aug 15 07:21 AM

After a week Belgian coast i wondered how they wer doing....
Real bad! No mom in sight so i took a look....
To dead birds totally flat... Like mom sat on them tooo long! Creepy, threw it out before Tess came and take a look.... I know its a part of life but....

This topic can be closed on a real sad note...

---

Sundae Saturday Aug 15 09:12 AM

Awwww York, sorry to hear that.
Like you say, it's nature. But I get why your daughter doesn't need to know all that just yet.

When I was a kid, my friend's gerbil had babies. She ate one and squished the rest of them to death. I understood, but my friend's younger brother had about a week of nightmares afterwards.

Great pics though - and Gravdigr.

---

York Saturday Aug 15 02:18 PM

Tnx!

---

quigilspa Monday Oct 5 04:36 AM

Hi there, Would a new one like me be welcome here?
Thanks so much in deed.

---

limey Monday Oct 5 04:46 AM

Quote:

Originally Posted by

quigilspa

Hi there, Would a new one like me be welcome here?
Thanks so much in deed.

A new birdie in the nest! Howdy! Mind you don't get squashed!

---

SPUCK Monday Oct 5 05:47 AM

Certainly! Welcome to the cellar guigilspa.

---

quigilspa Monday Oct 5 05:56 AM

Hello everybody!
I am a new member in this forum.I love it so much .
I aslo want to ask you one question.Please tell me your idea.It is so important to me :
How cam I make friend with a pretty girl ?
Thank a lot!

__________________
Calcul taux simulation credit auto, Comparatif de simulation credit auto, Financement voiture et pret automobile

---

capnhowdy Monday Oct 5 08:15 AM

You could start by not trying to sell them a car on teh innerwebz.

---

SPUCK Tuesday Oct 6 04:30 AM

Hmmm I welcomed him, then he spammated? The second posting?

---

Undertoad Tuesday Oct 6 08:03 AM

Yes

---

Sundae Tuesday Oct 6 08:22 AM

One pretty post then spoodge all over the board.
Huh.
We're not that easy!

So, anyone want to hear about the new laptop I bought from Korea?

---

monster Tuesday Oct 6 08:41 AM

The one you emailed me about? no thanks -I already read all the details on the bathroom wall (sounds like it has a good camera built in).

---
Your reply here?

The Cellar Image of the Day is just a section of a larger web community: a bunch of interesting folks talking about everything. Add your two cents to IotD by joining the Cellar.