xoxoxoBruce Wednesday Jul 29 01:53 AM

July 29, 2009: Built-in Phone

Built-in your house? Built-in your car? Built-in your briefcase, eyeglasses, toothbrush?

Nooooo, built-in you!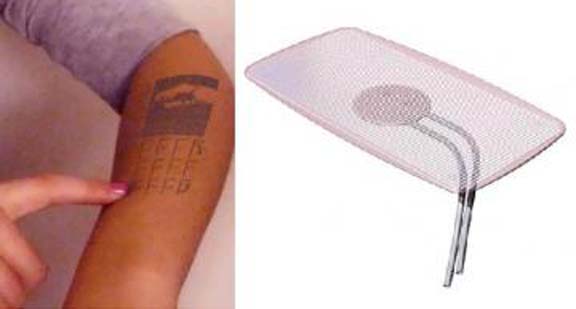 Seriously kids, stick to alcohol and drugs.

link
---

SPUCK Wednesday Jul 29 06:24 AM

I'm with you there..

---

Ibby Wednesday Jul 29 06:53 AM

dude where do i sign up i want one
fserious

you think your iphone's cool? check THIS.

---

ZenGum Wednesday Jul 29 07:47 AM

... until someone figures out how to hack it.


The idea is teetering between brilliant and insane. Possibly both.

Although, from the link, it seems it is more of a demonstration of concept than a fully ready device.

I think the blood-fuel cell is the most interesting thing about it. Googling seems to confirm that this actually works. Cool. And possibly useful.

---

capnhowdy Wednesday Jul 29 08:06 AM

Pushing the envelope, to say the least. Where does it end?

---

glatt Wednesday Jul 29 08:19 AM

I'm sure it sounds crystal clear. What with the microphone picking up your muffled voice through your skin, the sound of blood rushing, etc. And the speaker has to be fantastic for the same reasons. Maybe they can snake a wire up to your eardrum to vibrate that so you can hear the other party.

---

ZenGum Wednesday Jul 29 08:21 AM

You could implant one in someone's back and text KICK ME to it.

---

TheMercenary Wednesday Jul 29 09:26 AM

Or have some hot lady put it inside her inner thigh. So if you are going down on her you can still make a few calls.

---

Sheldonrs Wednesday Jul 29 09:46 AM

I thought this was already posted in The WTF NSFW thread with the pic of the guy with the phone in his ass.




---

ajaccio Wednesday Jul 29 10:18 AM

Um. So. If you have in incoming call, do you put your hand up to your ear to hear it and talk into your wrist to answer...?


---

SteveDallas Wednesday Jul 29 10:21 AM

---

Sheldonrs Wednesday Jul 29 11:10 AM

---

Shawnee123 Wednesday Jul 29 11:16 AM

(my 9 year old niece told me that one.)

---

monster Wednesday Jul 29 11:29 AM

imagine if you accidentally speed-dialed her mom...... or dad....

---

monster Wednesday Jul 29 11:33 AM

Soooooo......

the blood fuel cell uses stuff from my body to make energy..... does that mean if I have enough of them I'll get thinner without exercising? And if so, what to do with all that energy....?

Built-in vibrator anyone?



did I type that aloud?



---

Flint Wednesday Jul 29 02:11 PM

I don't believe this really exists.

Edit: And regardless of whether this is intended to be a concept or not, this is a stupid way to get a phone on your arm. Here is a prototype of a device, built with $350 of off-the-shelf parts, that allows you to dial your phone by punching your finger into the palm of your other hand.

---

Sheldonrs Wednesday Jul 29 02:25 PM

I could get one implanted in my dick.


"Can ya blow me now?"

---

Flint Wednesday Jul 29 02:32 PM

We're sorry, this member has been disconnected or is no longer in service.

---

monster Wednesday Jul 29 02:41 PM

*snort*

---

Sheldonrs Wednesday Jul 29 02:46 PM

Anyone want to be added to "my circle___"? hehehe

---

monster Wednesday Jul 29 02:57 PM

will there be unlimited trunk calls?
is there an access fee?
what sort of bandwidth are we talking here?

---

Gravdigr Wednesday Jul 29 04:48 PM

If, during a video call, you get gooseflesh, does the picture go all fuzzy?

---

Sheldonrs Wednesday Jul 29 05:09 PM

---

WillieO Wednesday Jul 29 11:58 PM

So blood powered fuel cells could run pace makers, sub dermial hearing aids and who know what else. A very cool step forward in medical applications.

---

TheMercenary Thursday Jul 30 12:10 AM

I never thought of it like that but you may be on to something.

---

capnhowdy Thursday Jul 30 07:43 AM

Sign at clinic in the future:
Be a hero. Donate power today.

---
Your reply here?

The Cellar Image of the Day is just a section of a larger web community: a bunch of interesting folks talking about everything. Add your two cents to IotD by joining the Cellar.