xoxoxoBruce Friday Jul 24 12:24 AM

July 24, 2009: Piglet Squid

Piglet Squid is just so cute I want to eat him all up...

... but I hate calamari.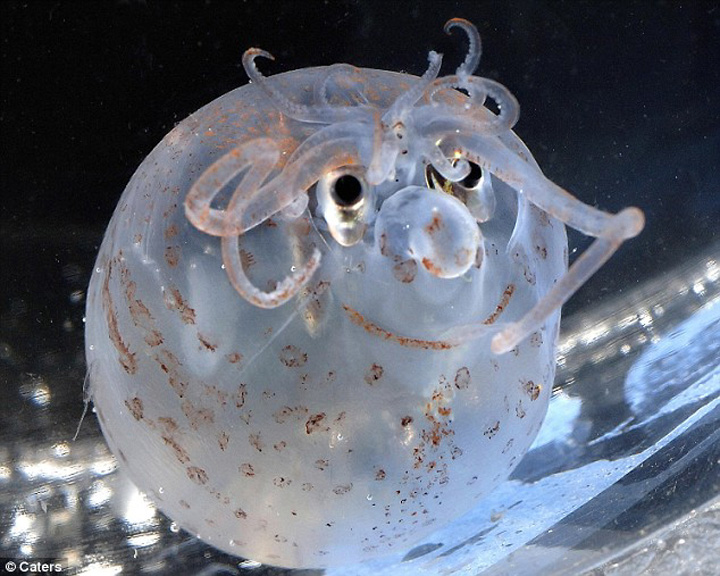 link
---

wolf Friday Jul 24 12:33 AM

It looks like the money you could save by switching to GEICO. Around the eyes, at least.

I don't understand how people figured out that squid=food. eeeauw.

One of my vegetarian friends actually goes out of her way to eat that shit. If you're going to cheat with meat, at least have a burger or some veal or something.

I'm pretty iffy on eating invertebrates, generally. Unless they have a good exoskeleton. And taste good drenched in butter.

---

Cloud Friday Jul 24 12:40 AM

my mind insists on interpreting this thread as "piglet squad" -- conjuring up images of little pigs in football helmets.

---

wolf Friday Jul 24 12:55 AM

---

SPUCK Friday Jul 24 06:25 AM

Squidly is that you?

---

Aliantha Friday Jul 24 06:27 AM

Squidworth from spongebob squarepants! That's what that thing looks like.

---

capnhowdy Friday Jul 24 07:46 AM

This guy has a rather transparent personality.

---

Clodfobble Friday Jul 24 08:30 AM

So, is he normally that inflated, or is that because he's closer to the surface than he should be? I can't tell if they're saying it lives in the aquarium now, or just that a guy who works at the aquarium went 100 meters below the surface and took a picture of it.

---

Shawnee123 Friday Jul 24 08:41 AM

---

dacliff Friday Jul 24 10:58 AM
Cellophane, Mr. Cellophane
Gonna change my name to Mr. Cellophane.

'Cause you could look right through me,
Walk right by me,
And never know I'm there!

---

monster Friday Jul 24 11:30 AM

Looks like he's been touched by a noodly appendage...

---

Sheldonrs Friday Jul 24 11:32 AM

The other white fish?

---

Undertoad Friday Jul 24 11:55 AM

Is it solid in the middle? If you cut it for sushi would it be like jelly, or would it pop?

---

birdclaw Friday Jul 24 12:19 PM

How does that thing even move? Is that a sad attempt at a fin on the side?


---

xoxoxoBruce Friday Jul 24 12:26 PM

Aren't squids jet propelled?

---

glatt Friday Jul 24 12:37 PM
---

Gravdigr Friday Jul 24 02:14 PM

Uh...yeah...what they said.

Also, glatt: Are you that string that got thrown out of the bar?

---

glatt Friday Jul 24 02:18 PM

nope. I'm a frayed not.

---

Sheldonrs Friday Jul 24 04:30 PM

---

dar512 Friday Jul 24 04:40 PM

---

Diaphone Jim Friday Jul 24 07:28 PM

It might be a good idea to be careful pissing off this little piggy squid.
The Glass Squids include his Uncle Hamilton, who holds many size records for invertebrates, like 40 feet long and 1000 pounds:
http://marinebio.org/species.asp?id=247

---

Tawny Saturday Jul 25 01:55 PM

And those creationists don't think there are any transitional species.

Put a pair of overalls on this thing and it looks just like the inbred cousins on my mother's side.

---

TheMercenary Saturday Jul 25 02:51 PM

Calamari rocks! We love to eat that up, but it needs to be prepared correctly.

---

Sundae Saturday Jul 25 04:54 PM

Squid, pigsy, octopus, whatever!
Sling it in rings and scarf it down - yum yum!

Get me some breadcrumbs, mayo and a fork.

---

Sheldonrs Monday Jul 27 03:52 PM

---

Shawnee123 Monday Jul 27 04:06 PM

I know a few asshole chaps I'd like to throw in somewhere, preferably a bottomless pit.

---

Gravdigr Friday Jul 31 12:44 AM

AAAarrrr!

---
Your reply here?

The Cellar Image of the Day is just a section of a larger web community: a bunch of interesting folks talking about everything. Add your two cents to IotD by joining the Cellar.