xoxoxoBruce Sunday Jul 5 12:10 AM

July 5, 2009: Floor Covering, from Pennies

Not JC Penny's, US pennies.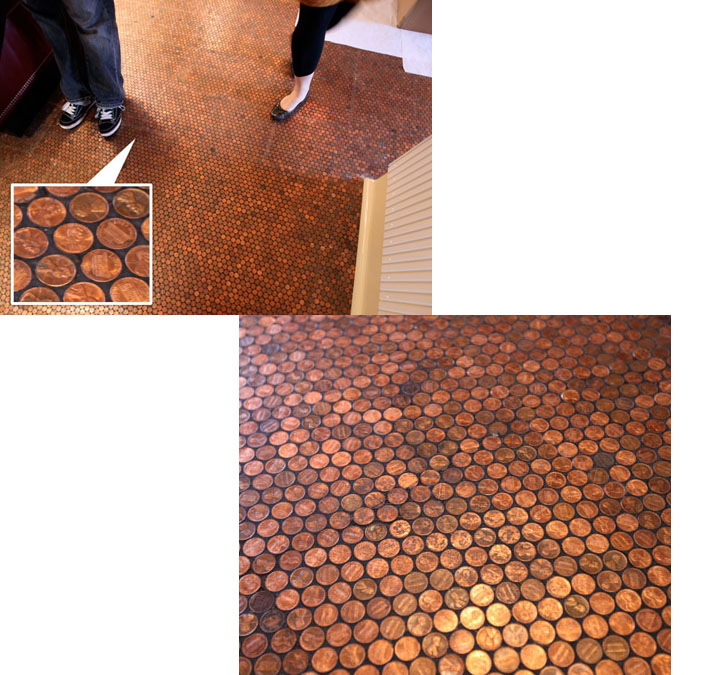 I'm partial to hardwood floors and especially love the look of end grain wood blocks, like they had in old machine shops.
But I must admit this looks pretty cool... so would $20 gold pieces.

link
via
---

FuglyStick Sunday Jul 5 12:50 AM

Cheaper than most flooring options...

---

xoxoxoBruce Sunday Jul 5 12:56 AM

The epoxy they are embedded in, and the epoxy that covers them, probably cost more than the pennies. I'm sure the labor did.

---

slang Sunday Jul 5 04:56 AM

I like the look and the construction seems to be safe from slipping all around on them.

Would the nice people at the mint appreciate that? Maybe it's fine with them since it's just thousands and not tens of millions of pennys.

What do you think of the random shades of patina?

---

Sundae Sunday Jul 5 08:44 AM

I really like the look of that.
But I'd prefer to see it with (UK) 20p pieces. Oooh, silvery, all shiny!

Am I am bad person for reading the title wrong and thinking it was man-parts?
I was apprehensive about clicking on it... sticky...

---

Shawnee123 Sunday Jul 5 10:08 AM

I wonder if they snuck any wheat pennies in there?

---

xoxoxoBruce Sunday Jul 5 10:33 AM

---

Alluvial Sunday Jul 5 10:57 AM

I wonder how long it took to put them all down.

---

xoxoxoBruce Sunday Jul 5 11:03 AM

Looks to me like they were pre-made in square tiles, then laid and epoxied over.

---

jinx Sunday Jul 5 11:11 AM

Gotta fix your link B, too many https...

I would love a penny floor in my kitchen, I think it looks great.
We used to frequent a bar near where we camped in Sullivan county that had a bar covered in nickles. They had nickle drafts at happy hour and very cheap food poisoning...

---

xoxoxoBruce Sunday Jul 5 11:26 AM

Thanks Jinx, me make more gooder.

---

chrisinhouston Sunday Jul 5 01:08 PM

Bet they are hell to cut with a tile saw!

---

dar512 Sunday Jul 5 02:51 PM

I wonder if it'd be attractive to lightning and/or bad for cell phones.

---

Alluvial Sunday Jul 5 04:25 PM



---

Gravdigr Sunday Jul 5 04:52 PM

---

jinx Sunday Jul 5 05:58 PM

Cutco. I have a pair that's older than me and they can still turn a penny into a cork screw.

---

ZenGum Sunday Jul 5 09:32 PM

I'd like to visit that place... and drop a penny on the floor... see how long it takes someone to notice... and then to start looking for where it came from...

---

Alluvial Sunday Jul 5 11:56 PM

Way to blow someone's mind, Zen.

Dooo Eeeeeet!!

---

capnhowdy Monday Jul 6 07:30 AM

Loitering there would make you a PENNY LOAFER.

---

spudcon Monday Jul 6 07:37 AM

---

Shawnee123 Monday Jul 6 08:53 AM

"See a penny, pick it up
All day long, have good...F*****CKKKKKKKKKK!
It's stuck."

---

Sundae Monday Jul 6 09:41 AM

I found 2p on the floor today.
Not stuck.
Yay me.

---

Clodfobble Monday Jul 6 10:31 AM

When the Mint finally eliminates the penny that floor will be worth a lot more.

---

blueboy56 Monday Jul 6 12:33 PM

Anyone interested in a little higher income can go to Lincoln, Montana.
They have a bar-tourist stop that is called: $10,000 Silver Dollars.
Over the years they have implanted the Coins in the Bar Top as well as the wall behind the bar itself.

I tried to find a photo but alas. . .

---

glatt Monday Jul 6 12:47 PM
---

Silazius Monday Jul 6 02:02 PM

Whassup with the one-legged person on the right?

---

capnhowdy Monday Jul 6 04:47 PM

He's invisible.

Carry on.

---

Sheldonrs Monday Jul 6 04:58 PM

A floor like that makes no cents.

---

capnhowdy Monday Jul 6 05:14 PM

Dangerous place. You can't walk through there without stepping on a copperhead.

---

Silazius Thursday Jul 9 04:03 PM

---
Your reply here?

The Cellar Image of the Day is just a section of a larger web community: a bunch of interesting folks talking about everything. Add your two cents to IotD by joining the Cellar.