xoxoxoBruce Friday Jul 3 11:43 PM

July 4, 2009: Lady Liberty's Left Foot

You've all seen pictures of the Statue of Liberty, many of you have seen her in person, and I'm sure some of you have sailed out to the island and climbed up that damned spiral staircase, as I have. One step and wait... one step and wait... nose pressed into someones back... hotter than hell in summer... noisy year round... perched on those little wedge shaped steps... just to peak out those little windows in the crown, at NYC skyline and the harbor.

Worth every minute of it!!! Oh how I wanted to climb the ladder to the torch.
But there's something you didn't see...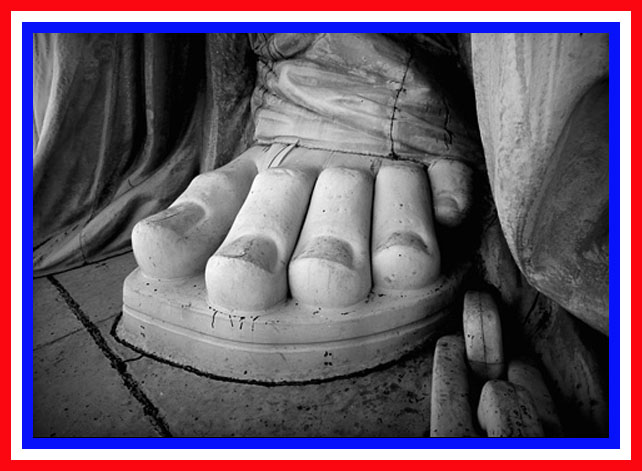 Check out the National Geographic pictures of the refurbished statue at;
http://news.nationalgeographic.com/n...res/index.html


And for our Brit visitors now touring the US, diminished & persistence, fireworks.

---

Alluvial Friday Jul 3 11:47 PM

I have a whole book written about Gustav Eiffel, the man who designed Liberty's "skeleton". Does that count?

Bartholdi couldn't even make his scale model stand up. He engaged Eiffel (known for his tower) to design an interior frame to hold the statue up.

---

diminished Friday Jul 3 11:53 PM

Cheers Bruce...National Holidays where alcohol and explosives may be combined!This truly is a Great Country



We're considering joining the festivities...Down with the British!

---

xoxoxoBruce Friday Jul 3 11:54 PM

Only if it told you about the chains, Alluvial.

---

xoxoxoBruce Friday Jul 3 11:58 PM

---

capnhowdy Saturday Jul 4 09:20 AM

July 5th is National Prosthetics Day.

J/K

---

birdclaw Saturday Jul 4 12:12 PM

Looks like the left foot of freedom got a pedicure.

---

chrisinhouston Sunday Jul 5 01:16 PM

Yes and if the current crop of right wing fanatics had their way we would remove the torch and replace it with a sign saying "No Immigrants Aloud, GO HOME!"

---

capnhowdy Sunday Jul 5 01:25 PM

They finally reopened the crown after eight years.

---

ZenGum Sunday Jul 5 09:43 PM

Can anyone tell me, what do you see if you look up her robes? Is she anatomically correct or politically correct? Or, being the Statue of Liberty, did they give her a Free Willy?






---

xoxoxoBruce Sunday Jul 5 10:13 PM

---

Tawny Monday Jul 6 02:21 PM

What's with that grotesque little pinky?

Lady Liberty is as deformed as Rebecca Romijn.

---

capnhowdy Monday Jul 6 05:01 PM

Maybe it's indicative of all the people she welcomed that stepped on our toes.

---

lawman Monday Jul 6 06:01 PM

I haven't made it to see this myself yet, however friends have and one thing they've mentioned to me is that on none of the plaques or signs does it mention that it was a gift of the French..... curious...

---

Sheldonrs Monday Jul 6 06:27 PM

---

capnhowdy Monday Jul 6 09:39 PM

The original "French Kiss".

---

TheMercenary Wednesday Jul 8 09:35 AM

---

Sundae Wednesday Jul 8 11:47 AM

We went to see her on a freezing cold winter's day.
We thought it was as out of season as you could get.
Silly us - we were in New York for Christmas



My mild claustrophobia meant I couldn't bear to queue one step at a time...
(Turns out it was a relationship problem - I've managed to deal with other such situations) so I didn't "go up her".

But I was impressed and moved. And yes, I knew she was originally French, and admired her all the more for it - wasn't that part of the point - an American icon forged overseas and empowered by a new set of beliefs?

FTR I have never known a French lady with armpit hair (that I've seen) and certainly not body odour. They're all been like female hairdressers/ doctors and exuded a fragrance that suggested they are genetically imbued with scent.

Merc? Why do you hate... etc etc etc.
Ask Monnie about the open door.

---
Your reply here?

The Cellar Image of the Day is just a section of a larger web community: a bunch of interesting folks talking about everything. Add your two cents to IotD by joining the Cellar.