xoxoxoBruce Friday Jul 3 09:07 AM

July 3, 2009: Pink Cucumber

Damn, I thought I posted this last night but I must have previewed and not posted.



Anyway, here's a pink cucumber for your 4th of July salad...
and it'd already salted.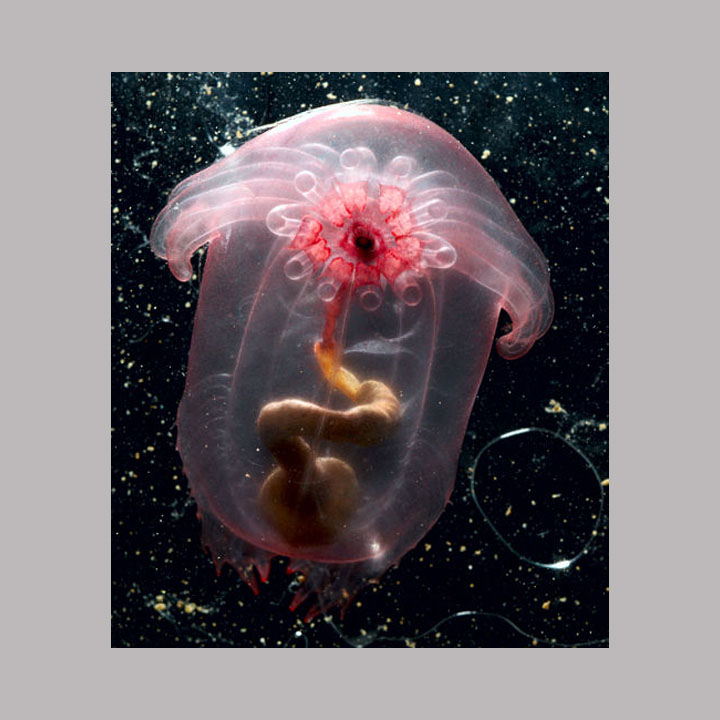 link
---

Alluvial Friday Jul 3 09:11 AM

It looks like it's floating in space rather than undersea.

---

ZenGum Friday Jul 3 09:42 AM

Well, it wasn't what I was expecting.

I say freaky-cool beautiful. Except that internal structure bit. That is a bit unsettling.

---

birdclaw Friday Jul 3 10:17 AM

If I find anything that looks like that in my salad it's not going to be a pretty picture.

---

Shawnee123 Friday Jul 3 11:06 AM

Amazing!

---

Trilby Friday Jul 3 03:13 PM

What qualifies it as a cucumber?

---

xoxoxoBruce Friday Jul 3 04:31 PM

Dem smarties sez so.

---

spudcon Friday Jul 3 05:19 PM

Any relation to the Purple Weenie?

---

richlevy Saturday Jul 4 12:06 AM

Wow, cue in Also sprach Zarathustra for that one.

---

Aliantha Saturday Jul 4 12:48 AM

It looks like a floating penis

---

SPUCK Saturday Jul 4 06:29 AM

What do they say to each other?

"Oh hey Mon, your large intestine is looking gooood."

---

capnhowdy Saturday Jul 4 09:15 AM

Reply:
" I know where this is going, you pervert. I can see right through you!"

---

dar512 Saturday Jul 4 12:06 PM

"It's a good thing I'm not Scottish, cause your insides look like haggis."

---

richlevy Saturday Jul 4 12:19 PM

---

Gravdigr Saturday Jul 4 05:43 PM

Not. Of. This. Earth.

---

chrisinhouston Sunday Jul 5 01:10 PM

I ate sea cucumber in a Sushi bar once. Not much to rave about as I recall and not very attractive on the plate.

---

Wombat Sunday Jul 5 06:57 PM

I ate some sea cucumber too, in a restaurant in Hong Kong. It was like gritty snot. Disgusting.

---

SPUCK Monday Jul 6 05:46 AM

---

Tawny Monday Jul 6 06:17 PM

I had a patient once who used to pull out her own rectum.

Oddly, it looked a lot like this cucumber creature.

---

capnhowdy Monday Jul 6 09:46 PM
---

monster Tuesday Jul 7 12:53 AM

I am a married woman and therefore not interested in your pink cucumber. kthnxbai.

---

Sun_Sparkz Wednesday Jul 8 08:39 AM

Yeah, Tawny, umm.. WTF?!?!?!?

Capnhowdy - each of those were just laugh out loud ridiculous.

I think the cucuber is very pretty. except the thing inside kind of looks like an umbiblical cord to me.

---

kerosene Wednesday Jul 8 11:34 PM

---

ZenGum Thursday Jul 9 12:06 AM

If it were Japanese, it would have more Hello Kitty crap on it.

Or chopsticks.

---

Clodfobble Thursday Jul 9 12:51 PM

Or it would have printed across the front, "Cucumbering Joy For the Happy Existence!"

---
Your reply here?

The Cellar Image of the Day is just a section of a larger web community: a bunch of interesting folks talking about everything. Add your two cents to IotD by joining the Cellar.