xoxoxoBruce Wednesday Jul 1 01:10 AM

July 1, 2009: Baby Flies

Baby flies, better know as maggots...

Quote:

As it turns out, maggotkind's shitty reputation isn't entirely deserved. They're basically nature's answer to antibacterial soap. Maggots eat dead flesh, and doctors long ago realized that the maggot's tendency to wolf down dead skin can help people with infected wounds from succumbing to gangrene, at the low cost of stomach turning revulsion.

With the advent of modern antibiotics, Maggot Therapy declined in use but doctors never took it off the table entirely and, thanks to an increase of ultra-badass anti-biotic resistant bacteria, it's been making a notable comeback.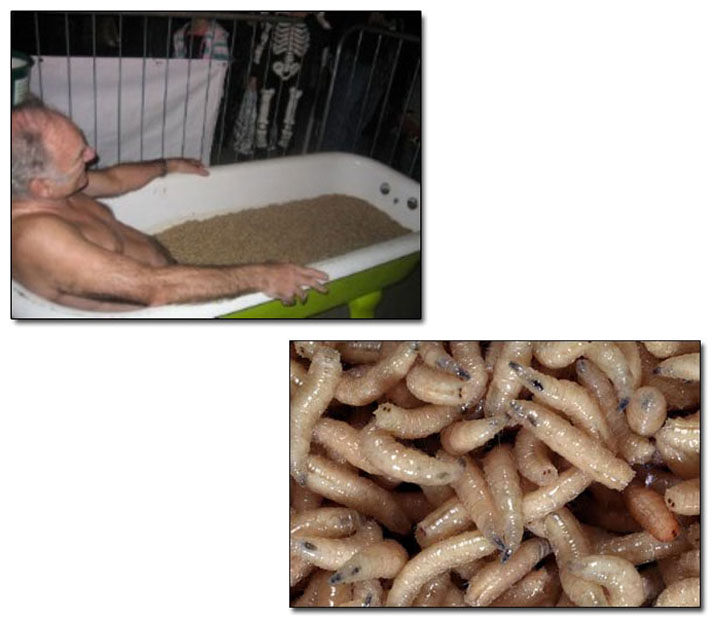 Quote:

That's right, our mortal medicines cannot harm these highly advanced mutant bacteria, but they're not shit when put up against the heroic maggot. While bacteria can evolve to become capable of fighting off medicines, they haven't quite figured out how to jump their last evolutionary hurdle and become uneatable.

While drug laws haven't relaxed quite enough to let you buy cartons of medical maggots for home use, any doctor in America can prescribe them as treatment. And if you want to get them under the table you can always just leave some sausage out in the sun for a few days and cultivate your own.

I remember reading a book in high school, written by an American about his experience as a POW during the Korean War. They would take their bandages off long enough for a couple of flies to land on the wound and lay eggs, then rebandage them and wait.

link
---

Leah Wednesday Jul 1 01:53 AM

Now that's just SICK.


Thats how I feel about that story. YUCK.

---

nil_orally Wednesday Jul 1 02:44 AM

Soooo....they shouldn't be eaten raw then?

---

SPUCK Wednesday Jul 1 06:19 AM

Nope! Stir fried with a little garlic in extra virgin olive oil.

---

Frenger Wednesday Jul 1 06:28 AM

ugh i can't imagine getting in a tub of those



i'll stick to regular antibiotics...

---

Trilby Wednesday Jul 1 07:53 AM

Leeches, too! Don't forget Medical leeches!

---

ZenGum Wednesday Jul 1 08:07 AM

It's us or them. This man is showing us the way.

---

bigw00dy Wednesday Jul 1 08:51 AM

This guy coulda sat in my trashcan. I took my can to the road this morning and it was crawling with maggots. I didn't realize until after I let the handle go. Gross

---

ajaccio Wednesday Jul 1 09:44 AM

Green?

Hey recycling - it's "green" medicine!


---

Sheldonrs Wednesday Jul 1 09:49 AM

Fly baby:

---

sweetwater Wednesday Jul 1 09:53 AM

While I applaud any who would use a low-cost, low-tech, efficient return to physical health, I'm afraid my mental health would go out the window were I ever to try it. I would have to be extremely high or knocked all the way out - either way, if ever I learned that maggots had been gnawing my flesh I would jump in front of the first fast freight train down the tracks.

---

Shawnee123 Wednesday Jul 1 10:47 AM

I'd be right behind you, sweet.

---

birdclaw Wednesday Jul 1 10:50 AM

Looks like the guy at the fence had a little too much maggot therapy. Poor kids nothing but bones!

---

Clodfobble Wednesday Jul 1 01:58 PM

But really, these are no different than the little Japanese spa fish that nibble away dead skin. Just pretend they're cute little fishies gnawing at your flesh, rather than squirmy things.

---

sullage Wednesday Jul 1 04:04 PM

as i understand it there's a strong tickling sensation. they don't eat the healthy bits, so its not painful, but you can really feel them moving around a lot. like a rotten meat party inside you.

---

Tawny Wednesday Jul 1 04:30 PM

Next thing you know, they'll be offering that as a spa treatment.

The bebe mouche spa wrap. bebe mouche= baby fly in french

The bebe mouche facial.

The bebe mouche soak.

It sounds pretty enough.

---

Sheldonrs Wednesday Jul 1 05:32 PM

And instead of an appointment book at the spa, they just add the names to a menu.

---

footfootfoot Wednesday Jul 1 10:17 PM

This maggot moment
So different and so new
Was like any other
Until I kissed you

And then it happened
It took me by surprise
I knew that you felt it too
By the look of those flies

Sweeter than wine
Softer than the summer night
Everything I want I have
Whenever I hold you tight

This maggot moment
While your lips are close to mine
Will last forever
Forever til the end of time

---

lumberjim Wednesday Jul 1 10:57 PM

bullshit i can't hear you, maggots!
NSFW!


---

Tawny Thursday Jul 2 12:08 AM

Foot Cubed: that is a riot!

That's why I love this website. The people here are so clever.

---

xoxoxoBruce Thursday Jul 2 12:19 AM

Yes, 3-foot is an endearing, sick puppy.

---

Gravdigr Thursday Jul 2 05:11 PM

Quote:

Originally Posted by

Tawny

Next thing you know, they'll be offering that as a spa treatment.

The bebe mouche spa wrap. bebe mouche= baby fly in french

The bebe mouche facial.

The bebe mouche soak.


Bebe mouche, bebe mouche, will you do the fandango?

---

capnhowdy Saturday Jul 4 09:07 AM

They'll need an army of frogs and lizards just outside. These creatures don't stay maggots for very long. Maybe they send them all to Ethiopia.

---
Your reply here?

The Cellar Image of the Day is just a section of a larger web community: a bunch of interesting folks talking about everything. Add your two cents to IotD by joining the Cellar.