xoxoxoBruce Tuesday Jun 23 01:16 AM

June 23, 2009: Top Slum

Most big, and some small, cities have slums.
In the US they are usually in the city, consisting of old run down buildings. But in less developed nations they often spring up on the fringes, built from scrounged materials.



Quote:

In South America the slums are attached to the outskirts of mega-cities such as Caracas and Mexico City like wasps' nests on a cliff face. In a hilly island city like Hong Kong, however, living space is limited. Here you only see the laboriously constructed huts made of corrugated iron and planks of wood in which the poorest of the poor live if you look upwards – they occupy, to put it in cynical terms, a penthouse location.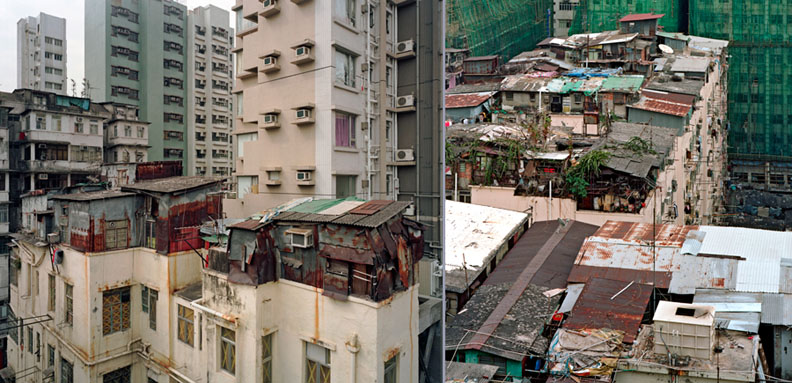 Quote:

Some of these rooftop shacks, which in the year 2006 after the government's first slum clearance programme still housed 3962 people in 1554 households, are up to three storeys high. Improvised structures made of ladders and bits of furniture create connections between the individual parts of the buildings and join these impoverished dwellings into complete rooftop settlements – sociologists even talk of a "self-organising niche architecture" and point to the utopian aspects of this urban way of life.

I wonder if the building's owners are charging rent for the locations?
Well anyway, it's easy to get rid of the garbage, but being evicted would be a bitch.

link
---

toranokaze Tuesday Jun 23 01:31 AM

Was this a one case or a two case idea?

---

xoxoxoBruce Tuesday Jun 23 01:37 AM

One case for the idea, many cases for getting all that crap up to the roof.

---

SPUCK Tuesday Jun 23 05:31 AM

Don't roll out of the wrong side of the bed.

---

spudcon Tuesday Jun 23 06:22 AM

I hope those brown dripping stains are rust.

---

ZenGum Tuesday Jun 23 08:07 AM
They probably are, but that does leave a certain question hanging...

.

.

Hate to think what a fire hazard those buildings must be.

---

classicman Tuesday Jun 23 08:53 AM

Why do the owners of the buildings allow them to do that. When the heck DO the do that? Do they pay to be on top of the building? What about sewer/water... not that it looks like they have any...

---

Sheldonrs Tuesday Jun 23 10:48 AM

Sort of like gay sex. Just because you're ON top doesn't you're THE top.

---

Diaphone Jim Tuesday Jun 23 11:46 AM

The right hand structure in the left picture has an air conditioner just like all the units in the big building behind it.

---

skysidhe Tuesday Jun 23 12:08 PM

Interesting! Now, if I ever visit Hong Kong I won't embarrass myself by being all gape mouthed and staring.

(having got that over with )

---

WillieO Tuesday Jun 23 12:28 PM

Quote:

Originally Posted by

Diaphone Jim

The right hand structure in the left picture has an air conditioner just like all the units in the big building behind it.

Well, we all want to live in comfort, right? And by not having to pay rent, you have extra for the finer things in life.

---

Sundae Tuesday Jun 23 02:22 PM

I should think everything that needs to be disposed of goes over the side. From cooking fat to faeces.

Why do building owners allow it?
How often do you think building owners inspect their properties if the rent is coming in?

All around the world, people emerge from nights in slums in clean, pressed uniforms, ready to face another day on the minimum wage, taking their precarious chance at living. In many, many places they live cheek by jowl with the people they work for, and again in many places, they simply hope for a better life for their children, who they pay to school.

Building owners probably accept this sort of thing as a hazard of their environment, and by the time they find out it's more hassle to vacate the roof than it is to turn a blind eye.

---

glatt Tuesday Jun 23 02:27 PM

There are probably waste vent pipes sticking out the roof that lead directly into the sewer system. Just poop into one of those.

---

Tawny Tuesday Jun 23 08:01 PM

Wow. Richard Gere really needs to get the maid up there to clean up his Buddhist shrine.

---

Gravdigr Tuesday Jun 23 09:05 PM

They only build like that because they don't have trailer parks.

---

ToastyKen Wednesday Jun 24 09:36 AM

This is amazing! It looks like something out of a science fiction movie...

---
Your reply here?

The Cellar Image of the Day is just a section of a larger web community: a bunch of interesting folks talking about everything. Add your two cents to IotD by joining the Cellar.