xoxoxoBruce Saturday Jun 20 01:23 AM

June 20, 2009: Busker's Bike

Treehugger tells of Australian, newly arrived in Britain, solving his problem of making a living.



Quote:

A new arrival from Australia, Osborne said he had "no car, no drums, and a need to create beats." He was sitting in a park looking at his bike and "dreaming of ways to build my environmental friend." Not wanting to carry his drums on the subway, he decided to turn his bike frame into a drum kit which would double as a carrying case for his instruments. He made it out of bowls found in a charity shop, children's toys and old drums. The whole kit and kaboodle can be fitted into two carry-bags and a back pack.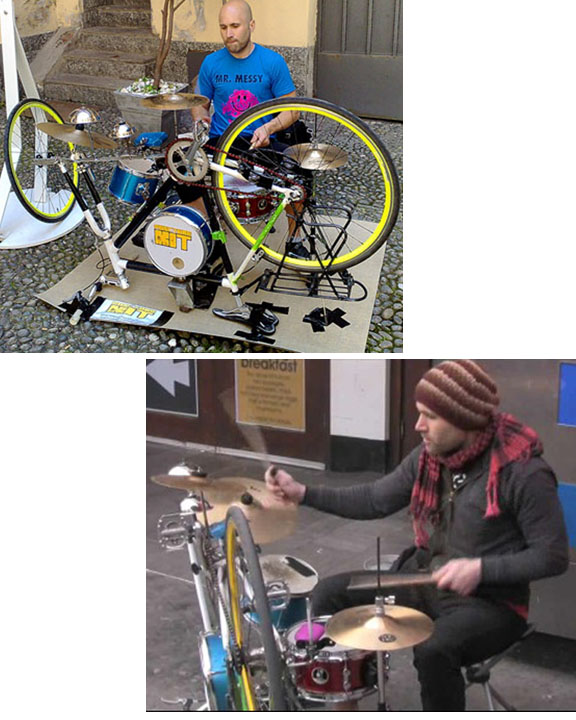 Quote:

He started busking in the edgy east end of London. His first time out he made enough in an hour to cover a week's rent. Then somehow word spread and next thing he knew, he was playing at the chi-chi Milan Furniture fair.

Sure beats commuting for hours, half asleep, or wound up tight from sitting at an IT desk, under-appreciated, surrounded by idiots and taking abuse from all sides.

---

Skylight Saturday Jun 20 01:57 AM

I used my mum's cooking pans in a similar way. Good times.

---

SPUCK Saturday Jun 20 05:39 AM

Officer! officer!
Someone rode off on my drum set!
I mean... They stole my bike!
What did it look like?
um.. It looks like a drum set.
Where's my mace.

---

sweasel Saturday Jun 20 08:14 AM

There's video at the link. He kind of sucks.

I heard a guy on the streets of Providence play a set of produce drawers from a refrigerator who could totally steal this guy's lunch money.

---

capnhowdy Saturday Jun 20 08:55 AM

Drummer? If he had a strummer and a hummer, he'd have a band.

---

birdclaw Saturday Jun 20 10:39 AM

Looks like Mr. Messy is cleaning up.

---

footfootfoot Saturday Jun 20 12:19 PM

http://www.hulu.com/watch/16643/movi...d-six-drummers

More better drummering

---

richlevy Saturday Jun 20 12:35 PMTo be fair, the 6 drummers were dubbing in studio recorded sounds, sort of like lip-synching. I thought the bike drummer was doing pretty good with what he had.

Two impressions of the 6 drummers.

a) The one guy could at least have brought his own toothbrushes

and

b) I now have an excuse to give my wife when I can't find anything. "Honey, I think the 6 drummers were here. I can't find the ketchup."

---

capnhowdy Saturday Jun 20 12:50 PM

I've always heard that drummers are a dime a dozen so the six drummers are worth a least a nickel.

---

Leokins Saturday Jun 20 10:55 PM

If you build it, they will come... and give you rent money apparently.

---

dar512 Monday Jun 22 10:23 AM

Quote:

Originally Posted by

capnhowdy

I've always heard that drummers are a dime a dozen so the six drummers are worth a least a nickel.

"It's got to be a pretty good drummer to be better than no drummer at all." -- Chet Baker

Q: Who do drummers hang around with?
A: Musicians

Q: How can you tell there's a drummer at the door?
A: He doesn't know when to come in.

Q: How can you tell there's another drummer at the door?
A: His knocking speeds up.

Drummers are the Rodney Dangerfield of musicians.

---

dar512 Monday Jun 22 10:25 AM

On a more serious note, only bad drummers are a dime a dozen. Good drummers are worth their weight in gold.

---

capnhowdy Monday Jun 22 07:00 PM

I used to play some. That statement was a sure fire "it's on" for our drummer. It was safer to slap his face than to say that to him.

---

dar512 Tuesday Jun 23 10:21 AM

Our previous drummer had a sense of humor about it. I heard all the above drummer jokes from him.

---

Flint Tuesday Jun 23 10:46 AM

The drummer jokes are funny.

My wife asked me if this guy's drumming (video at the link) was sped up. Actually many people (Jojo Mayer, Johnny Rabb) are playing this drum-n-bass style, and yes it is based on recordings of drummers being sped up and re-sequenced, but now the patterns are being learned by hand at this speed.

---
Your reply here?

The Cellar Image of the Day is just a section of a larger web community: a bunch of interesting folks talking about everything. Add your two cents to IotD by joining the Cellar.