spudcon Tuesday Jun 16 10:01 PM

Angel Oak

This tree is estimated to be older than Ted Kennedy, even older than Colonial America. Wikipedia has the whole story. The branches on this baby are bigger around than most trees I see around here!
http://en.wikipedia.org/wiki/Angel_Oak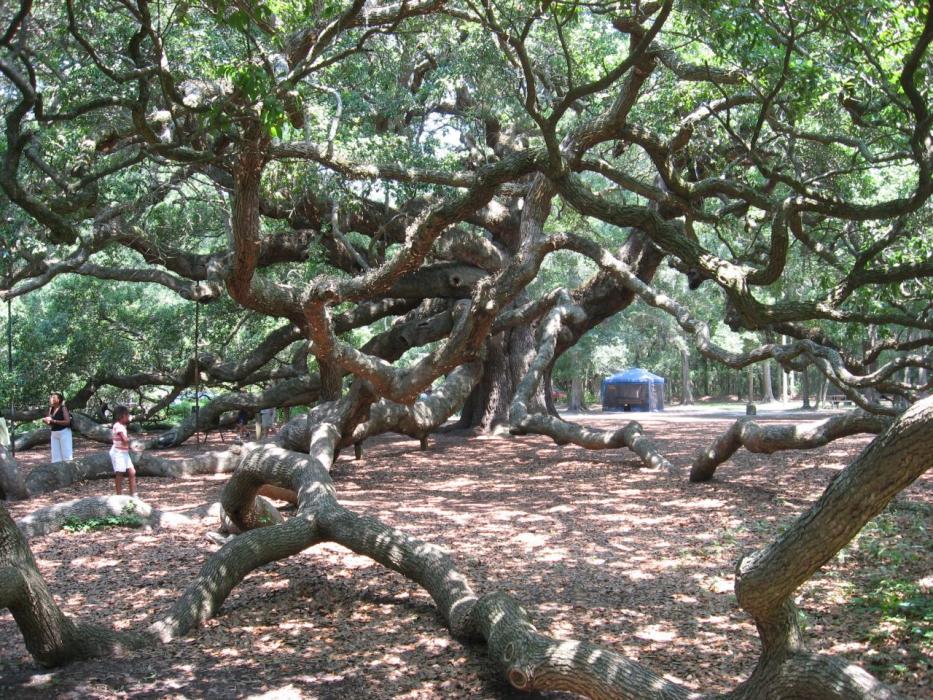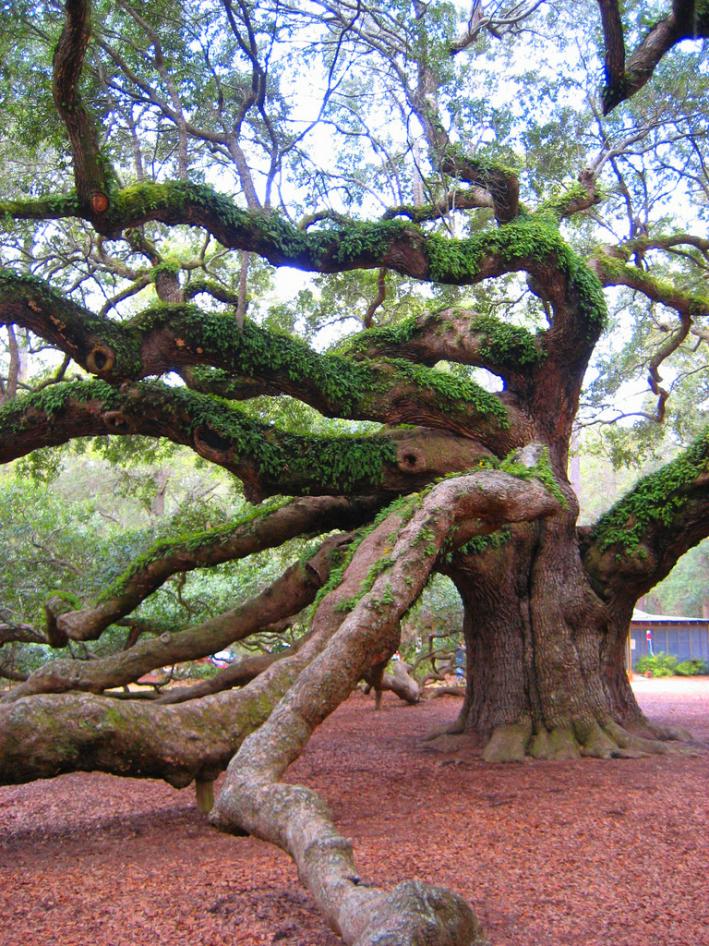 ---

DanaC Tuesday Jun 16 10:27 PM

Beautiful.


Heres another old tree :P Approx 800 years. It's called Old Knobbly. Also an oak tree.

Smaller. And very knobbly :P

---

Bullitt Tuesday Jun 16 11:03 PM

My favorite old trees: bristlecone pines


---

DanaC Tuesday Jun 16 11:04 PM

Oh wow. Thats gorgeous!

---

lumberjim Tuesday Jun 16 11:07 PM

____________________that's hawt! I got Wood
...____________________.../

---

DanaC Tuesday Jun 16 11:09 PM

Yeah what else is new? :P

---

Wombat Wednesday Jun 17 07:46 AM

Can you see the naked screaming crucified man in this photo?

I took this photo of a dead tree on Christmas Day 2001, in Namadgi National Park, Australia. Near a hill called Yankee Hat.

---

Trilby Wednesday Jun 17 08:44 AM

Yeah, I see him. Scary!

---

ZenGum Wednesday Jun 17 08:47 AM

Hi wombat! I lived in Canberra for a few years, and I've been hiking in Namadgi a fair bit. That's a pretty weird tree photo you've got there.
Say, if you like wombats and hiking, have you been out in the hills around Casurina Sands on the Murrumbidgee, around dusk? There used to be a big population of them out there, they would be quite active in the early evening and I had several sightings.

---

Wombat Wednesday Jun 17 08:59 AM

Hi ZenGum, Yes I've been there but only in the day not at dusk. I'll keep an eye out next time I'm there.

---

spudcon Wednesday Jun 17 10:59 AM

It looks like the tree man is enjoying it.

---

Beest Wednesday Jun 17 02:11 PM

The Major Oak in Sherwood Forest, Nottinghamshire, according to legend Robin Hood and his merry men used to hide out in it's hollow trunk. Though that couldn't have been this tree as it's not old enough, or would have justa sapling. Don't let the facts get in the way of a good story, and tourism though



Interesting that the Angel Oak in the OP the branches touch the ground, you can The Major Oaks are supported, or they're weight would split the trunk.


---

Sheldonrs Wednesday Jun 17 02:14 PM

A tree with a walker? Who wood have thought it? Knot me. Must be a new branch of medicine.

---

classicman Wednesday Jun 17 02:28 PM

You leaf me speechless shel.

---

dar512 Wednesday Jun 17 02:37 PM

That Robin Hood story rubs against the grain. Is there a splinter of truth in there anywhere? Anyone who believes it without checking first is a sap.

---

Queen of the Ryche Wednesday Jun 17 02:56 PM

My favorite old tree:

http://www.dotphoto.com/GuestViewIma...&ICT=27&IPP=60

---

classicman Wednesday Jun 17 03:38 PM

Queenie - gotta log-in says the link....

---

Queen of the Ryche Wednesday Jun 17 03:48 PM

Oh crumbs. How about this:
Attachment 23874

---

DanaC Wednesday Jun 17 04:07 PM

Oh how marvellous. What a perfect pic-i-nic spot.

---

Queen of the Ryche Wednesday Jun 17 04:19 PM

It's in downtown Santa Barbara, CA. They actually diverted the freeway around it.

(I'm a HUGE fan of the Bristlecones too, Bullitt. Oldest trees in the U.S. So noble.)

---

4fingermalone Wednesday Jun 17 05:18 PM

This is a giant Banyan tree in Lahaina, Maui, Hawaii. I saw it when I was on vacation. It is amazing, but, hard to capture in a picture.



Giant Banyan Tree

---

DanaC Wednesday Jun 17 05:23 PM

Wow. Just wow malone.

---

Gravdigr Wednesday Jun 17 05:42 PM

4fingermalone, That sounds like a sexual act. "Hey, baby. What do you want to do tonight?" "Why don't you give me a 4fingermalone?"

---

classicman Wednesday Jun 17 06:07 PM

I saw that tree as well while there - it is truly majestic.

---

Shawnee123 Wednesday Jun 17 08:40 PM

There's a house in town I've always called Spooky House, that I've always loved. It looks like the cover of a kid's ghost story book. There is a knobby tree in front of it, a large and strange thing, and once when the house was for sale I got the fact sheet and whoever bought it had to agree to keep the tree. I'll have to try to remember to take a picture of it sometime.

---

richlevy Wednesday Jun 17 10:22 PM

BTW, it's "their weight would split the trunk".

---

Aliantha Wednesday Jun 17 10:31 PM

We have trees locally here called 'Moreton Bay Figs' which grow outwards like the ones above.

My kids love climbing on them.

Here's a pretty small one. They get much larger.


---

DanaC Wednesday Jun 17 11:41 PM

That looks like something out of a fantasy movie

---

Aliantha Thursday Jun 18 12:58 AM

Some of them are pretty spectacular that's for sure.

---

ZenGum Thursday Jun 18 07:52 AM

There are Moreton Bay figs in Adelaide's parklands and even around the cricket ground, at the back of the stand, providing shade for hundreds, perhaps thousands, of cricket watchers. I hope some are still there, there has been a fair bit of development.

ETA, google search indicates only a few token trees have been left, and the crowd now sit in the shade of the giant TV screen. But, I do love ancient gum trees.

Attachment 23884

Attachment 23885

---

JeffnMelissa Thursday Jun 18 04:53 PM

That would make the best treehouse!!!

---

Mayor of Shekou Thursday Jun 18 08:34 PM

Sicksicksick... sorry

---

xoxoxoBruce Thursday Jun 18 11:29 PM

Nope, I don't see it. I don't even see her breasts hanging toward her head from being upside down.

---

ZenGum Thursday Jun 18 11:35 PM

Damn, MoS, you need to get some.

just some nice old fashioned consensual adult fun.

---

Gravdigr Friday Jun 19 10:36 AM

Mmmm...fun.

---

Queen of the Ryche Friday Jun 19 01:47 PM

---

Aliantha Friday Jun 19 08:11 PM

When I was looking for a pic to share I did notice that there were a number of pics of them from the US. They're a pretty hardy tree, and not really very particular about soil type or anything. They pretty much grow like weeds where ever they take root.

---

JuancoRocks Saturday Jun 20 01:20 AM

Arizona Juniper.......




Spanish explorer Francisco Vásquez de Coronado and his troops slept under this tree.
Of course I picked up the beer cans they left there.
Damn tourists.......

---

SPUCK Saturday Jun 20 04:52 AM

This thread needs a proper date amended.

---

spudcon Saturday Jun 20 08:13 AM

It started with an oak, not a date.

---

ZenGum Saturday Jun 20 08:15 AM

Nonsense; it started with an acorn.

---

jinx Saturday Jun 20 11:58 AM


---

JuancoRocks Monday Jun 22 02:00 AM
Here.....I fixed mine for ya......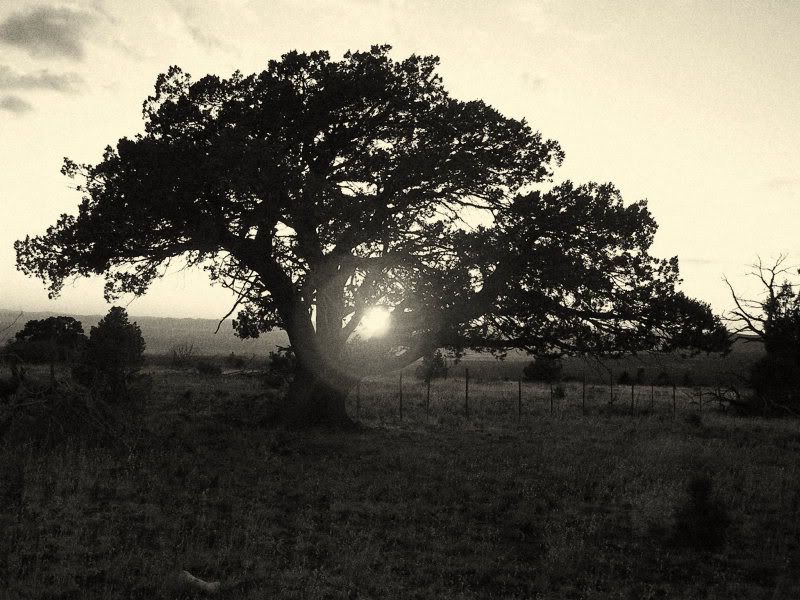 I felt pretty good about this picture until I saw yours was an Ansel Adams print......."We are not worthy"

---

spudcon Monday Jun 22 02:42 PM

Just noticed a flaw in the original pic. Mods have already fixed the first one.

---
Your reply here?

The Cellar Image of the Day is just a section of a larger web community: a bunch of interesting folks talking about everything. Add your two cents to IotD by joining the Cellar.