xoxoxoBruce Monday Jun 15 01:02 AM

June 15, 2009: Asperatus

I'm sure you know that different types of clouds have official names like cumulus, stratus, cirrus, and nimbus.
I think we discussed the mammatus clouds, that look like mammaries, here before.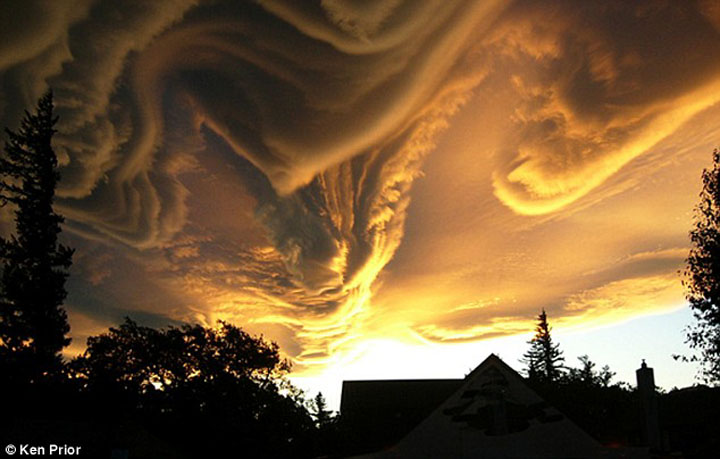 I think is an excellent idea... have as many different types of clouds defined and named as possible.
That way Scholars, Scientists, Meteorologists and Weather(wo)men, can communicate sightings and their consequences.

I say old chap, did you see the Asperatus formations last evening?
vs
Yo dude, didja see them fuckin' clouds lasnite?

link

---

Skunks Monday Jun 15 01:47 AM

I only have one problem with that name.





---

capnhowdy Monday Jun 15 09:20 AM

We'd freak out if we saw clouds like that in my neighborhood. For clouds that rarely produce storms, they sure look scary as hell.

---

lumberjim Monday Jun 15 09:34 AM

makes me want to lie down on my back and look up at em.

---

Trilby Monday Jun 15 09:35 AM

I thought this was about asparagus, too.


that first cloud looks like god is frowning down on that village, getting ready to smite it and smite it good.

---

sweetwater Monday Jun 15 11:13 AM

Asperatus sounds like a star machine or a bronchitis medicine. Snowdonia sounds more impressive, and we can pretend it means "clouds forming stalactites way up there".

---

Undertoad Monday Jun 15 11:23 AM

Asperatus... wasn't he that user from PD who tried to troll us?

---

classicman Monday Jun 15 12:17 PM

no UT - that was Asparagus

---

Shawnee123 Monday Jun 15 01:04 PM

Don't be castin' asparagus, I mean aspersions, at Asperatus.

---

spudcon Monday Jun 15 02:40 PM

LJ, You captured my view of clouds perfectly.

---

Gravdigr Monday Jun 15 03:21 PM



---

Stormieweather Monday Jun 15 03:28 PM

Yum Asparagus! Love those clouds too, but without the Asparagus superimposed on them. Those can go on my plate.

---

Shawnee123 Monday Jun 15 03:57 PM

And brussels sprouts, and cauli-whatsit, and broccoli, and cabbage, and and and...

---

capnhowdy Monday Jun 15 04:42 PM

The funnel cloud thingie right behind the boob looks like a wicked pig snout.

---

nil_orally Monday Jun 15 06:31 PM

---

DanaC Monday Jun 15 06:32 PM

I read the words and heard Jim's voice. Woof!

---

monster Monday Jun 15 09:24 PM

I read the words and heard artificial sweetner, not good for kids.....

---

Shawnee123 Monday Jun 15 09:34 PM

Would you rather have a lament?

---

SPUCK Tuesday Jun 16 05:53 AM

Don't big black nasty things come rearing up out of the pavement when you see those clouds?









---
Your reply here?

The Cellar Image of the Day is just a section of a larger web community: a bunch of interesting folks talking about everything. Add your two cents to IotD by joining the Cellar.