xoxoxoBruce Thursday May 28 01:11 AM

May 28, 2009: Carcoon

It took a while, actually quite awhile, but it was worth it.
You finally talked that object of your lust into going back to your place.
So hand in hand, you walk (float) back to your car, but when you turn the corner...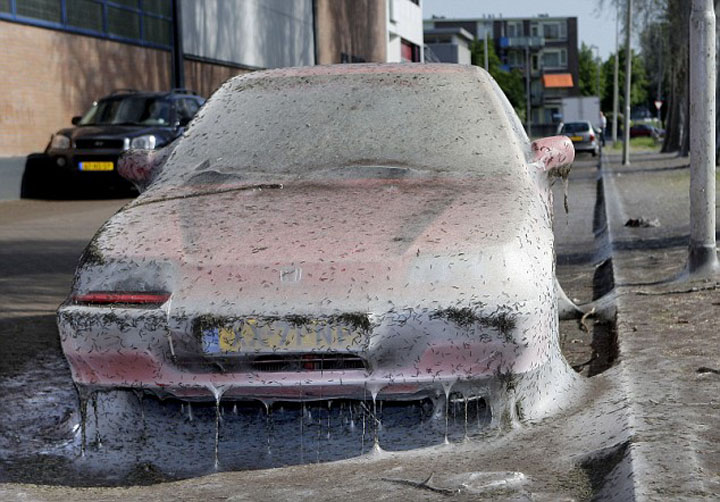 link
---

Pearcie (AUS) Thursday May 28 02:03 AM

Transformation

Maybe in 6 weeks the car will be Ferrari

---

spudcon Thursday May 28 02:19 AM

Silk webs don't protect them from my blowtorch.

---

ZenGum Thursday May 28 02:39 AM

Just tell her you practice safe parking. Gossamer thin, to give him maximum sensitivity, yet studded with larval bumps to give her blissful stimulation!

---

SPUCK Thursday May 28 06:13 AM


---

capnhowdy Thursday May 28 07:45 AM

nom nom nom.... spindle ermine larvae nest soup.

---

TheMercenary Thursday May 28 07:51 AM

Looks pretty nasty. Squirt some bug spray on that thing.

---

capnhowdy Thursday May 28 08:12 AM

Would that enhance the flavor?

---

BobT Thursday May 28 08:20 AM

How long did it take for that to happen?

---

classicman Thursday May 28 08:37 AM

I could never get in that car again - I don't care how much you cleaned it ...
ewwwwwwwwwwwww

---

Undertoad Thursday May 28 08:45 AM

This isn't insects! Didn't anyone see Invasion of the Body Snatchers?

---

Shawnee123 Thursday May 28 10:26 AM

Excuse me while I barf.

I could never get into that car again either.

---

Pie Thursday May 28 02:30 PM

Apparently I do have an instinctive "killit Killit KILLIT" reaction to at least one species of insect.

---

sweetwater Saturday May 30 08:13 AM

Are they trying to make a silk purse out of a ... Honda? They can have the car, immediately and forever. YUCK.

---

Gravdigr Monday Jun 1 01:14 PM

---

glatt Monday Jun 1 01:25 PM

I'd take it. Even in its current state. I'd possibly even get a kick out of making it clean again. There would be dramatic before and after pictures there.

---

capnhowdy Monday Jun 1 09:13 PM

I'm the kinda gut that would drive it thru town at least once, in its current state just for the hell of it.

---

Cyber Wolf Tuesday Jun 2 12:12 PM

I have a tree in my backyard that looked just like that a few weeks ago. There were frequent short, sharp showers of caterpillars whenever the wind blew. It got so that one couldn't sit out on the deck on a nice day without getting caterpillars down the collar.

---

glatt Tuesday Jun 2 12:28 PM

Choke cherry? The tent caterpillars love the choke cherry trees.

---

Sundae Tuesday Jun 2 01:57 PM
But I would be awake for weeks in horror at the memory of cleaning it.

---

JuancoRocks Wednesday Jun 3 01:01 AM

A car covered in spunk?.......

---

capnhowdy Wednesday Jun 3 08:04 AM

Actually it's a CAR WIDE WEB.

---

Gravdigr Thursday Jun 4 02:03 PM

---

Cloud Thursday Jun 4 03:33 PM

ugh. and what up with Te Grossness?

---
Your reply here?

The Cellar Image of the Day is just a section of a larger web community: a bunch of interesting folks talking about everything. Add your two cents to IotD by joining the Cellar.