xoxoxoBruce Thursday May 14 01:28 AM

May 14, 2009: Elephant Riding

Actually people riding an elephant riding an elephant.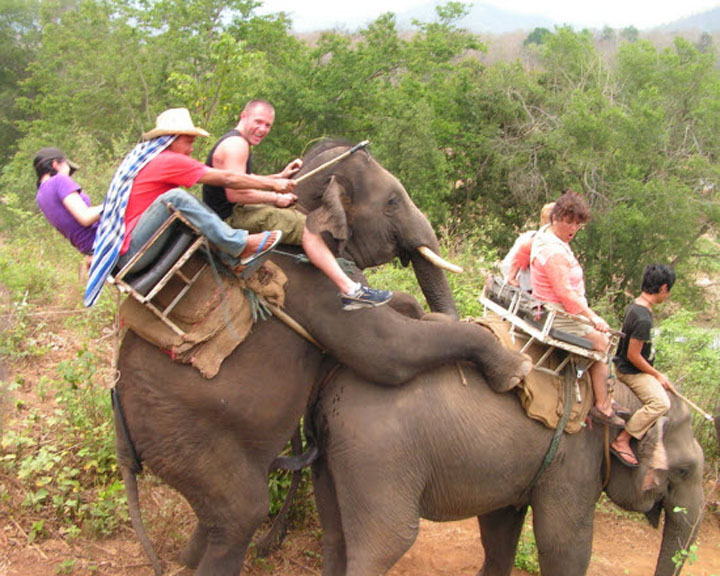 I sent this to Leah, the Aussie elephant girl, a couple days ago and now it seems to be popping up all over the net, so what the hell.

---

ZenGum Thursday May 14 01:30 AM

Sex tourism plus elephant trekking all in one.

Thailand - the tourist's paradise.

Love the expression on the woman on the front elephant. Looks like she is feeling it herself.

---

xoxoxoBruce Thursday May 14 01:33 AM

Is that an "O" face?

---

Kolbenfresser Thursday May 14 03:21 AM

ejaculatio praecox

I think there ist reason to belief that the elephant suffers from ejaculatio praecox.
Anyway, the mahout (elephantguide) knows exactly whats going on.
During the musth period it is quite irresponsible riding an elephant.

---

SPUCK Thursday May 14 05:59 AM

The back one is just fueling the front one..

I think the front one just stopped really quick and the back one reared up trying to stop. No?

---

capnhowdy Thursday May 14 08:33 AM

For some reason the mahout on the rear elephant has traded seats with the passenger, Which is most likely the reason this happened.

---

ZenGum Thursday May 14 09:08 AM

You're spot on there capn, changing seats like this is fairly normal.
I did an elephant trek in Thailand, and the mahout let me sit up front for more than half of the journey. Hey, to him its a job and he was getting to kick back and relax. To me it was something new and interesting and I got to enjoy it fully. The elephant knew perfectly well where to go so I only pretended to steer.

At one point the front elephant stopped to eat and mine .... drum-roll .... just walked around it (how disappointing). But it completely ignored my ear-tugging commands to turn or stop. After that I realised who was really in charge and that I should just hang on and enjoy the view.

---

Sheldonrs Thursday May 14 09:44 AM

Well when the traffic is backed up like that, there's bound to be a fucking accident.

---

dlturman Thursday May 14 09:53 AM

I wonder if this happened to be on a Wednesday?

---

Sundae Thursday May 14 10:20 AM

Kolbenfresser, I just love the Anglo-German tone of your post.
Moar pls!

---

Queen of the Ryche Thursday May 14 01:23 PM

The expression of the lady in red on the receiving one is priceless. "Oooooh..... I didn't know elephants did THAT."

---

glatt Thursday May 14 01:36 PM

Reminds me of this old favorite. These tourists had that shocked look too. "Oh my God! Look and the schlong on that thing!"

---

capnhowdy Thursday May 14 04:36 PM

---

Gravdigr Thursday May 14 06:05 PM

I. Love. Elephant. Pron.

And I love the look on the face of the white guy riding the giver.

---

xoxoxoBruce Friday May 15 12:46 AM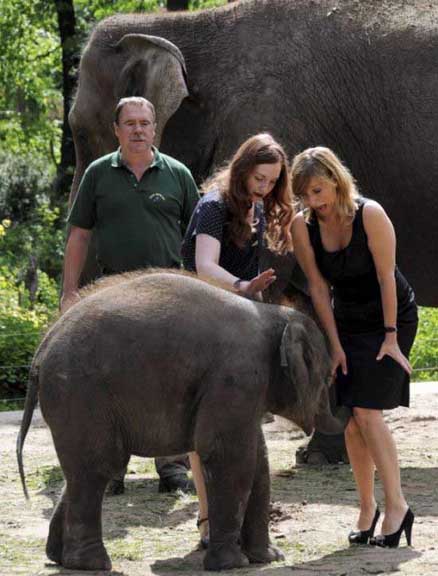 ---

Shawnee123 Friday May 15 09:44 AM

I always wear a cocktail dress and high heels when planning to visit a wildlife sanctuary.

---

Queen of the Ryche Friday May 15 12:27 PM

Must be the L A Zoo.

---

spudcon Friday May 15 01:40 PM

---

Shawnee123 Friday May 15 01:49 PM

Hey, yeah!

And by yeah, I mean no.



---

xoxoxoBruce Saturday May 16 02:49 AM

---

SPUCK Saturday May 16 05:59 AM
And, oh yeah.. Getting felt up!:p

---

Sundae Saturday May 16 06:17 AM

When I was in Sri Lanka I found the elephants slightly ... creepy? Sexual? Preeverts?
All I know is I didn't like them.

I have a photo of me, creeped out, with a nasty trunk slinking in my vicinity. I'd just said something like, "Take it! Quick, now! Before it touches me!" I'll find it for you.

Soz to those who like the 'phants. Like dogs and children, I'm out of step with the rest of humanity.

---

Leah Monday May 18 01:08 AM

I loved the pic's Bruce, cheers. I've been on an elephant that's been very very keen on another elephant, but hell, nothing like that one. How funny.

---

capnhowdy Monday May 18 09:14 AM

Hi Leah!

great to see you again!

---

Leah Tuesday May 19 07:06 PM

I'm always here, always looking, not so many comments these days, sorry.

---

monster Tuesday May 19 10:32 PM

---

TheMercenary Tuesday May 19 10:34 PM

That first pic is priceless.

---

ferret88 Wednesday May 20 09:26 PM

LMAO

---
Your reply here?

The Cellar Image of the Day is just a section of a larger web community: a bunch of interesting folks talking about everything. Add your two cents to IotD by joining the Cellar.