xoxoxoBruce Saturday May 9 01:00 AM

May 9, 2009: Yukon Destroys Eagle

I was perusing the pictures on Wunderground and came across these sad pictures by a guy named AlaskaMark.
He's recorded the aftermath of an ice jam flood destroying the Village of Eagle, Alaska, by the Yukon River in March of this year.
The river rose 34 feet and slammed the village with huge ice floes. It also flooded the City of Eagle just to the west of the village.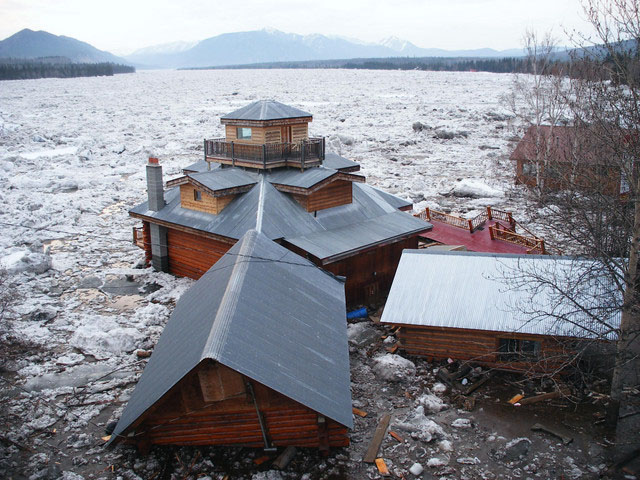 Nobody wading in that cold water trying to salvage belongings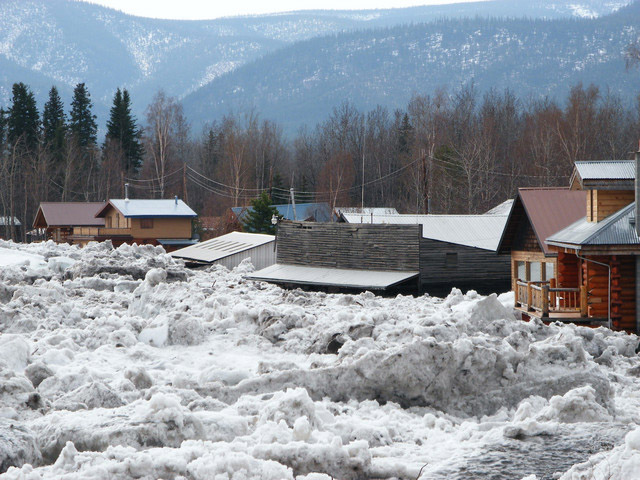 The village's only store, only restaurant and most of the other buildings appear to be a total loss.
Alaska, in March, is not someplace you want to be forced out of your home. Hopefully everyone is safe.



There are two sets of pictures, here and here.

---

TheMercenary Saturday May 9 03:16 AM

I just heard about this on NPR today. Those are some pretty stout homes. Maybe they will survive the ride down river and in the summer they can go pick them up and put them back again. I doubt it. Great pics.

---

SPUCK Saturday May 9 05:33 AM

Weird! All that ice and look at the hills no sign of snow or cold at all.

---

ajaccio Saturday May 9 09:08 AM

Eagle, AK

This breaks my heart. I've been to Eagle and have friends there. It is a beautiful historic community in the Alaskan interior. I hope the town can recoup, but it will be hard work and very expensive...





---

Shawnee123 Saturday May 9 09:14 AM

I wonder if that building in the first pic is the restaurant/store. ajaccio, do you know?
What a charming building.

It's very sad.

---

Alluvial Saturday May 9 09:15 AMhere.

Interesting to note that the previous historic peak of the Yukon at Eagle was in 1937.

---

Alluvial Saturday May 9 09:19 AM

---

Shawnee123 Saturday May 9 09:41 AM

I couldn't find a description on that photo. I'll look at the others.


edit: Oh, OK, I see it in the second set of photos. Thanks! A private residence then? The deck sliding along the side made me think it looked like a public establishment.

---

ajaccio Saturday May 9 09:54 AM

Eagle building ...


Shawnee, I'm not sure either. It's been 10 years since I was there, but I sure remember that little restaurant.

By the way the "City" of Ealge mentioned in the original post is another small town where the residents are all native Alaskans. As far as I know, it's only called a "city" to differentiate it from the Anglo town. We are talking about remote intimate communities here. I saw no pictures of the damage to it, but some of their buildings are close to the waterfront, too.

---

xoxoxoBruce Saturday May 9 09:55 AM

---

Shawnee123 Saturday May 9 10:01 AM

---

Gravdigr Saturday May 9 05:51 PM

Damn. One of my life-long fantasies is to motorcycle ride the alaskan highway. A guy here in town built a bike up and rode to Key West, then from Key West, to Prudhoe Bay. Talk about an iron ass...

---

SPUCK Sunday May 10 05:57 AM

And a failed spinal column.

I drove the Alcan.

In October..
Don't go then on a motorcycle.

---

capnhowdy Sunday May 10 09:49 AM

I thought this would be an eagle vs windshield thread. As it is, it is even more sad. What a bitch.

---

xoxoxoBruce Sunday May 10 03:46 PM

---

TheMercenary Monday May 11 12:03 PM

There is a great motorcycle blog about some group of men and women who rode motorcycles from the NW US up the ALCON Highway and back. It has lots of pics and commentary. Sounds like it would be fun if I had a month off.

---

spudcon Monday May 11 12:15 PM

I see a movie in this. Motorcycle gang ride the Alcan run. Movie is called "Hell's Angels With Roids."

---

TheMercenary Monday May 11 08:38 PM

This wasn't it but it is similar. I must have the other one at home on my laptop and I will post it if I find it.

http://www.motorcyclecruiser.com/rid...ska/index.html

---

xoxoxoBruce Tuesday May 12 12:59 AM

Long ago and far away, Cycle World Magazine and National Geographic Magazine had the same picture on the cover, the same month. It was a picture of a guy towing a boat up the Alcan with a Harley, back when it was largely unpaved. His biggest problem was gravel chewing up the brakes.

---

xoxoxoBruce Saturday May 16 12:40 PM

After the water went down, the bus/boxcar sized ice chunks prevent clean up, or even salvage.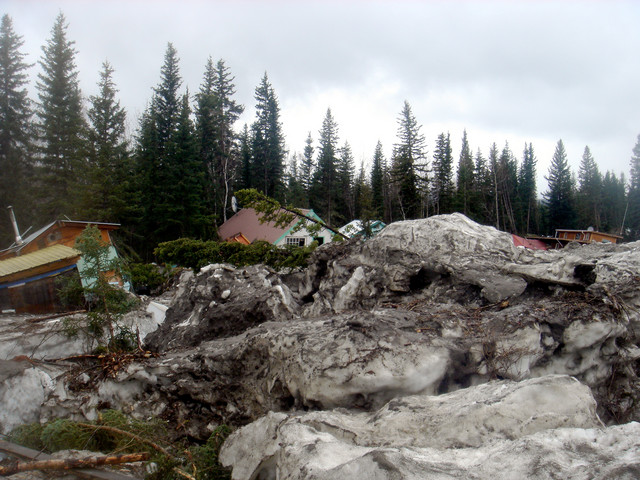 ---
Your reply here?

The Cellar Image of the Day is just a section of a larger web community: a bunch of interesting folks talking about everything. Add your two cents to IotD by joining the Cellar.