xoxoxoBruce Friday May 8 01:32 AM

May 8, 2009: Grizzly Chair

Unlike the Resolute Desk, some gifts to the Presidents of the United States thankfully stay in storage... or something.

For instance the Grizzly Chair given to President Andrew Johnson by Seth Kinman. That's Seth sitting in the chair, on the right.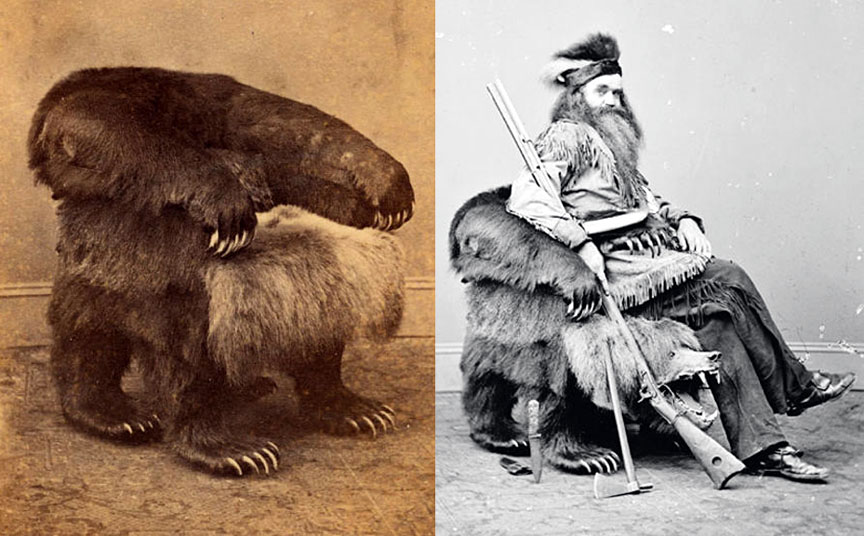 But wait, the chair on the right has a big old Grizzly head sticking out?
Yeah, it seems Seth had the bear head hooked to a cord so the President could have the head pop out between his legs. Bet that impressed the ladies.



Mr Kinman also made a fiddle from the skull of his favorite mule, and played two songs on it for Abe Lincoln when he was at the White House presenting Lincoln with an Elkhorn (antler) chair. Abe said since he didn't play the fiddle Seth should keep it. That, my friends, is a diplomat.

I have a feeling Seth Kinman has a lot of descendants in Humboldt County, CA... which is more than I can say for the six legged Grizzlies.



Link

link

link

link

---

ZenGum Friday May 8 01:48 AM

There's a bear in there
And a chair as well...

[Aussie reference!]

Amazing pictures and stories, thanks Bruce.

---

darkwing duck Friday May 8 02:01 AM

This may be the reason why gift giving in DC is so monitored these days . . .

I forgot there was a President Johnson. Had to look him up. I associate Jackson with grizzlies for some reason.

---

xoxoxoBruce Friday May 8 02:13 AM

Lincoln's successor, they tried to impeach him for continuing Lincoln's policies.

---

ZenGum Friday May 8 02:23 AM

You know, ole Seth had to shoot seven bears until he had all the perfect components for that furniture. Folks would see him out hunting, and hear him muttering:
I must have the right two bear arms!


Ahhh, I crack me up.

---

BeltNah Friday May 8 04:00 AM

2 good posts so close together Zengum nice work.

Have a good weekend everyone.

---

BeltNah Friday May 8 04:01 AM

I bet if it was on display it would be BEARly noticeable.

---

Sundae Friday May 8 06:06 AM

I wouldn't be in the slightest bit concerned at seeing a leather chair. I wonder why this bothers me so much more?

But it does. Bleurgh.

---

DanaC Friday May 8 07:31 AM

Yeah...a leather chair might nt faze you....but a Frisian chair might, no?

---

capnhowdy Friday May 8 08:21 AM

Baby bear: "Someone's been sitting in MY chair!"

---

Sundae Friday May 8 08:40 AM

I think there's just something about fur.
Oh, and it looks like it smells

---

spudcon Friday May 8 09:45 AM

---

Flint Friday May 8 09:46 AM

The chair...he is walking! He wear shoes! He walk down the street! --Borat

---

Sheldonrs Friday May 8 09:49 AM

Yogi!!!!!!

---

Hillrick Friday May 8 10:07 AM

"But wait, the chair on the right has a big old Grizzly head sticking out?"

I'm sure he stood back and looked at it and mused "Hmmm, four feet and two arms, looks good but it needs something...."

---

ZenGum Friday May 8 10:16 AM
Maybe it is the fact that this isn't just the skin, but the claws, and more importantly, the general structure of the bear, that you can see. It isn't a chair covered in animal skin, it's an animal that has been made into a chair.
Perhaps it is that it looks like a really weird, headless, six-legged animal with big claws.
Matter of fact, I think it looks like it's about to walk off. I'm sure Seth would club it some if it tried to.

I find it has a strange attractiveness. It makes some kind of wild-man throne. I kind of want to sit in it, but I'd feel bad for the bears involved.

---

Shawnee123 Friday May 8 10:44 AM

They should have left the head, so we knew who the bear was:

like a bearskin rug? thats so unnecessary

"you know, the den looks great, i think its just missing something…"
"really? what?"
the back of a dead bear. like laid out in the shape of him, that'd be awesome"
"really?"
"oh yeah."
"should i keep the head on?"
"definitely. we want to know who this was. it will help you relax by the fire."

-demetri martin

---

xoxoxoBruce Friday May 8 11:34 AM

That wouldn't happen in this day and age.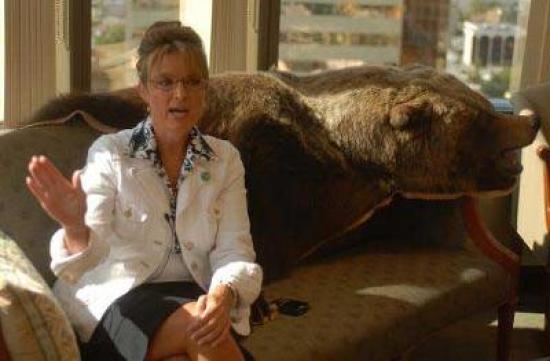 ---

Shawnee123 Friday May 8 11:40 AM

My bear can see Russia from my house, well he could if'n I hadn't shot him.

---

TheMercenary Friday May 8 01:01 PM

I want one.

---

SPUCK Saturday May 9 05:26 AM

I can't bear much more of this.

---

xoxoxoBruce Saturday May 9 10:08 AM

You had to see it bruin.

---

Cloud Saturday May 9 11:04 AM

so, you're saying that thing is in the basement of the White House or something? (shudder)

---

SPUCK Sunday May 10 05:53 AM

Naw! The Clinton's probably took It too..

---

DucksNuts Sunday May 10 06:32 AM
People with games,

and stories to tell....


Thats onnnnnne ugly chair

---

ZenGum Monday May 11 12:39 AM

Open wide

Come inside

It's Play Schoooll!


(is it just me or does that last bit get kinda dirty?)

---
Your reply here?

The Cellar Image of the Day is just a section of a larger web community: a bunch of interesting folks talking about everything. Add your two cents to IotD by joining the Cellar.