xoxoxoBruce Monday May 4 12:30 AM

May 4, 2009: Tire Sculptures

After the rubber meets the road for awhile, tires get replaced. I've read that happens 300 million times every year, just in the U.S., so worn out tire carcasses are readily available... they might even pay you to take them away. There are lots of good uses for them, and they burn rather readily, although I wouldn't roast a pig over one.

Become an artist/sculptor.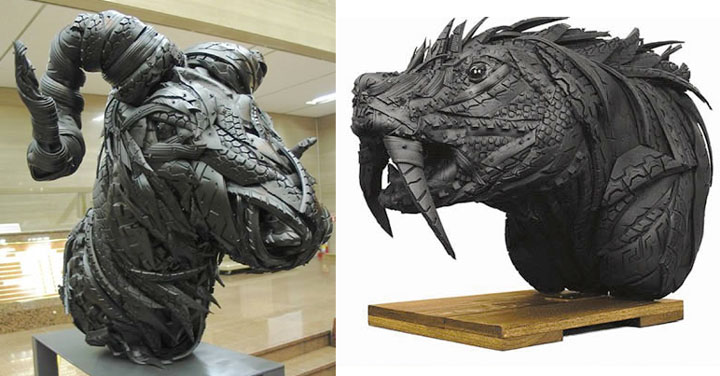 People are always bitching about tire carcasses because they don't break down for like a zillion years, which makes them the perfect affordable medium for outdoor art. They'll last a lot longer than those driftwood horses, you betcha. You don't have to get fancy, just use your imagination. On second thought if you've got neighbors, get fancy.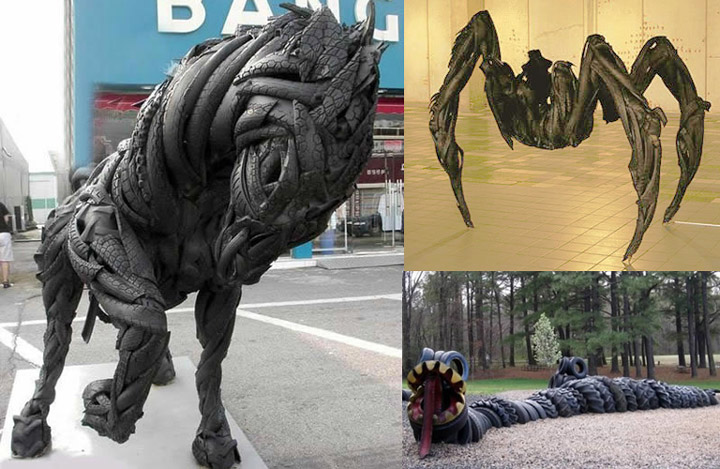 More pictures at the link.

---

SPUCK Monday May 4 05:57 AM

Don't tread on me..

---

capnhowdy Monday May 4 07:44 AM

Amazing. Proof positive that a true artist can create art from ANY medium. If the talent is there, it WILL come out. Good find, Bruce.

---

ZenGum Monday May 4 09:12 AM

It's groovy, but it'd get tired pretty quick.

---

birdclaw Monday May 4 09:57 AM

I think this artist is in for a good year.

---

Sheldonrs Monday May 4 10:10 AM

Well he's good with tires, but what about rims?

---

sweetwater Monday May 4 10:39 AM

Sculptires.
I like them! If only he'd make cars of them, too. All bumper, eco-friendly, and styling with a saber-toothed cat head for a hood. Outta my way, fiberglass-mobiles!

---

capnhowdy Monday May 4 05:02 PM

No info in the link about the process. I'd like to know what he cuts them with, and what type of adhesive he uses. Obviously they are very sturdy.

---

lumberjim Monday May 4 05:18 PM

used to be, back in my day..., we would talk about eating the IOTD. Now it's all you punning whippersnappers taking over lately.

---

Wombat Monday May 4 06:45 PM

---

spudcon Monday May 4 07:40 PM

I always thought we should have rubber roads and concrete cars. I had a Plymouth Duster in the 70s, I had to fill the wheel wells with concrete to seal the rust holes.

---

ZenGum Monday May 4 07:43 PM

* passes Lumberjim a knife and fork*

Go nuts.

---

Cloud Monday May 4 07:56 PM

I like those a lot better than the wooden ones

---

capnhowdy Monday May 4 09:08 PM

I don't have time to post... I'm making blackened tire in the backyard.

---

monster Monday May 4 09:37 PM

I love the kids' play equipment the make from old tires.




but those sculpture are awesome. I'd buy one and I don't "do" art.

---

monster Monday May 4 09:38 PM

---

capnhowdy Monday May 4 09:48 PM

Sure. It's a GOODYEAR for that.

---

capnhowdy Monday May 4 09:53 PM

And if a couple HOOSIERS join me maybe I HANCOOK something. Anybody got MICKEY THOMPSON'S number? Oh... I got it. It's 235.R.16.

---

monster Monday May 4 10:04 PM

Who knows, maybe you'll get a rating in the Michelin guide?

---

capnhowdy Monday May 4 10:11 PM

It'll take balance and scheduled rotation.

---

monster Monday May 4 11:18 PM

It's a path I choose not to tread

---

dar512 Tuesday May 5 12:21 AM

---

dar512 Tuesday May 5 12:22 AM

Has everyone gotten tired of these puns?

---

Undertoad Tuesday May 5 06:07 AM

They just go round and round.

---

capnhowdy Tuesday May 5 07:02 AM

We'll all be ok... we're just under pressure to be mounted.

---

monster Tuesday May 5 08:04 AM

I'm feeling a little flat today, i need to sit down. Is there a pun chair?

---

classicman Tuesday May 5 10:00 AM

We really seem to be circling the rim on this one.
Somebody ought to put a hubcap on it.

---

Gravdigr Tuesday May 5 01:47 PM




Lj, the 'back in my day' bit reminds me of a Dana Carvey SNL skit. Great GranPa said "Back in my day when we went out to play, there was only one game. It was called "Stare At The Sun". We'd go out to the yard there, and stare at the sun til our eyeballs burst into flame. That's the way it was, and we liked it!"

---

SPUCK Wednesday May 6 05:45 AM

You punners!

Put a nail in it!

---

capnhowdy Wednesday May 6 08:16 AM

A plug may be more effective.

---

classicman Wednesday May 6 09:11 AM

Oh guys, c'mon - just patch up your differences.

---
Your reply here?

The Cellar Image of the Day is just a section of a larger web community: a bunch of interesting folks talking about everything. Add your two cents to IotD by joining the Cellar.