xoxoxoBruce Monday Apr 27 12:42 AM

April 27, 2009: Fairy-tale Homes

Long ago and far away, after the War-to-End-All-Wars and before Mexico retook possession, Los Angeles was a magic place.
Tinseltown, Hollywood, Movie Stars, Big Bucks and Irrational Exuberance.

Some of the people with the money also had imagination... or some of the people with imagination figured out how to get some of that money by building houses the people with money wanted.
Either way, some fairy-tale homes were built a few of which still exist.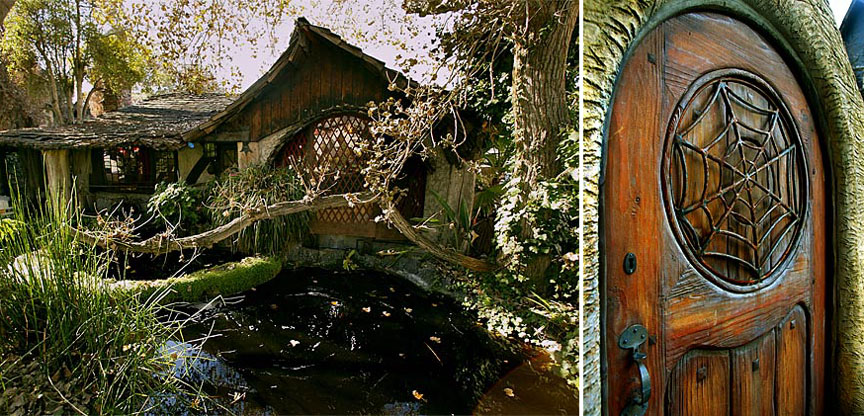 I love these places but creating one today would be soooo expensive. Even away from the stratospheric CA real estate (land) costs. The battle with zoning boards, banks and inspectors, to not build a ticky tacky box, would be expensive and exhausting.
You'd have to be rich enough to have other people do that battle while you lived somewhere else.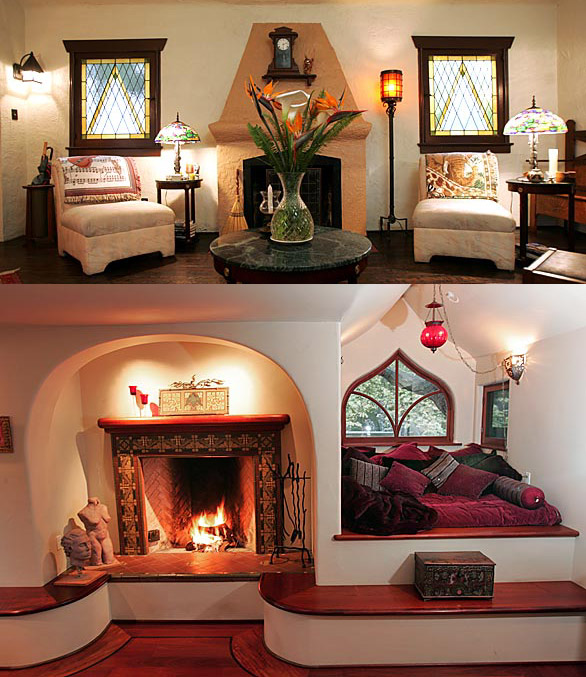 But it sure would be cool.



link

---

DanaC Monday Apr 27 02:15 AM

Beautiful interior! That fireplace is lovely.

---

xoxoxoBruce Monday Apr 27 05:41 AM

Gee, I hope Brianna likes it.

---

SPUCK Monday Apr 27 05:57 AM

That pretty particulate/monoxide/carbon generating fireplace.. California Air Resources Board - CLEAN UP ON ISLE FOUR!

Brought to you by petty fiefdoms of California.
Operating above the law dictatorships for 20 years.
Providers of MTB disasters of all sizes.

---

Trilby Monday Apr 27 08:18 AM

---

Shawnee123 Monday Apr 27 10:16 AM

I love it. I want to sleep in that little alcove, or whatever it's called.

---

birdclaw Monday Apr 27 10:17 AM

I want it! Especially the bed. Just look at all those soft comfy pillows. Makes me sleepy.

---

Hillrick Monday Apr 27 11:48 AM

I've always envied craftsmen who could make something that looks like it's 400 years old and falling apart when they finish.

---

sweetwater Monday Apr 27 02:16 PM

Even better than the church camp at Martha's Vineyard! I love it also and would move there in a second - providing, of course, that a large Pizza Hut box could fit through those whimsical doors, too.

---

ZenGum Monday Apr 27 09:27 PMlooks like it's falling apart is the tricky bit.

---

Gravdigr Tuesday Apr 28 11:26 AM

Bilbo called. He said get the hell out of his house.

---

Clodfobble Tuesday Apr 28 02:07 PM

I couldn't sleep in that bed. How am I supposed to dangle my leg out over the edge?

---

Sundae Tuesday Apr 28 02:59 PM

Is that a bed?
I thought it was a window seat.

For wantonly reclining after my imps have ridden Diz into the forest (on Diz) and brought back the mellowest of all the mushrooms for me



And look what I found as perfect furniture for a hobbit hole. From here (teak root furniture)

---

xoxoxoBruce Wednesday Apr 29 03:10 AMthey will drag you under the bed, suck out your juices and turn you into dust bunnies.

---

Aliantha Wednesday Apr 29 03:23 AM

ok...that triple post wasn't my fault!

---

xoxoxoBruce Wednesday Apr 29 03:43 AM

No if wasn't, unless you're the evil bastard that runs comcast.

---

Aliantha Wednesday Apr 29 03:47 AM

Well, I'm not an evil bastard...and I definitely don't run comcast.

---

Cloud Wednesday Apr 29 09:46 AM

http://www.naturaltreefurniture.com/CatTree.html

---

Sundae Wednesday Apr 29 10:07 AM

You have a lot in common with Diz then


He thinks everything is a cat tree too...

---

Cloud Friday May 1 04:33 PM

Who says fairy tale houses are dead? Here's an amazing treehouse residence in Portland, OR:

http://www.oshatz.com/text/wilkinson.htm

---

Undertoad Friday May 1 04:38 PM

That's not a treehouse... that's a house next to trees

These are treehouses


---

Cloud Friday May 1 04:51 PM

it's a evocative treehouse. a metaphor. and I found it on a tree house site. (sticks out tongue). But oops, I lost the linky that led me there. There was a cool aluminum cube one that was camouflag-y.

---

TheMercenary Saturday May 2 04:21 PM

Love that front door spider web.

---

xoxoxoBruce Saturday May 2 11:22 PM

That's the door in the front gate, I wonder how close to the street it is?

---
Your reply here?

The Cellar Image of the Day is just a section of a larger web community: a bunch of interesting folks talking about everything. Add your two cents to IotD by joining the Cellar.