xoxoxoBruce Wednesday Apr 15 01:52 AM

April 15, 2009: Hubble's 100 Incher

You know Hubble, they named that awesome space telescope after him.
This Mack truck is hauling the 100 inch telescope mirror up Mt Wilson for the telescope Hubble would discover galaxies with.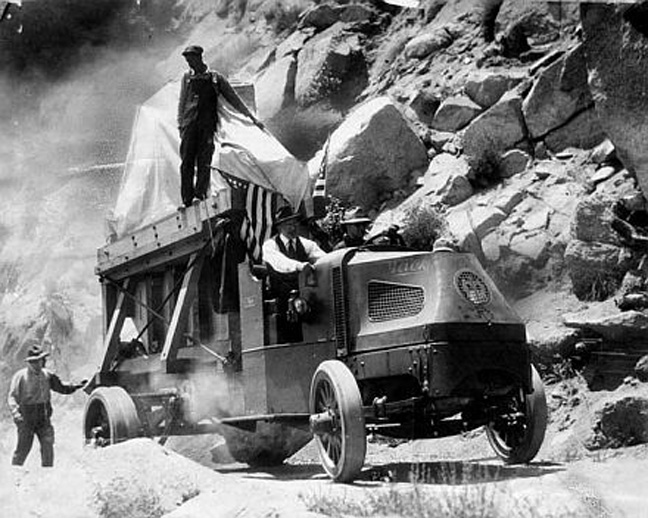 I love those old chain-drive Macks.

---

Kolbenfresser Wednesday Apr 15 03:39 AM

Major dick, grip and important jobs

My first thought was like, a 100 incher, no way, impossible, even for a major celebrity like Hubble.
By the way, those tires seem to lack grip - thats why this guy at the rear end has to push pretty hard. And the the other guy on top of the vehicle does a very important job as well. Probably bearing responsibility.

---

JuancoRocks Wednesday Apr 15 04:02 AM

Pretty stiff ride. Those solid tire wheels and no suspension to speak of it was a jolting ride at very slow speeds. The guy riding on top will come down after a while, whether he wants to or not.



The guy in the rear indicates the vehicle is traveling at walking speed.
He's lookig to see if anything else falls off on the way up.

The guy driving is a professional, why else would he be wearing a tie and looking concerned?

---

SPUCK Wednesday Apr 15 05:57 AM

And to do the same thing in these modern times, they use a, um, truck!

This is the MMTO

---

Griff Wednesday Apr 15 08:02 AM

Bruce, wasn't your first job assembling those chain drives in Allentown?

---

sweetwater Wednesday Apr 15 09:16 AM

Ummm... why not set it on edge and roll it up the mountain? I wouldn't walk behind it under those circumstances, but maybe I'd throw some grapes under the front edge and sip wine along the way.

---

Sheldonrs Wednesday Apr 15 09:24 AM

Lens-Crafters could have done it faster and cheaper.

---

dar512 Wednesday Apr 15 10:21 AM

True, but they'd have mixed up America's order with Russia's and have to do them both over.

---

Sheldonrs Wednesday Apr 15 10:43 AM

Good thing they have that BOGO deal.

---

xoxoxoBruce Wednesday Apr 15 11:48 AM

---

Queen of the Ryche Wednesday Apr 15 12:02 PM
http://maps.google.com/maps?f=q&sour...,0.175095&z=13

---

4fingermalone Wednesday Apr 15 12:41 PM

---

xoxoxoBruce Wednesday Apr 15 12:54 PM

---

Queen of the Ryche Wednesday Apr 15 02:21 PM

(Nice pull, but it's Slauson. Over there, by Sepulveda.)

---

xoxoxoBruce Wednesday Apr 15 11:50 PM

You're right, Google only has 4310 hits for Slawson cut off, and 6780 for Slauson cut off. Thank you for the correction.

---

JuancoRocks Thursday Apr 16 02:10 AM

[Johnny Carson]..."Drive till you get to the Slauson cutoff....Then you get out of the car and cut off your slauson" [Art Fern]:p

---
Your reply here?

The Cellar Image of the Day is just a section of a larger web community: a bunch of interesting folks talking about everything. Add your two cents to IotD by joining the Cellar.