xoxoxoBruce Friday Apr 10 01:28 AM

April 10, 2009: Megamouth

The Megamouth Shark got it's name because it's got a big mouth... well duh.

Enchanted Learning says;

Quote:

The Megamouth shark is a large, slow-swimming, timid shark that was only discovered in 1976. Only 14 examples of this rare species have ever been found, mostly in the Pacific Ocean. Off the coast of Indonesia, three Sperm whales were observed attacking a Megamouth shark (the 13th observed megamouth).

However, MSNBC quotes the World Wildlife Fund's response to fishermen in the Philippines accidentally catching one;

Quote:

one of the rarest fishes in the world with only 40 others recorded to have been encountered, the World Wildlife Fund said Tuesday.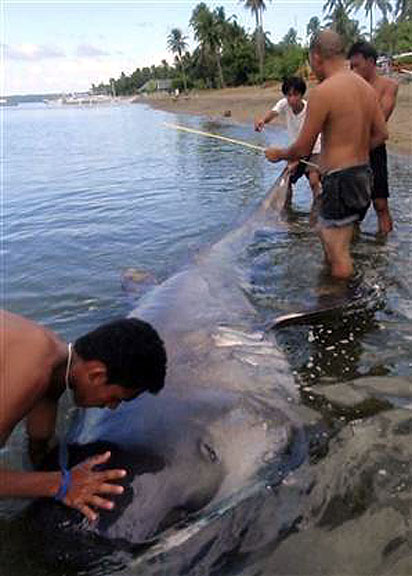 So what did these Filipino fishermen do with this rare fish?
It's an IOtD silly, they ate it.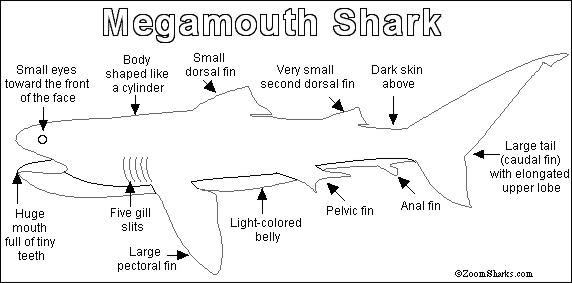 Enchanted Learning again;

Quote:

Diet: The Megamouth shark filter-feeds, eating tiny organisms, including zooplankton (like tiny crustaceans) and phytoplankton. It feeds near the surface at night (it is nocturnal), but each day it descends to a depth of 650 ft (200 m).

Anatomy: The Megamouth shark is up to 16.5 feet (5 m) long and weighs about 1,650 pounds (750 kg).

So I guess this shark is only dangerous to itty bitty things... but it would still scare the crap out of me.

---

Crimson Ghost Friday Apr 10 02:52 AM

.

---

capnhowdy Friday Apr 10 07:49 AM

Weird. Such a huge mouth to ingest such small food.

I think it could be a dolphin.

Either way a Ceaser salad would be a nice accompaniment. And some tartar sauce.

---

Shawnee123 Friday Apr 10 08:19 AM

Candygram.

I like Big Mouth Shark. Can I change my user name?

---

Sheldonrs Friday Apr 10 09:51 AM

*like sticking a birthday candle into the holland tunnel*

OH CRAP! DID I SAY THAT OUT LOUD?!!!

---

dar512 Friday Apr 10 10:28 AM

---

Gravdigr Friday Apr 10 03:55 PM

---

hipshot Friday Apr 10 04:40 PM

Quote:

Originally Posted by

Shawnee123

Candygram.

I like Big Mouth Shark. Can I change my user name?


Dang. Ya beat me to it

---

Elspode Friday Apr 10 07:50 PM

Clearly a megamouth dolphin.

---

capnhowdy Saturday Apr 11 12:54 AM

Clearly.

And a krill killer de boot.

---

dropmedic Saturday Apr 11 02:38 AM

Mega-smoker grille is up&running...

I offer 5 gallons of melted butter w/garlic, Oldbay, and Cajun seasoning. May I have the remains for my crab pots? Dang, after all these years lurking, I am so glad to have joined such a lovely&lively group! I also run and cook for my huntcamp, and being an ex-chef, have often wanted to offer goodies, but have now found time to join. BTW, XOBruce, you do a wonderful job entertaining, Sir.

---

xoxoxoBruce Saturday Apr 11 04:10 AM

Thanks dropmedic, welcome to the Cellar.

---

capnhowdy Saturday Apr 11 04:01 PM

Tell us when the dolphin is ready.

---

Glinda Sunday Apr 12 01:27 PM

ARGH! Those bastards killed the Easter Dolphin!!




Think of the poor children!


---

capnhowdy Sunday Apr 12 02:46 PM

Viola!
Dolphin salad!

---

Shawnee123 Sunday Apr 12 06:00 PM

So I ask my 6 year old niece today if she had remembered to look for fainting goats on youtube (I was telling about them the week before.) She said "the other day I tried to remember 'what was that thing Aunt ___ told us to look up?'" and she said all she could think of was fainting dolphins so she typed it in and "they didn't have any idea what I was talking about."

Did she happen upon the Cellar?

---
Your reply here?

The Cellar Image of the Day is just a section of a larger web community: a bunch of interesting folks talking about everything. Add your two cents to IotD by joining the Cellar.