xoxoxoBruce Saturday Mar 21 03:57 AM

Mar 21, 2009: Prams



But spoiling kids isn't a new idea, by a long shot.
Take a gander at these antique prams (carriages), not for children, but for the children's dolls.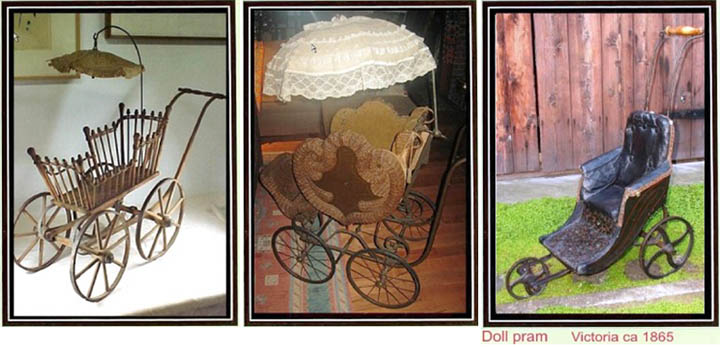 They are each meticulously handcrafted, but of course back then everything was. Some may have been made by craftsmen for their own children but probably most were made for rich men to spoil their children. And they didn't even have a sexy Barbie doll to put in them.

Here's about 40 of them.

---

Shawnee123 Saturday Mar 21 09:56 AM

I don't even see any rubber baby buggy bumpers.

---

Trilby Saturday Mar 21 10:27 AM

good one, Shawnee.


Ah, spoiled little bitches - they've been with us always.

---

DanaC Saturday Mar 21 10:56 AM

That's one way of looking at it. Another way of looking at it is to consider how much those parents were willing to spend in their quest to raise their daughters properly. By properly I of course mean properly feminine and maternal. The big (i.e expensive to craft) toys were generally heavily gender defining: train sets and bicycles for the boys, dollshouses and prams for the girls.

---

Gravdigr Saturday Mar 21 12:01 PM

Rubby baber bummy--wait...
Rumby babber bumger--dammit...
Rubbey barby bangy--aw fukkit...

---

Trilby Saturday Mar 21 12:14 PM

Dana - you know very well you don't have to spend a lot of money to raise your daughter properly.

It's spoiled little bitches get those prams.


eta: *sniff* I never got a pram! I had to make do with a wheel-barrow!

---

Sundae Saturday Mar 21 12:50 PM

I had prams.
And baby dollies.
I remember loving them.

But my two best things EVAH - Monkey (formal name Anne, but she was a stuffed toy in the shape of a monkey after all) who was my best friend and alter-ego. Did I tell you the story about Mum cutting Monkey's head off? I'm sure I did.

And my bro's Fisher Price garage. Something I had wanted for myself for years. Poor old Stevo, he had to put up with my stories as "we" played with it. He isn't an avid reader. I think my stories were so good they spoiled other writers for him.

Ahem.

---

xoxoxoBruce Saturday Mar 21 02:42 PM

You should have put those stories to good use.

---

Trilby Saturday Mar 21 02:46 PM

my favorite toy was Malibu barbie and her Suntan Friends, with their glasses and their towels the fun never ends!

I liked Skipper and my Malibu Barbie Van. I think there was a Francie doll, too.

Ken was supremely superfluous.

---

Sundae Saturday Mar 21 03:22 PM

Except that I love to love.
Damn, what I wouldn't give to be head over heels



Well, except wit you Bruce, you heart-breaker...

---

xoxoxoBruce Saturday Mar 21 03:27 PM

...and a kidney jouncer, and skin rasher, and...

---

SteveDallas Saturday Mar 21 06:25 PM

---

xoxoxoBruce Saturday Mar 21 06:30 PM

It's not always a personal choice causing one to be visited upon by spoiled little bitches, sometimes it's the sins of the father.

---

Sheldonrs Saturday Mar 21 07:48 PM

Is it just me, or does the last one look like an uncovered hearse?

---

DanaC Saturday Mar 21 07:51 PM

That's the Transylvanian model.

---

xoxoxoBruce Saturday Mar 21 07:54 PM

Yes, there are several that look like mini rickshaws or wheelchairs, too.

---

beauregaardhooligan Saturday Mar 21 08:49 PM

---

Shawnee123 Saturday Mar 21 09:09 PM

Once upon a barren moor
There dwelt a bear, also a boar.
The bear could not bear the boar.
The boar thought the bear a bore.
At last the bear could bear no more
Of that boar that bored him on the moor,
And so one morn he bored the boar--
That boar will bore the bear no more.

edit: I found this online, no author given

---

Trilby Saturday Mar 21 09:50 PM

Or...teacher. Eh, SD? Teacher?

---

TheMercenary Sunday Mar 22 09:44 AM

---

monster Monday Mar 23 09:10 PM

No cup holders/cocktail glass holders....

---

Elspode Monday Mar 23 09:44 PM

Om nom nom nom...

---
Your reply here?

The Cellar Image of the Day is just a section of a larger web community: a bunch of interesting folks talking about everything. Add your two cents to IotD by joining the Cellar.