xoxoxoBruce Thursday Mar 19 02:02 AM

Mar 19, 2009: Predator X

The Norwegians have dug up the fossilized remains of the biggest badass, ever.


Quote:

A giant fossil sea monster found in the Arctic and known as "Predator X" had a bite that would make T-Rex look feeble, scientists said Monday.

The 50 ft (15 meter) long Jurassic era marine reptile had a crushing 33,000 lbs (15 tonnes) per square inch bite force, the Natural History Museum of Oslo University said of the new find on the Norwegian Arctic archipelago of Svalbard.

"With a skull that's more than 10 feet long you'd expect the bite to be powerful but this is off the scale," said Joern Hurum, an associate professor of vertebrate paleontology at the museum who led the international excavation in 2008.

"It's much more powerful than T-Rex," he said of the pliosaur reptile that would have been a top marine predator. Tyrannosaurus Rex was a top land carnivore among dinosaurs.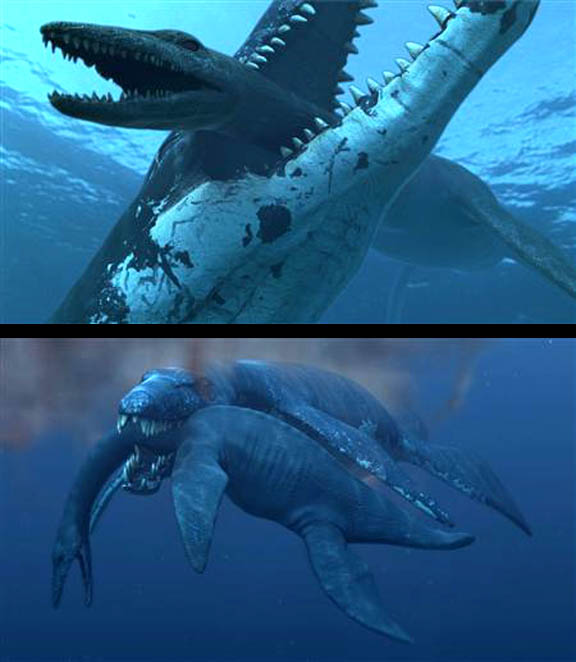 Quote:

Hurum had said of the first fossil pliosaur that it was big enough to chomp on a small car. He said the bite estimates for the latest fossil forced a rethink. "This one is more like it could crush a Hummer," he said. referring to General Motors' large sport utility vehicle.

I hate it when chomp, bite, crush, and hummer, are used together.

link
---

SPUCK Thursday Mar 19 05:32 AM

Yeah the land may have had some hazards but the ocean? <shudder>



---

Shawnee123 Thursday Mar 19 08:40 AM

Cool!

---

Trilby Thursday Mar 19 08:41 AM

Life: nasty, brutish and short.

---

4fingermalone Thursday Mar 19 09:33 AM

You're gonna need a bigger boat.
---

Sheldonrs Thursday Mar 19 09:48 AM

It's cool that they were able to preserve those fossilized photographs.



---

HungLikeJesus Thursday Mar 19 09:49 AM

Didn't the Japanese make a movie about them?

---

Coign Thursday Mar 19 10:24 AM

Nnnnooooo He is eating poor Nessie. She never did do anyone harm. That bastard!

---

birdclaw Thursday Mar 19 11:04 AM

It's a good thing T. Rex is extinct because I bet he would be real ticked off at people calling him feeble.

---

xoxoxoBruce Thursday Mar 19 11:42 AM

Meh, T Rex was a carrion sucking pussy. :p

@4fingermalone, Welcome to the Cellar, but you can't post Roy that way.

---

jd salinger Tuesday Jul 14 03:58 AM

How does this compare to the size of a blue whale, I wonder?

---

SPUCK Tuesday Jul 14 05:37 AM

Little comparison to 108feet and 190tons..

---

dar512 Tuesday Jul 14 09:41 AM

---
Your reply here?

The Cellar Image of the Day is just a section of a larger web community: a bunch of interesting folks talking about everything. Add your two cents to IotD by joining the Cellar.