xoxoxoBruce Saturday Mar 14 12:56 AM

Mar 14, 2009: Oil Spill

This is tragic but it struck me as a fascinating picture.



Quote:

A huge oil slick blackened the sand of beach near Cape Moreton, Australia, Thursday. Cyclone Hamish hit cargo ship Pacific Adventurer Wednesday, spilling oil and ammonium nitrate into the ocean off southern Queensland. The ship's owner, Hong Kong-based Swire, faces fines.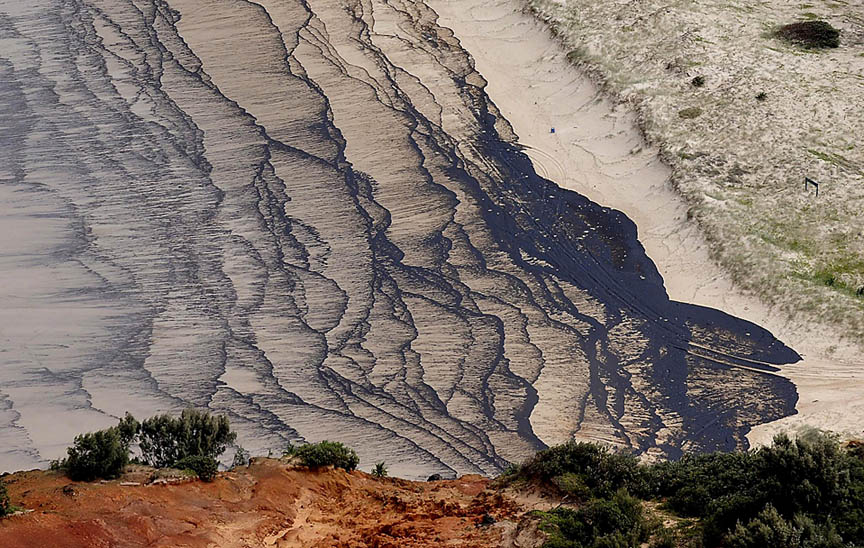 The possible damage from the oil is well known, but what about the ammonium nitrate? I believe it's a fertilizer, which makes me wonder how that might effect the algae and seaweed, as well as the swimming critters?

---

Bullitt Saturday Mar 14 01:24 AM

Ugh can we say algae bloom and dead fish? As far as I know, excess fertilizer in water speeds up the growth of algae, which robs the water of oxygen that the fish need to "breath" creating so called "dead zones". I think there's a huge one in the Gulf near the Mississippi R. delta.

---

Hagar Saturday Mar 14 03:56 AM

Quote:

...Cyclone Hamish hit the cargo ship...

That's garbage. The ship hit the cyclone. Or, more correctly, they were allowed to proceed into the decaying cyclone. It came from the southern port of Newcastle. Initial reports from the ship were that there was only about 10 000 litres spilled when a container fell from the deck, damaging the hull. The actual figure was more like 200 000 litres. Even yesterday, when she ship was docked in the Brisbane River, more oil leaked, causing even more damage to mangroves.

The slick is now covering 40+km of the Sunshine Coast & Moreton Island. Moreton is largely National Park.

There are so many reasons why this shouldn't have happened.

---

tulzscha Saturday Mar 14 08:44 PM

Ammonium Nitrate? Oil? Oceangoing ANFO-bomb?

Well, except for I don't think it works if it's wet.

"The ship's owner, Hong Kong-based Swire, faces fines." Yeah, I'd hope so. Really stiff ones, but not stiff enough they go bankrupt to avoid payin'.

---

hipshot Saturday Mar 14 10:59 PM

I'm with Hagar. Sometimes Ick is unavoidable, but why be irresponsible about it?

---

Aliantha Sunday Mar 15 04:56 AM

This spill is a disaster that's for sure. Moreton Island will take a very long time to recover from this. Because of the tidal surge from the cyclone, the oil has made it into the wetland areas which of course are where fish breed.

The containers are mostly dropped into 100 plus metres of water, and in themselves wont cause the damage you might think even when the chemical starts to seep out however, our prawn trawling and net fishing fleet is basically rooted because of it because they can't trawl the area and be covered by insurance due to the fact that there's a known risk of snagging which could easily lead to capsizing. Also, they can't get out of the bay via the normal route and will be spending hundreds of dollars more per trip on fuel. It is expected that most of the fishers will seek compensation.

the whole situation makes me so wild. The ship should never been heading into what was still classed as a catagory 4 cyclone.

---

Gravdigr Thursday Apr 9 03:38 PM

Oils well that ends well?

---

TheMercenary Sunday Apr 12 11:50 AM

Pretty sad. Alaska is still suffering from the damage of the Valdez.

---
Your reply here?

The Cellar Image of the Day is just a section of a larger web community: a bunch of interesting folks talking about everything. Add your two cents to IotD by joining the Cellar.