xoxoxoBruce Thursday Feb 26 02:11 AM

Feb 26, 2009: Fire Truck

When I saw this picture of a fire truck on Wunderground, it stuck me as odd because you never see fire trucks this way.

Not just the juxtaposition of cold snow with something associated with fire, but fire trucks have to be ready to go instantly... seconds count.

The caption reads, "Fire truck in Beaver River Station, NY".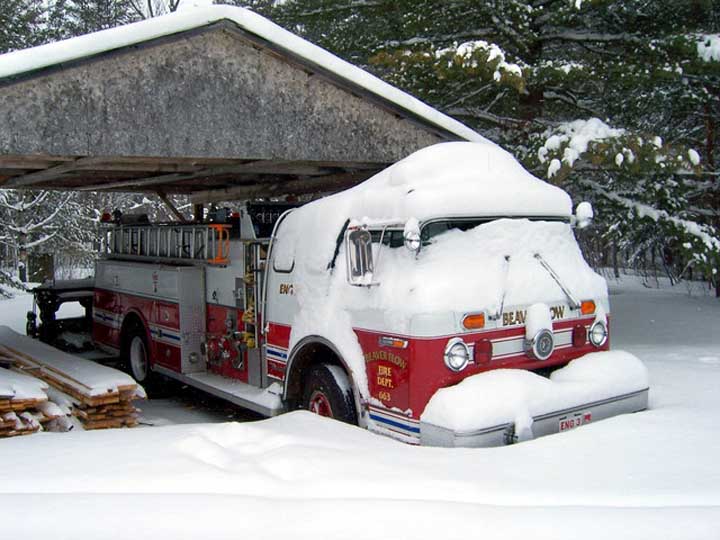 The word station immediately brings fire station to mind as it's used interchangeably with fire house, meaning where they keep the fire trucks and gear, but this doesn't look like a fire station.

Turns out "Beaver River Station", sometimes called "Beaver River", is a little hamlet in the Adirondack mountains of Herkimer County, New York. I don't think they have a fire station, but I know they don't have a school, just 125 private properties, 3 commercial businesses.

The lettering on the truck says, "Beaver Flow Fire Company", but Beaver Flow is over in Essex County.

Could it be that Beaver River Station is in "Beaver Flow State Forest"? Nope, that's down in Broome and Chenango Counties.

I figure either the truck was purchased by the "Beaver River Property Owners Association" for there own use, but don't have the garage (station) built for it yet, or it's owned by a collector that lives, or at least has a vacation property, in Beaver River Station.

See why it take me so damn long to put these posts up?


That's the way I roll.

---

newtimer Thursday Feb 26 02:38 AM

Are those little elf footprints in the snow under the truck?

---

capnhowdy Thursday Feb 26 08:35 AM

If they don't paint that OSB on the gable, the "station" won't be there a whole lot longer. The lumber to complete the "station" is neatly stacked by the truck. Must be a really laid back community.

And Bruce... keep rolling, man. You know we love you.

---

sweetwater Thursday Feb 26 08:49 AM

And inside the cab of that fire truck a shivering Dalmatian is softly whining and curling tighter as he waits and waits.

---

Sheldonrs Thursday Feb 26 08:59 AM


(The statement above does not necessarily reflect the views of the writer and are meant as dark humor)




---

sweetwater Thursday Feb 26 09:28 AM

I once saw a cartoon of 2 dogs talking to each other near a fire hydrant, with a burning house, firefighters, fire truck, hoses, and spraying water in the background. One dog was telling the other, "Kinda makes you proud to have contributed, doesn't it?"

---

glatt Thursday Feb 26 09:47 AM

I hope it's a collector and not an actively used truck. It would be a real shame if any community ran their fire department like that. Many fires happen in winter because that's when people heat their homes with fireplaces. In the winter especially, the trucks should be ready to go. I don't even see a shovel nearby to shovel the driveway. It will have a 15 minute delay just to get out of the driveway.

---

xoxoxoBruce Thursday Feb 26 09:55 AM

---

lupin..the..3rd Thursday Feb 26 07:42 PM

Nobody that's who.

---

jinx Thursday Feb 26 08:41 PM

Hey, that's right where I used to live.

Lots of summer homes in the area... not too many year round residents.

---

capnhowdy Thursday Feb 26 08:49 PM

The fire is rarely IN the station.



---

jinx Friday Feb 27 01:43 AM

Here's a year round camp, only a few miles from town.




I think Bruce is right, the HOA owns it.... for summer use.

---

capnhowdy Friday Feb 27 07:52 AM

That house looks like it's sliding down the hill.

---

xoxoxoBruce Friday Feb 27 10:34 AM

---

Gravdigr Friday Feb 27 04:45 PM

No Beaver Flow jokes? That's bloody awful.

---
Your reply here?

The Cellar Image of the Day is just a section of a larger web community: a bunch of interesting folks talking about everything. Add your two cents to IotD by joining the Cellar.