sandypossum Tuesday Feb 24 08:07 AM

Feb 25, 2009: Icelandic Elf House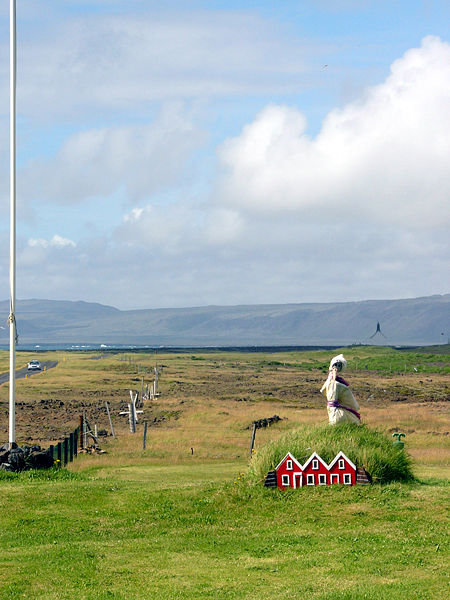 When I was in Iceland in 2002 I saw tiny little doors on rocks beside some hills in the countryside. My host explained that Icelanders put tiny doors or tiny houses on rocks to invite elves to live in the rock. (I think it was because having an elf live there was good luck, or maybe it was to persuade them not to live in your own home - can't remember that bit).

A 1998 survey found that 54.4% of Icelanders surveyed claimed to believe in elves, or the huldufólk ("hidden people").

My own photos of the doors, taken from a moving vehicle, are rather blurry, so I found this in Wikimedia Commons, labelled "Elf houses near Strandakirkja in south Iceland":

This Reuters article, Elves in Modern Iceland, describes how this belief in elves can affect building plans, even when it involves building roads.

And this article from the Iceland Tourist Board website, Hollywood May Joke, but Elves are Serious Business for Icelanders, explains more about their thoughts on elves.

(PS: am I jumping ahead of time? No! Here in Fish Creek, Australia it is already the 25th of February!

)

---

Sheldonrs Tuesday Feb 24 08:50 AM

If the elves leave does someone announce that Elvish has left the building?

---

Trilby Tuesday Feb 24 08:59 AM

I simply adore a culture where this is possible.

I'm going to look into moving to Iceland. My youngest will be out of the nest in 18 months and I'm sick unto death of Ohio summers (they begin in May with 90 degrees and 90% and don't end until late Oct. when it begins to pour freezing rain).

I'm totally up for this. I wonder what kind of job an english major drop out can get in Iceland? Off to google..

---

Trilby Tuesday Feb 24 09:02 AM

Never mind: found out what I can do, from article

"Our basic approach is not to deny this phenomenon," Birgir Gudmundsson, an engineer with the Iceland Road Authority, told Reuters. "We tread carefully. There are people who can negotiate with the elves, and we make use of that."

In Awe: I can MAJOR in ELF studies!!!

---

footfootfoot Tuesday Feb 24 09:49 AM

Elf mediation, Elf negotiation, Elf labor union organizer. Bri you could be the Jimmy Hoffa of Icelandic Elfdom!

---

Cloud Tuesday Feb 24 09:51 AM

So what's that thing on the top of the house? Mother Goose?

---

hipshot Tuesday Feb 24 10:17 AM

Elf I know...

---

Trilby Tuesday Feb 24 10:20 AM

YAY!

---

footfootfoot Tuesday Feb 24 10:25 AM

I could be an elf General Contractor...

---

Coign Tuesday Feb 24 11:38 AM

I would hold off moving to Iceland unless you have a large nest egg to spend there because you will not find any economic assistance like finding a job. Sadly Iceland is probably the hardest hit country by the global economy woes.

http://www.forbes.com/2009/01/26/ice...markets35.html

The big reason is because their banking system promoted their citizens to take out loans in other currencies. They would take out a car loan with 50% Icelandic dollars, 25% Euros, and 25% American dollars or some mix like that. When the economy started tanking the difference in varied currency values caused the 25% or 50% portion of the loan to become mis-valued so they would not be able to pay off that Euro loan with Icelandic dollars.

Queue cascading effect and a government that is now in the tank.

---

footfootfoot Tuesday Feb 24 12:31 PM

It's all cool in iceland; Bjork is gonna bail 'em all out. That's what I heard.

But then what better time to go to Iceland to buy property? Even elf cribs!

---

Shawnee123 Tuesday Feb 24 01:27 PM

---

Trilby Tuesday Feb 24 03:22 PM

I am undaunted my any nation's economic woes.


I can be poor anywhere.



---

dar512 Tuesday Feb 24 03:54 PM

---

Gravdigr Tuesday Feb 24 05:27 PM



---

Kasszia Wednesday Feb 25 12:44 AM

---

xoxoxoBruce Wednesday Feb 25 02:26 AM


Are you away from the fires?

---

sandypossum Wednesday Feb 25 07:13 AM

Hey, thanks for asking Bruce. Many people (even some here in Australia) seem to think the fires are all over, but as you can see here it's not at all over, and this Friday is predicted to be a potential horror day again.

We're not far from the fires, but fortunately we're quite safe. We live just north of Wilsons Prom, where 22000ha are burning. (I helped cook and serve dinner to 100 firemen down there: I'm sure some girls would even pay to do that, eh?!) About 40km east of us the Churchill fires are still burning (24,000ha but contained) and a few weeks ago we could see a huge red glow in the sky of the fires at Mirboo North, about 40km NW (where this famous koala photo was taken). We're surrounded by grassy hills so even if fire reached us it would not be of the 1200C + hellhole kind.

We (people and animals) could use some kindly elves here at the moment.

---

Griff Wednesday Feb 25 07:17 AM

The extent of your fires is almost unfathomable. Are you with the Red Cross?

---

footfootfoot Wednesday Feb 25 10:37 AM

From Ice to fire in 18 posts.

---

sandypossum Wednesday Feb 25 05:57 PM

Griff, I wore a Red Cross pinny when doing dinner for the firies, but that was my first time (we moved here in 2007). Fish Creek is very small - only a few hundred residents - but just about everyone in these country areas does volunteer work. Almost all firefighters outside of the major cities are (well trained) volunteers . Our neighbour is a dairy farmer and has to leave his farm when there are fires to fight. Not all the fires he fights are local; he's been flown interstate to help with major bushfires. They really are heroes.

---

Aliantha Wednesday Feb 25 06:03 PM

Yeah....and there's some really good looking ones too!

---

kerosene Saturday Feb 28 09:51 AM

Forget Iceland. I'm moving to Australia to cook for the cute firemen.

---

footfootfoot Saturday Feb 28 10:39 AM

Why don't you just start a fire right in CO?
Save the plane fare.

---

bluecuracao Saturday Feb 28 06:03 PM

*goes to look for cute firemen thread*

---

Beest Monday Mar 2 01:55 PM

we have faery doors in Ann Arbor, so if you see little people out of the corner of your eye, it's not necessarily a flashback to the last hash bash.

---

Sundae Monday Mar 2 02:23 PM

You are coming to England, to share a flat with me & Diz. Together we can afford a two-bed two-bath (well, one will be a shower, which I'd best take or you'll be shocked by the dribble).

We'll work as glass collectors at the local "Gentleman's Club" and live off our tips. Or theirs. And support eachother. I'll tell you fairy stories, you can tell me them in return, and together we'll write our book.

See, it's all sorted!

---

Trilby Monday Mar 2 04:18 PM

I love it, Sundae! Off to google flights!

(actually, might be going to Ireland with my class this summer- two weeks!!-----it would be too cool to meet up!!!!!)

---
Your reply here?

The Cellar Image of the Day is just a section of a larger web community: a bunch of interesting folks talking about everything. Add your two cents to IotD by joining the Cellar.