xoxoxoBruce Monday Feb 23 12:13 AM

Feb 23, 2009: Cave

I don't know how to break this to you but we're in a recession.
Maybe even a depression, and not just the USA, the whole world.

The market is down, except the supermarket.

Unemployment is growing... foreclosures... repossessions.

Drugs... crime... the sky is falling.

Makes some want to go live in a cave.

Here's one in Missouri.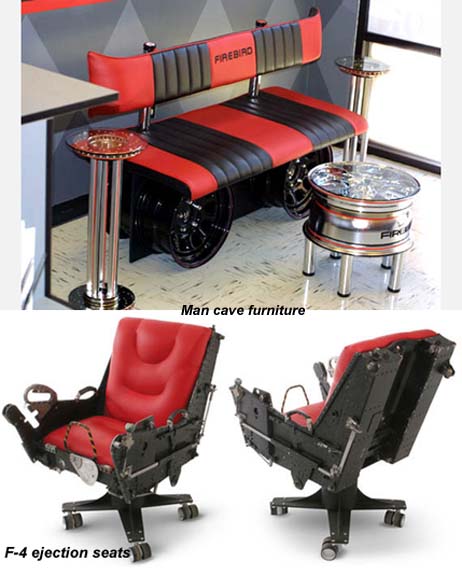 Sure doesn't look like Ogg, in a Saber-tooth Tiger skin, would live there.





Actually is looks pretty comfy and it's on ebay.

Oh my, look at the junk room in the back... I'm swooning.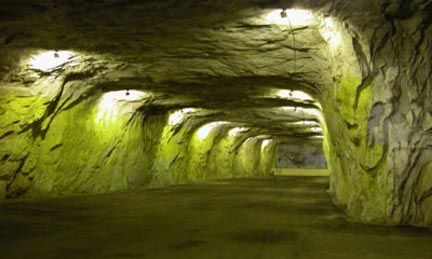 Ebay listing

There's been so much ebay traffic he started a blog to post pictures and answer questions, here.

---

Aliantha Monday Feb 23 12:28 AM

wow...cool.

---

Leokins Monday Feb 23 12:58 AM

If only I had $300,000 to spare, or a desire to live in the states. :p
Really cool though, I love to look at creative/weird houses. I love small houses too; Tiny House Blog features... big surprise... tiny houses! Materialicious also shows some pretty interesting homes.
WebEcoist also had a post about dirt buildings the other day.

---

xoxoxoBruce Monday Feb 23 01:24 AM

Tiny House isn't my cup of tea, but Materialicious has some places to lust for.

---

TheMercenary Monday Feb 23 08:01 AM

Wow, very cool. I could live there.

---

capnhowdy Monday Feb 23 08:27 AM

Truly a dream house. I love it.
I bet there's no need for heat/AC.

---

glatt Monday Feb 23 09:04 AM

It's a really cool and unique looking place.

If you follow the links, you'll see that it started as a mine and then became a concert venue/rollerskating rink. A few big stars played in there. Apparently the acoustics were terrible, but the music was painfully loud which some people though was good. It just bounced around in there.

If you look at the site in Google Earth, the driveway to the place is in sort of an industrial area off the main highway going through town, so it's not a terribly nice looking neighborhood, but the property in back is pretty nice (wooded with small streams, a small pond, and bunch of little water falls) and the cave is sure to be quiet.

I'd love to have all that space. Both the interior space and all the exterior property.

38.24437, -90.394280

---

Trilby Monday Feb 23 10:51 AM

I think earth-based spirits would be very comfy there.

---

rfndong Monday Feb 23 10:58 AM

Beware the rising damp...

---

wolf Monday Feb 23 11:34 AM

I love the cave. This is way better for me than the lighthouses.

Might have to flip a coin to decide between this and the missle silo.

Nah. Cave definitely.

---

sweetwater Monday Feb 23 12:25 PM

Can I paint on the walls? Can I? Can I?

---

newtimer Monday Feb 23 12:52 PM

I'm just curious how the plumbing works. Did they have to bore trenches through the rock to lay pipes?

---

HungLikeJesus Monday Feb 23 01:12 PM

Plumbing? You mean indoor plumbing? I thought it was in Missouri.

---

dar512 Monday Feb 23 03:20 PM

Hey, even Festus has indoor plumbing these days. Mostly.

Festus is 30 minutes south of STL, but it seems like a lot further south once you get there. These people have a drawl, pickup trucks, and big hair (still). And they lurv country music. (Not that there's anything wrong with that)

I'm sure not everyone in Festus thinks they live in Dixie circa 1975, but that's what I think of.

---

spudcon Monday Feb 23 03:45 PM

What happens when you try to pound a nail in the wall to hang a picture of Uncle Fleabag?

---

deek Monday Feb 23 04:06 PM

Hey dar512 I live 15 min. further south of Festus. I do not have a drawl, do have a pickup, do not have big hair and I despise country music. That being said I am in the minority. I'm a little skeptical of this "cave" house. As i said I live 15 min. away and have never heard of it. I need to check this thing out. Could it all be a sham!? Stay tuned

---

dar512 Monday Feb 23 04:32 PM

We'll be waiting for details.

---

ZenGum Monday Feb 23 06:32 PM

Meh, Coober Pedy.

---

capnhowdy Monday Feb 23 07:58 PM

Quote:

Originally Posted by

spudcon

What happens when you try to pound a nail in the wall to hang a picture of Uncle Fleabag?

Buy a drill?



---

Tree Fae Monday Feb 23 11:28 PM

We had a fantastic ritual last summer in a cave a bit further south from this one. It is down in Versailles. Had a camping weekend and got to go into the cave as visiters before the ritual and then had the whole place to ourselves for it. The Earth spirits were very happy there as well as the air water and fire ones. I was told there were drangons there as well. I know the salamanders were, I saw one myself lol. I love caves and would love to have a chance to get deeper back in one. I havent done that in years.

---

Kasszia Tuesday Feb 24 12:07 AM

Quote:

Originally Posted by

HungLikeJesus

Plumbing? You mean indoor plumbing? I thought it was in Missouri.

Reminds me of a joke.
A man in a motel in (insert your favorite state here) calls the front desk and says, "I got a leak in my sink!"
The desk clerk says, "Ok, if you got to!"

---
Your reply here?

The Cellar Image of the Day is just a section of a larger web community: a bunch of interesting folks talking about everything. Add your two cents to IotD by joining the Cellar.