xoxoxoBruce Saturday Feb 21 02:45 AM

Feb 21, 2009: Toilet

I'll be there in a minute Honey, I have to use the toilet.

Oh, it's dirty... Honey, didn't the maid clean the bathroom today?

Yes Dear.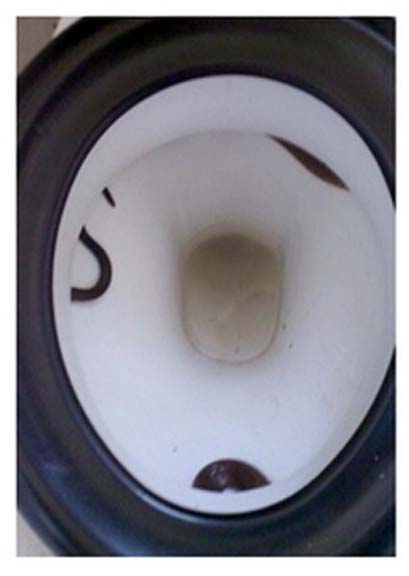 Well you should fire her because the toilet is filt....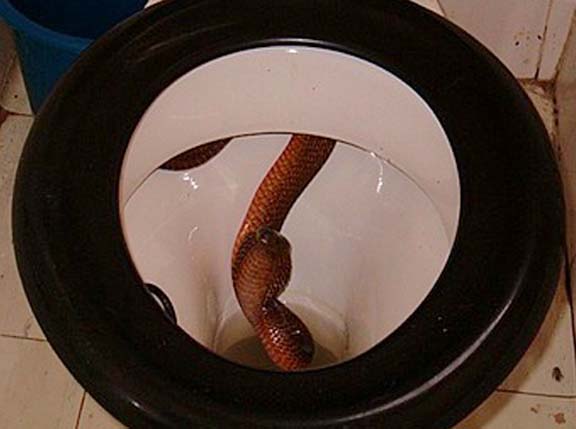 ... uh, nevermind.



Oh Honey, you better call the plumber...

make that the exterminator...

no wait, forget it...

I'll handle it.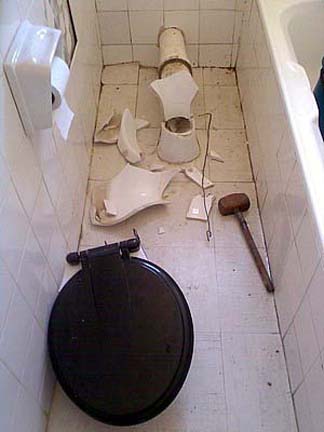 He couldn't use the toilet, but I'll bet he had to wipe anyway.

---

classicman Saturday Feb 21 02:54 AM

If that were me.....

Holy Shit! I can fly!

---

SPUCK Saturday Feb 21 06:14 AM

What a pain in the ass!

---

DanaC Saturday Feb 21 06:21 AM

---

Shawnee123 Saturday Feb 21 07:59 AM

"No doc...that's what happened, I swear. I just sat down and..."

---

DanaC Saturday Feb 21 08:15 AM

So who's volunteering to suck the poison out this time?

---

sweetwater Saturday Feb 21 09:05 AM

And it's a nice brown color, too - clever disguise!

---

footfootfoot Saturday Feb 21 10:01 AM

---

hipshot Saturday Feb 21 12:01 PM

"The plumber called. Says he thinks he might have left his snake here. Have you seen it?"

---

Shawnee123 Saturday Feb 21 12:02 PM

Funny people!

---

Tawny Saturday Feb 21 02:41 PM

Somebody forgot to wipe their asp.






PS: Hello Everyone! I've been coming to the IOTD for years and reading all your comments and enjoying them.
I have no idea why I finally decided to join the crowd.

---

spudcon Saturday Feb 21 03:14 PM

Welcome Tawny, glad you can join us!

---

classicman Saturday Feb 21 04:19 PM

Hi Tawny - welcome aboard - get it a board.



picks up microphone "Jim, quiz on aisle 8"

---

Undertoad Saturday Feb 21 04:23 PM

"I'm tired of these mother-effin' snakes in this mother-effin' bowl!"

---

Trilby Saturday Feb 21 06:23 PM

Is that toilet in Florida?

I'll bet it's in Florida...

---

capnhowdy Saturday Feb 21 08:13 PM

At least maybe now somebody will clean that filthy ass bathroom.

---

Elspode Saturday Feb 21 11:11 PM

Cobras aren't native to Florida. Maybe that toilet is in India?

---

xoxoxoBruce Saturday Feb 21 11:17 PM

I think it was Malaysia. They said it came in through the pipe to the septic system.

---

Skylight Sunday Feb 22 11:10 AM

the next question that should be asked..

..why did he take the camera with him to the loo?

---

capnhowdy Sunday Feb 22 12:52 PM

He was about to post a RFN.

---

Trilby Sunday Feb 22 02:33 PM

capn, you're on a roll today

---

Gravdigr Monday Feb 23 05:55 PM

and also:

Dude, that's not a copralite, it's a cobralite!

---

capnhowdy Monday Feb 23 08:17 PM

Well I'll be dogged.

---

dar512 Monday Feb 23 09:26 PM

---
Your reply here?

The Cellar Image of the Day is just a section of a larger web community: a bunch of interesting folks talking about everything. Add your two cents to IotD by joining the Cellar.