xoxoxoBruce Thursday Feb 19 01:53 AM

Feb 19, 2009: Fire Extinguisher

Fire extinguishers here in the US, and probably throughout most of the world come in three basic types, labeled A, B and C.

These types and their use is outlined below;






But the Russians, while they probably have the A, B and C types, have one more.

Not as fast, but more fun, is type Pee.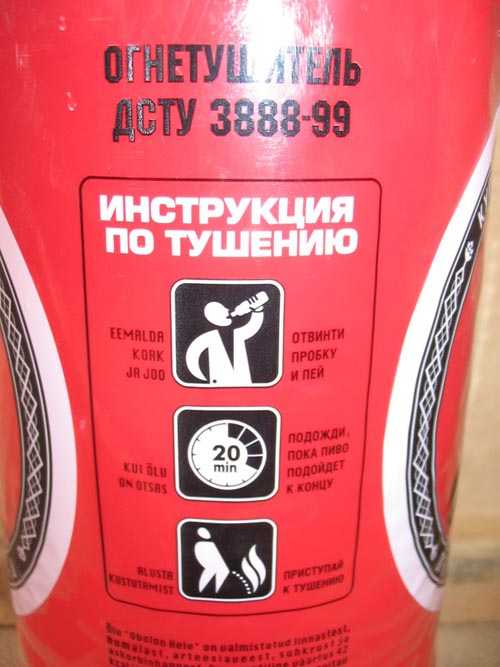 Caution: type Pee is for very slow fires only.

---

Crimson Ghost Thursday Feb 19 02:18 AM

Why does it burn when I pee, mommy?

---

JuancoRocks Thursday Feb 19 02:39 AM

Fire Extinguisher

It actually says.......

1. After consuming this container......
2. Do NOT go swimming for 20 minutes......
3. When swimming....Do NOT pee in the pool.....

---

newtimer Thursday Feb 19 02:46 AM

1. Take out the cork; sneeze; enjoy a bottle of western decadent Mountain Dew...
2. Each bottle of that crap contains enough calories to keep 20 men alive for a day...
3. If you bend over and fart next to a fire, it will flare up....

---

limey Thursday Feb 19 03:18 AM

[translator]It's beer.[/translator]

---

SPUCK Thursday Feb 19 05:51 AM

Left out Class E fires.
Burning nuclear material => Chernobyl

Ingredient: Sand

---

capnhowdy Thursday Feb 19 08:14 AM

I've had one of these fuckers all along and didn't know it.

Thanks, XOB.

---

kelso Thursday Feb 19 01:09 PM

In Colombia a few years ago we were in my open-top jeep driving out of town to a farm for a BBQ. We were stopped by traffic police who noticed we had no fire extinguisher. I showed them the two cases of beer we had in the back and assured them that we'd have enough pee to put out a considerable blaze. They laughed and let us go - one of the benefits of living in Latin America!

---

Cloud Thursday Feb 19 03:18 PM

you have to carry a fire extinguisher in your vehicle in Colombia?

---

Trilby Thursday Feb 19 03:30 PM

Quote:

Originally Posted by

Cloud

you have to carry a fire extinguisher in your vehicle in Colombia?

No; the moral of the story is: you have to carry a fire extinguisher OR two cases of beer.

---

Gravdigr Thursday Feb 19 04:35 PM

---

capnhowdy Thursday Feb 19 05:03 PM

There are clean ones?

---

ZenGum Thursday Feb 19 09:14 PM

Beer IS a suitable fire extinguisher to carry in your vehicle or have in your kitchen!!!


IS IS IS!

What is in those class B extinguishers? Foam. It forms a blanket on top of burning oil and smothers it (where water would displace the oil and spread it around).

Take your beer, open the top just a tad (or narrow the opening with a finger), shake well, allow foam to spurt out onto the fire, create a foam mat. Wait for foaming to stop, drink slightly flat beer, belch, continue barbecue. Simple.

---

Crimson Ghost Friday Feb 20 01:02 AM
Mama won't let anyone dirty get through...

---

Tawny Friday Feb 20 03:00 AM

This is the translation of that instruction:


1. In event of fire, quickly down your bottle of Vodka

2. Wait 20 minutes for alcohol to be absorbed in order to reach the required
National Blood Alcohol Standard of .2 -.5

3. Proceed to use extinguisher. If unable to do so due to intoxication,
urination is acceptable alternative. Aim stream in sweeping motion and
stagger away from fire

---

capnhowdy Friday Feb 20 07:50 AM

4. And no name writing.

---
Your reply here?

The Cellar Image of the Day is just a section of a larger web community: a bunch of interesting folks talking about everything. Add your two cents to IotD by joining the Cellar.