Undertoad Saturday Feb 14 12:42 PM

Feb 14, 2009: Albino moose

IotD, always documenting the albino animals... so here is your albino moose. Don't know where the pics originated; no further information.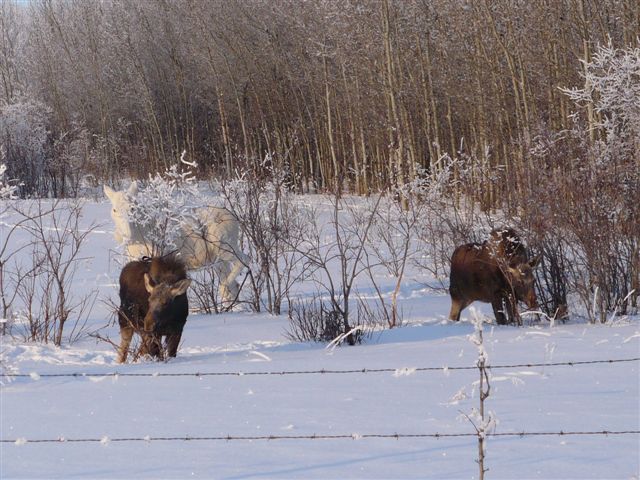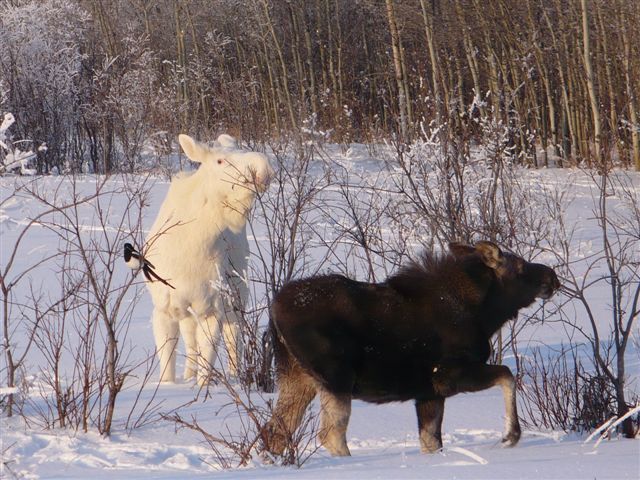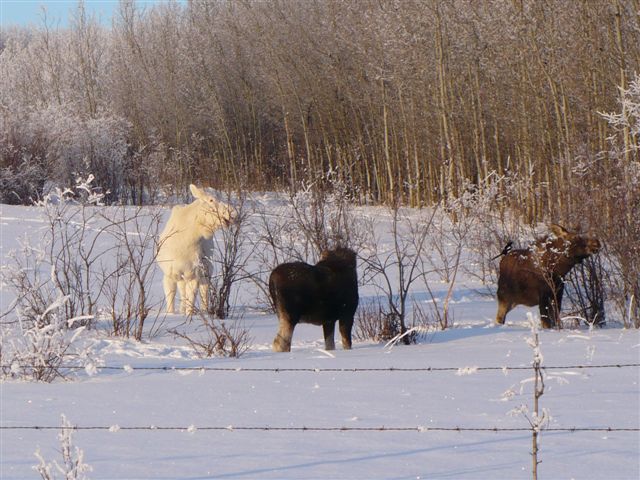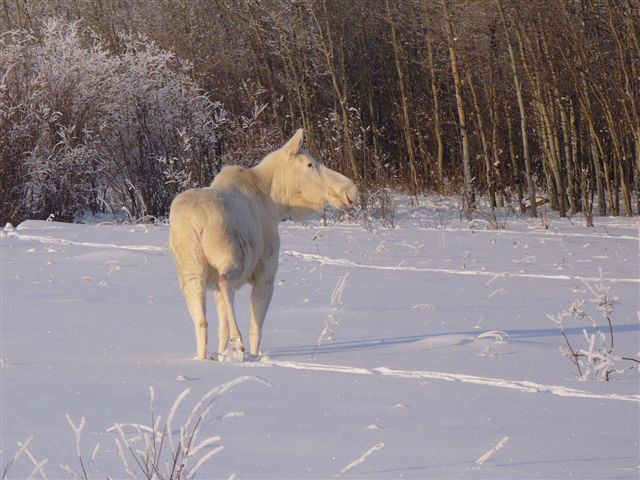 ---

wolf Saturday Feb 14 12:44 PM

I wonder if this has meaning to the Canadian First People, the same way the White Buffalo for the Plains Indians and the White Deer for the Eastern Woodlands?

---

Shawnee123 Saturday Feb 14 12:44 PM

WOW. How cool is that?

---

Nirvana Saturday Feb 14 12:54 PM

Kewl!!

---

floatingk Saturday Feb 14 01:08 PM

whoa, that thing is HUGE!!

---

Pie Saturday Feb 14 02:02 PM

How big a roasting pit do you think we'll need?

---

capnhowdy Saturday Feb 14 02:34 PM

I see this guy every day at the Moose Lodge. Drags his feet when he walks.

---

Clodfobble Saturday Feb 14 05:03 PM

Soon, natural selection will lead to a moose population that is predominantly white--that is, until that pesky coal plant opens up next door...

---

Griff Saturday Feb 14 05:09 PM

just Wow.

---

Cloud Saturday Feb 14 05:31 PM

I would say, "wow, that's cool!" . . .

but other people have already said it!

I want a stuffed one! a toy, that is . . .

http://www.snopes.com/photos/animals/albinomoose.asp

eta: a search of Amazon shows 427 results from "moose" in "toys & games." Four hundred stuffted moosies and moosie toys? And not a single albino in the lot. 'Tho there is a white and gingham checked one; a red, white & green Christmas one, and sock monkey one. hmm.

---

spudcon Saturday Feb 14 06:33 PM

---

monster Saturday Feb 14 07:25 PM

---

capnhowdy Saturday Feb 14 08:52 PM

Reckon it will make white gravy?

---

monster Saturday Feb 14 08:59 PM

that'd be whitevy....

---

capnhowdy Saturday Feb 14 09:13 PM

...as long as we have onions and mushrooms...

---

Crimson Ghost Sunday Feb 15 12:02 AM

A Møøse once bit my sister ...

No realli! She was Karving her initials on the møøse
with the sharpened end of an interspace tøøthbrush given
her by Svenge - her brother-in-law - an Oslo dentist and
star of many Norwegian møvies: "The Høt Hands of an Oslo
Dentist", "Fillings of Passion", "The Huge Mølars of Horst
Nordfink".

Mynd you, møøse bites Kan be pretty nasti...

---

Leokins Sunday Feb 15 12:38 AM

Møøse Trained by YUTTE HERMSGERVØRDENBRØTBØRDA
Special Møøse Effects OLAF PROT
Møøse Costumes SIGGI CHURCHILL
Møøse choreographed by HORST PROT III
Miss Taylor's Møøses by HENGST DOUGLAS-HOME
Møøse trained to mix concrete and sign complicated insurance forms by JURGEN WIGG
Møøses noses wiped by BJØRN IRKESTØM-SLATER WALKER
Large møøse on the left hand side of the screen in the third scene from the end, given a thorough grounding in Latin, French and "O" Level Geography by BO BENN
Suggestive poses for the møøse suggested by VIC ROTTER
Antler-care by LIV THATCHER

---

Skylight Sunday Feb 15 01:15 AM

what so lame is that i didn't see it until the second picture..

---

Elspode Sunday Feb 15 01:59 AM

The people who are doing the posting in this thread have just been sacked.

---

Crimson Ghost Sunday Feb 15 02:07 AM

---

Crimson Ghost Sunday Feb 15 02:32 AM
Those responsible for sacking the people who have just been sacked, have been sacked.

---

SPUCK Sunday Feb 15 05:46 AM

That moose has it so made in winter.. Course the other 3 seasons he's screwed.

---

wolf Sunday Feb 15 10:48 AM

---

Cloud Sunday Feb 15 11:14 AM

a blue moose? sounds drinkable

---

ZenGum Sunday Feb 15 10:00 PM

You reckon that thing would be vanilla-flavoured?

---

Shawnee123 Sunday Feb 15 10:01 PM

White mousse.

---

Sheldonrs Monday Feb 16 06:46 AM

---

TheMercenary Monday Feb 16 08:48 AM

---

Tree Fae Monday Feb 23 11:33 PM

[quote=Cloud;534504]I
I want a stuffed one! a toy,

I have an huge stuffed white buffalo that I have had since I was a kid working at Worlds of Fun. One of the guys working the ski ball "won" it for me. Like he spent that much money on tickets... im sure they were "recycled" by him, but I didn't ask questions. It is too cute. It lives in my spare room now.

---

beautifulbc Wednesday May 13 07:53 PM

Albino moose

These photos were taken last year in British Columbia. It was seen again this spring.

---

capnhowdy Wednesday May 13 10:25 PM

welcome to the Cellar, beautifulbc....

Hard to tell the albino from the white moose.

BTW... Cellar was the second listing on google for the albino moose.

---

xoxoxoBruce Thursday May 14 01:07 AM

Thanks beautifulbc.


If you see any pictures of the latest sightings please post them.

---
Your reply here?

The Cellar Image of the Day is just a section of a larger web community: a bunch of interesting folks talking about everything. Add your two cents to IotD by joining the Cellar.